While US President Donald Trump presses China to step up pressure against North Korea, he is considering sparking a trade war with the world's second largest economy.
On Monday, Trump plans to sign an executive order asking his trade office to investigate China for its alleged theft of American technology and intellectual property.
The president, who is vacationing at his golf club in the state of New Jersey, said Friday that he planned to return to Washington on Monday "for a very important meeting" and "we're going to have a pretty big press conference."
It was not immediately clear whether his trade dispute with Beijing would be the subject.
The commissioned report may take a year to compile but could lead to US sanctions against Beijing.
Still, Trump praised China Friday for supporting the recent UN vote to ratchet up sanctions against North Korea. In a phone call with Chinese President Xi Jinping, the two leaders reaffirmed their shared desire for a nuclear-free Korean peninsula.
Trump, however, also informed Xi about the pending probe into China's trade practices, according to two US officials with knowledge of the conversation. They spoke on condition of anonymity as they were not authorized to discuss the private call.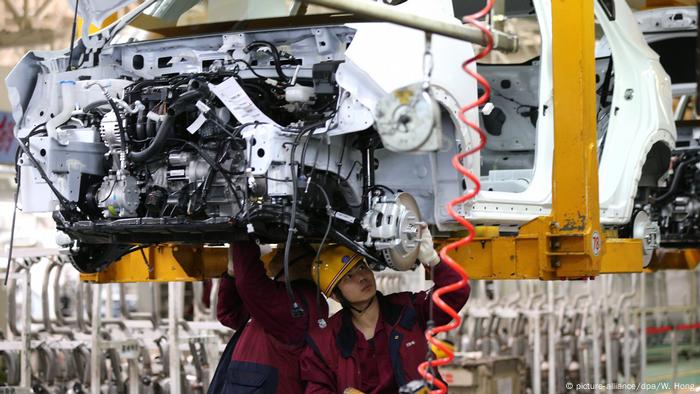 The Trump administration suspects China of appropriating US know-how
Access to China
In particular, Trump wants an examination of Chinese trade practices that force American companies to share their intellectual property if they want access to the world's second largest economy.
US businesses are often forced to create joint ventures with a Chinese partner and turn over valuable technology assets, a practice the White House claims stymies US economic growth.The latest review will be conducted by the US trade representative under the Trade Act of 1974.
Depending on the results, the US could either seek remedies through the World Trade Organization or outside of it.
China under US scrutiny
"China also funds and facilitates the acquisition of US firms that possess advanced technologies," US officials said.
They added, "If Americans continue to have their best technologies and intellectual property stolen or forcibly transferred off-shore, the United States will find it difficult to maintain its current technology leadership position."
Chinese commercial policy aimed to acquire and absorb the intellectual property of the United States and other countries around the world, according to the officials.
China's foreign and commerce ministries did not immediately respond to requests for comment Sunday.
The Trump administration is already investigating Chinese commercial practices on several fronts, notably whether steel and aluminum imports were jeopardizing national security.
On Tuesday, Washington announced preliminary sanctions against imports of Chinese aluminum foil.
bik/tj (AP, AFP)