A US intelligence report found Saudi Crown Prince Mohammed bin Salman approved the 2018 killing of journalist Jamal Khashoggi.
The release of the report Friday could prove a test for normally close relations between Washington and Riyadh. It comes the day after US President Joe Biden's first phone call with Saudi King Salman.
The Saudi government rejected the allegations, adding that it had taken "all possible measures within our legal system to ensure that these individuals were properly investigated, and to ensure that justice was served," the Foreign Ministry said in after the release of the report.
US Secretary of State Antony Blinken said on Friday the State Department will impose a "Khashoggi Ban," a set of restrictions on 76 Saudi individuals who are believed to be involved in the killing.
"Starting today, we will have a new global policy bearing his name to impose visa restrictions on those who engage in extraterritorial attacks on journalists or activists," Blinken said on Twitter.
But media reports suggest that the US will not impose sanctions on the crown prince.
The United States wants change but not a "rupture" in ties with Saudi Arabia, Blinken said.
"What we've done by the actions that we've taken is really not to rupture the relationship, but to recalibrate to be more in line with our interests and our values," he told reporters.
What did the report say?
The document cites Mohammed bin Salman's "absolute power" over Saudi intelligence and security forces since 2017.
"The crown prince viewed Khashoggi as a threat to the Kingdom and broadly supported using violent measures if necessary to silence him," the report said.
Washington Post journalist Khashoggi — a critic of the prince's apparent authoritarian consolidation of power — was killed in the Saudi consulate in Istanbul in October, 2018.
Saudi Arabia sentenced five people to 20 years each in prison over the murder.
The document concluded that a close adviser of the royal family, who publicly said that he did not make decisions without Mohammed bin Salman's approval, was affiliated with a Saudi delegation that arrived in Istanbul in October 2018.
The same delegation included seven members of Mohammed bin Salman's aides and guards, known as the Rapid Intervention Force (RIF), who only answered to the crown prince's orders and carried out "dissident suppression operations" in the kingdom, according to the report.
Why is the report important?
News media had reported that US intelligence agencies concluded in 2018 that the prince likely ordered the killing, although such a finding was never officially released until Friday.
Recognition of the involvement of the prince could cast a huge shadow over relations between the US and its most significant ally in the Arab world, Saudi Arabia. Relations between the two had flourished under Biden's predecessor, Donald Trump.
Trump was particularly cautious about criticizing Saudi Arabia's record on human rights, notably over the Khashoggi murder.
Prince Mohammed's critics — including a rights group founded by the slain journalist — want the US president to back up past tough rhetoric about Saudi Arabia. They want sanctions or other tough actions that would target and isolate the prince.
They fear Biden will simply opt for condemnation, avoiding a lasting standoff with Saudi Arabia, seen as a valuable strategic partner given its vast oil reserves and regional rivalry with Iran.
Who is Prince Mohammed bin Salman?
Mohammed bin Salman, sometimes dubbed MBS, has consolidated power rapidly since his father, now in his 80s, became king in 2015.
Critics blame the prince for the kingdom's imprisonment and alleged torture of rights advocates, businesspeople, and other royals domestically.
He is also believed to be behind the launching of a devastating war in neighboring Yemen and a failed economic blockade against neighboring Qatar.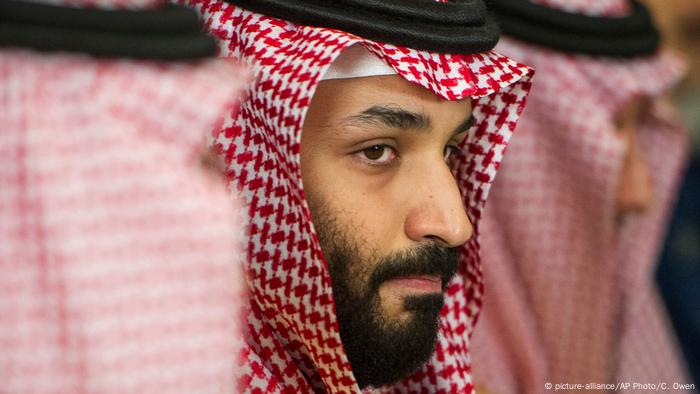 Prince Mohammed bin Salman has consolidated power rapidly since his father became king in 2015
What did Biden and King Salman discuss?
Rather than mention the report, the White House said Biden and King Salman had discussed the two countries' "longstanding partnership."
It said the US president had welcomed the kingdom's recent releases of political detainees, including women's right advocate Loujain al-Hathloul.
The pair also discussed Iran's "destabilizing activities and its support for terrorist groups" in the Middle East.
The language contrasted with Biden's pledge as a presidential candidate to make Saudi Arabia "a pariah" over the killing.
rc, fb/rt (AFP, AP, dpa, Reuters)