From September 2018, US President Donald Trump wants the US to have punitive tariffs of around 10 percent on handbags and clothing from China, among other things. For his daughter Ivanka, who owns her own fashion business, that may have quite a big effect because unfortunately for the First Daughter, the majority of her firm's products are made in the country her father has targeted above all others in his trade war.
Trump's protectionist approach has provoked reactions from his country's biggest trading partners and the US is now appealing its case to the World Trade Organization (WTO). "One things leads to the other in a trade war," said David Kotok, founder of asset management firm Cumberland Advisors. That trade war, it would appear, has begun.
US companies in the firing line
Since the earliest days of his election campaign, Trump has promised to revive struggling US industries. He spoke of them as victims of bad trade deals and unfair practices. But already, some American companies are feeling the negative effects of his trade policy: "In a globalized economy, there are no winners in a trade war," says Kotok.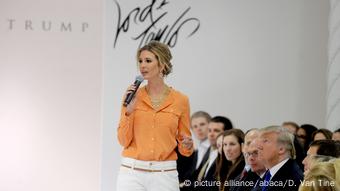 Ivanka Trump: an unlikely victim of her father's trade war?
Above all, multinational corporations with international supply chains are going to be affected. On the one hand, their products become more expensive and less attractive in foreign markets, when compared with domestic alternatives. American whiskey, jeans and motorcycles are among those products already affected by this within the EU.
Since July 1, Canada has slapped tariffs on $16.6 billion (€14.2 billion) worth of US imports and in addition to US steel and aluminum, have made consumer goods such as coffee more expensive. In China alone, more than 500 individual US products, from soybeans to cars, are now more expensive.
We're building a dearer product — and consumers are going to pay for it!
At the same time, production costs are rising for US companies that previously imported raw materials such as steel from abroad. These costs, explains Kotok, are in many cases passed on to retailers and consumers. Iconic US brands such as Campbell Soup, Coca-Cola and beermaker MillerCoors are among those affected.
Read more: Trump's economic boom stalked by trade fears
The manufacturers themselves have already warned repeatedly against the negative effects. "We buy as much domestic can sheet aluminum as is available, however, there simply isn't enough supply to satisfy the demands of American beverage makers like us," MillerCoors wrote on Twitter. "American workers and American consumers will suffer as a result of this misguided tariff."
Will the US economy suffer?
In the long term, many economists say Trump will harm the American economy. Financial services company Moody's recently predicted up to 700,000 job losses by next summer. Growth will decline and rising prices will lead to inflation, Kotok reckons. "We are not going to see this in the data in the next three months, but only after the next quarter ends," he said.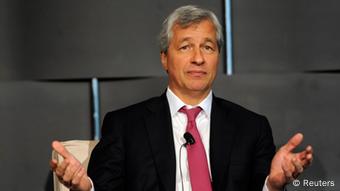 Jamie Dimon: critical of the White House plans on trade
Accordingly, there is pressure coming from the worlds of both politics and business. The Business Roundtable (BRT), one of the largest lobby groups in Washington, warned a few weeks ago that the White House's trade policy would "sabotage" the positive effects of last year's tax reform. Jamie Dimon, chairman of the lobby group and CEO of investment bank JPMorgan Chase, said that tariffs "have unpredictable outcomes."
So far though, only a few companies have made their feelings public. "People are afraid of offending Trump," Kotok says. "In the past, he has sent stocks down with a single tweet."
A few weeks ago, motorcycle manufacturer Harley Davidson incurred the wrath of Trump when it announced it would be moving production abroad to avoid the EU's counter-tariffs. "If they move, watch, it will be the beginning of the end - they surrendered, they quit! The Aura (sic) will be gone and they will be taxed like never before!" the US President tweeted.
The exception to the rule
Behind the scenes, many US companies are trying to cushion the impact of tariffs on their own businesses. More than 20,000 companies have filed applications with the US Department of Commerce to be exempted from customs duties on imported raw materials. The US government has struggled to deal with the volume of applications, with Commerce Secretary Wilbur Ross admitting at the end of June that less than 100 such applications had been processed.
According to Ron Wyden, a Democratic Senator who is on the Senate Finance Committee, companies are "in a bureaucratic twilight zone, waiting to see if they are going to escape."
Wyden says that small companies in particular will suffer, as they won't be able to afford adequate legal support. And even if they could, only 42 percent of the cases so far processed have been approved for derogation.
Claire McCaskill, a Democratic Senator for Missouri, has little faith in the process as it stands. "In a chaotic and frankly incompetent manner, you are picking winners and losers on a very technical basis," she said.