The Kremlin rarely reacts to foreign election results as quickly as it did this Wednesday. Barely an hour after Republican candidate Donald Trump held his first speech after winning the US presidential election, he received a congratulatory telegram from Vladimir Putin. The Russian president is reportedly hoping for an end to the crisis in Russian-US relations, and for a "constructive dialogue based on equal rights." At an event in Moscow, Putin said he was looking forward to restoring relations with the US.
Champagne in parliament
Parliamentarians in the Duma applauded when one lawmaker announced that Democratic candidate Hillary Clinton had congratulated Trump on his victory. The initial reaction of many politicians and experts was to express hope for a new start with Washington. "A lot will depend on Moscow's willingness to extend a hand," said foreign policy expert Andrej Kortunov with the news agency "Interfax." He is expecting that there will soon be a summit to discuss Syria and Ukraine. Russia's activities in both countries have been the main sticking point between Moscow and Washington.
Right-wing populist Vladimir Zhirinovsky of Russia's liberal democratic party (LDPR) was especially elated. "I expect only positive things from Trump," he said in an interview with state TV broadcaster Rossija-24. At 70, he is the same age as Trump, he said, adding that both men also share similar core supporters, namely men between the ages of 35 and 55. To celebrate Trump's win, the LDPR parliamentary group invited members of the press to join them in a glass of champagne.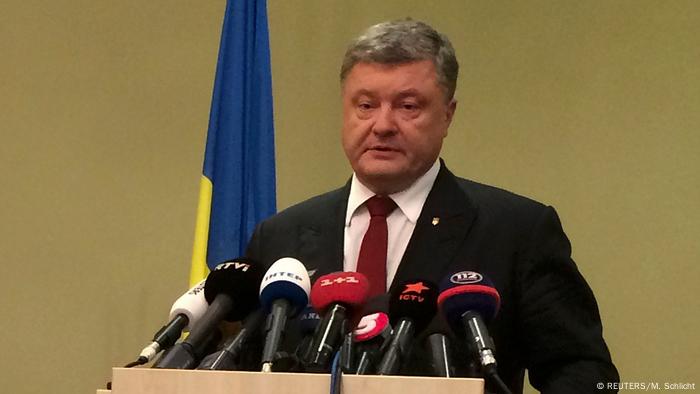 Ukraine President Petro Poroshenko is concerned that closer US ties to Moscow could be detrimental to his country
Conciliatory tones from Moscow
Russian state television carried extensive coverage of the US election. When it became clear that Trump had won, the presenters could barely contain their emotions - their smiles grew ever wider. For many viewers, it's something that takes a bit of getting used to. In recent years, the US has been portrayed as Russia's main enemy and a possible war opponent. During the annexation of Crimea in 2014, one presenter even said that Russia could turn the United States into a heap of "atomic ash."
Shortly before the election, there were conciliatory tones from Putin, who said that such threats were wrong. He also said that Russia wasn't overly concerned about who would win. The head of the Kremlin also denied allegations of intervening in the US election. Both President Barack Obama and Hillary Clinton had accused Moscow of trying to influence the outcome via hacked emails.
Moscow counting on 'Realpolitik'
Putin showed early on that his sympathies lay with Trump. Almost a year ago, in December 2015, he described the billionaire as "a very talented person." For his part, Trump praised Putin for being a "strong leader." During his campaign, Trump promised voters a different approach to Russia. He didn't rule out recognizing the annexation of Crimea and lifting the economic sanctions that have been imposed on Moscow as a result. Trump's doubts over NATO are also likely to be music to the ears of politicians in Moscow.
Most Russian politicians and pundits believe that Trump's victory will open a new "window of opportunity," as Konstantin Kossatshov, chairman of the foreign affairs committee in the Federation Council, wrote on Facebook. He said he is hoping for "Realpolitik" from Washington with regard to Moscow. At the same time, the politician for the pro-Kremlin party United Russia warned against expectations that are too high.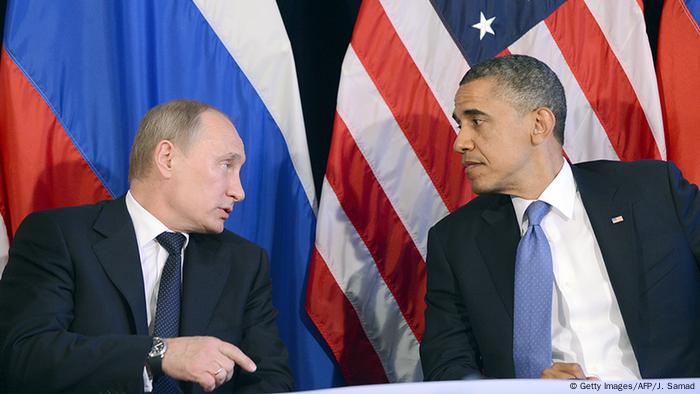 Presidents Putin (left) and Obama had more of an adversarial relationship
Trump's relationship with Poroshenko
In Ukraine, the news of Trump's victory prompted concern. Ukrainian President Petro Poroshenko sent his congratulations to the president-elect this afternoon - hours after Putin. He said he was hoping for US support in "the fight against Russian aggression" and with reforms.
Both Trump and Poroshenko are billionaire businessmen who unexpectedly won presidential elections. But that's all that seems to unite them. Their relations appear to have already been under strain. The future US president is unlikely to have forgotten that he had to replace his campaign manager, Paul Manafort, following reports from Ukraine. While acting as an adviser to Ukraine's pro-Russian former President Viktor Yanukovych, Manafort reportedly received cash payments from an illegal off-the books system run by Yanukovych's party. Manafort denied any wrongdoing and the claims have not been proven. But just weeks after the story came to light, a meeting between Poroshenko and Trump on the sidelines of the UN General Assembly in September did not happen. Kyiv said that the president's schedule was too full. There were also media reports suggesting Trump ignored Poroshenko's request.
Kyiv placing hope in past Republican support
There are now concerns in Kyiv that the US president-elect could make a deal with Moscow at its expense. During the summer, Ukrainian diplomats expressed worry over Trump's views on Crimea. The fact that Republicans who, after this election, have majorities both in Congress as well as in the Senate, have previously supported Ukraine is cause for some hope in the country. They had agreed, for example, to supply Kyiv with weapons. It's still not clear though, whether and how the Republican party will find a common position on Ukraine with their new president.