The US Statement Department announced on Thursday that it had green-lighted a possible sale of Javelin missiles and launch units to Ukraine in a transaction valued at $47 million (€38.3 million). The decision follows through on a promise made in December to provide the country with defensive weapons in its four-year long conflict with Russia.
"The Javelin system will help Ukraine build its long-term defense capacity to defend its sovereignty and territorial integrity in order to meet its national defense requirements," the Pentagon said in a statement.
Along with 210 Javelin missiles, the Ukraine government has asked to buy 37 Javelin Command Launch Units. The purchase's prime contractors will be Raytheon Co. and Lockheed Martin. The missiles will come from US army stockpiles already located in Europe.
After Thursday's formal announcement, the US Congress now has 30-days to block the sale. However, Republicans and Democrats alike have been calling for the sale of the anti-tank missiles and launchers for years.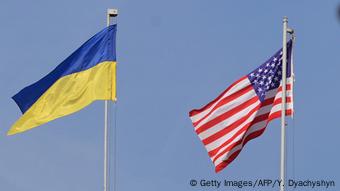 The US has already provided some small arms to Ukraine
Previously the US has provided Ukraine with small arms, as well as training and support equipment.
Shifting the balance of power?
The Pentagon's statement added that the proposed sale would not alter the region's military balance. Since Moscow annexed Crimea in early 2014, Ukrainian forces have been fighting Russian-backed separatists in the eastern region of the nation. More than 10,000 people have been killed since the conflict's start.
In December, Ukrainian President Petro Poroshenko had said that the weapons delivered from the US would be used for protection. However, Russia countered that the sale would encourage supporters of the conflict to use force.
The US State Department's announcement came the same day that Russian President Vladimir Putin said in his state of the union address that Russia had missiles no other country had.
The weapons' sale to Ukraine could increase tension between Russia and the US. The US imposed sanctions after Moscow's annexation of Crimea. The administration under US President Donald Trump has said these conflict-related sanctions will remain in place until Russia leaves the peninsula.
Read more: Europe doesn't want 'permanent obstacle to dealing with Russia,' says top US negotiator
cmb/rc (AP, Reuters)
Each evening at 1830 UTC, DW's editors send out a selection of the day's hard news and quality feature journalism. You can sign up to receive it directly here.