Two United Nations agencies on Saturday urged the administration of US President Donald Trump to continue providing asylum to vulnerable people, a day after the new leader signed an order severely restricting access to asylum for people fleeing war and persecution.
"The needs of refugees and migrants worldwide have never been greater, and the US resettlement program is one of the most important in the world," a joint statement from the UN refugee agency UNHCR and the International Organization for Migration (IOM) said.
The statement voiced the hope that the United States would "continue its strong leadership role and long tradition of protecting those who are fleeing conflict and persecution," saying that the "longstanding US policy of welcoming refugees has created a win-win situation" by saving people who then "enriched ... their new societies."
The agencies said they believed "refugees should receive equal treatment for protection and assistance, and opportunities for resettlement, regardless of their religion, nationality or race."
Priority for Christians
The order signed by Trump on Friday immediately blocked all those fleeing Syria, where a bloody civil war has cost hundreds of thousands of lives. It also imposed a 90-day ban on entry to the US from seven Muslim-majority countries.
At the same time, however, Trump told CBN News that Christians would receive priority when applying for refugee status.
The US may admit refugees on a case-by-case basis during the freeze, while those claiming religious persecution can continue to have their applications for asylum process if "the religion of the individual is a minority religion in the individual's country."
Trump justified the moves as necessary to prevent "radical Islamic terrorists" from entering the US.
'Statue of Liberty in tears'
The executive order has been heavily criticized in the US itself, with many Democrats slating the measures as "un-American."
"Tears are running down the cheeks of the Statue of Liberty tonight as a grand tradition of America, welcoming immigrants, that has existed since America was founded has been stomped upon," said Senate Minority Leader Chuck Schumer of New York.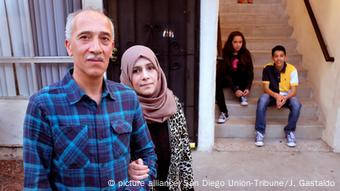 Many refugees in the US have fled the Syrian war
However, House Speaker Paul Ryan, a Republican, praised the order, saying it was "time to re-evaluate and strengthen the visa-vetting process."
European concern
On Saturday, French Foreign Minister Jean-Marc Ayrault voiced his concern at Trump's decision to limit immigrations and refugees.
Speaking at a joint press conference with his German counterpart Sigmar Gabriel in Paris, Ayrault said the move "can only worry us."
"Welcoming refugees who flee war and oppression is part of our duty," he said.
Gabriel, for his part, pointed out that "loving thy neighbor" formed part of America's Christian traditions.
During the past budget year, the US took in 84,995 refugees, and former President Barack Obama had set the refugee limit for this budget year at 110,000.
The executive order plans to cut that number to 50,000.
tj/rc (AP, Reuters)