A top UN humanitarian official on Thursday said the ongoing Myanmar military actions against the Rohingya communities amounted to "ethnic cleansing."
John McKissick, head of the United Nations refugee agency (UNHCR) in the Bangladeshi border town of Cox's Bazar, said troops were "killing men, shooting them, slaughtering children, raping women, burning and looting houses, forcing these people to cross the river" into Bangladesh.
Myanmar's army launched counter insurgency operations after what it said were Islamist militant attacks on two border posts last month which left nine guards dead. Since then thousands of the stateless Rohingya minority have fled across the border to Bangladesh.
Fleeing civilians have described horrendous treatment meted out against them by the army, in what McKissick described as "collective punishment of the Rohingya minority." McKissick's account of events corresponds with interviews conducted by the news agency AFP. It quoted Rohingya civilians as describing gross human rights abuses.
'They shot dead my wife'
One man, a farmer named Deen Mohammad, entered Bangladesh four days ago with his wife, two of their children and three other families.
"They (Myanmar's military) took my two boys, aged nine and 12 when they entered my village. I don't know what happened to them," Mohammad told AFP. "They took women in rooms and then locked them from inside. Up to 50 women and girls of our village were tortured and raped."
Mohammad Ayaz, a village imam, reported how Myanmar soldiers killed his pregnant wife, razed around 300 houses in his village, gang raped women and killed at least 300 men.
"They shot dead my wife, Jannatun Naim. She was 25 and seven months pregnant. I took refuge at a canal with my two-year-old son, who was hit by a rifle butt," Ayaz said.
On Monday, Human Rights Watch said satellite imagery showed some 1,250 buildings destroyed by the Myanmar military in villages near the Bangladeshi border.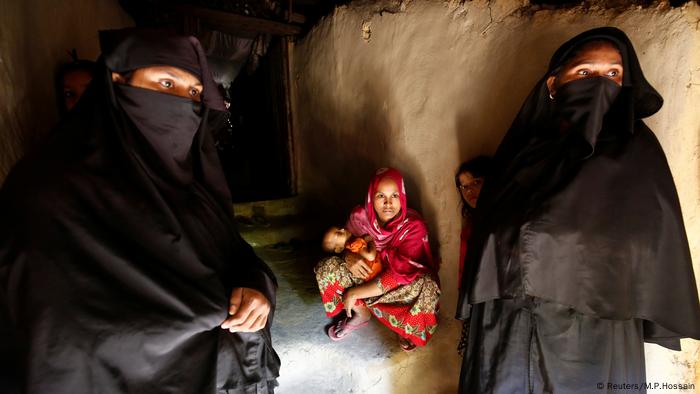 Refugee Rohingya women in Cox Bazar camp
Stateless people
Myanmar's government has denied committing any atrocities and said activists were exaggerating the situation. International observers, journalists and aid agencies face severe restrictions of movement while trying to verify the claims in the area.
Myanmar's 1.1 million Rohingya Muslims make up most of the population in the region of Rakhine. They are denied citizenship and suffer from institutionalized discrimination in Buddhist-majority Myanmar despite many of them having lived in the country for generations.
The Rohingya issue has been a major test for Nobel Peace Prize winner Aung San Suu Kyi's new administration following decades of military rule. Many observers now question the ability of her administration to control the army, which still holds ministries responsible for security. Her unwillingness or inability to do anything about the unfolding atrocities has garnered international criticism that she has done too little to address the plight of the Rohingya communities.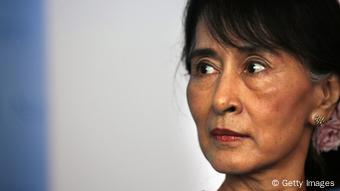 Aung San Suu Kyi
Bangladesh pushing back fleeing Rohingya
Around 30,000 Rohingya already live as refugees in squalid camps in Bangladesh after having fled previous waves of persecution. Between 200,000 and 500,000 undocumented Rohingya are believed to be living in the country.
Bangladesh has responded to the influx of fleeing Rohingya by upping border controls and pushing hundreds of people back across the border where they face persecution and possibly death. Thousands of those fleeing have evaded border controls to arrive in Bangladesh.
Bangladesh said on Wednesday it had summoned Myanmar's ambassador to express "deep concern."
"Despite our border guards' sincere effort to prevent the influx, thousands of distressed Myanmar citizens including women, children and elderly people continue to cross (the) border into Bangladesh," the government said. "Thousands more have been reported to be gathering at the border crossing."
In response to the mounting humanitarian crisis, Bangladesh Foreign Minister Abul Hassan Mahmood Ali met with foreign diplomats in Dhaka on Thursday to gather international support for a resolution.
cw/jm (AFP, dpa)