For two years, investigators have been looking into allegations of corruption against Israeli Prime Minister Benjamin Netanyahu. So it came as little surprise to most Israelis last week when Attorney General Avichai Mandelblit announced his intention to indict Netanyahu over corruption charges in a series of scandals.

The prime minister is now almost certainly facing charges of bribery, fraud and breach of trust. The press had already circulated details of the case, but with just over a month before a snap election in April, the timing has also become a political issue. The big question now is whether those charges will influence Netanyahu's voter base.
In the months leading up to last week's announcement, a flotilla of legal experts in the attorney general's office pored over the investigation files — the result of two years of examining facts and questioning witnesses — to verify the validity of the police recommendations for prosecution.
In the most serious of the cases, Case 4000, Netanyahu would face charges of bribery, fraud and breach of trust for reportedly granting regulatory favors to Israel's largest telecommunications firm Bezeq, owned by controlling shareholder Shaul Elovitch. The favors are said to have facilitated positive reporting on the company's internet news portal, Walla. Netanyahu was also serving as communications minister at the time.
In two further suspected cases, the prime minister would face charges of breach of trust and fraud for accepting luxurious gifts from businessmen, and another case of soliciting more "positive" coverage from one of Israel's largest daily newspapers.
Bad timing
The decision, however, is provisional: Under Israeli law, the accused has the right to a hearing — but it could take several months for this to happen.
Netanyahu has criticized the proceedings for this very reason, speaking of an attempt to influence the election of a plot by the "left" to take over the government. He said the attorney general's office had buckled under the pressure of the "media" and rejected all allegations.
"From a legal standpoint, the attorney general had no choice but to announce his decision now — not a few days before the election, but several weeks," said Guy Lurie, a researcher at the Israel Democracy Institute. He noted the professionalism of the attorney general's office; Mandelblit was uncharacteristically transparent in revealing how his office had come to its decisions, a process that was published in a multi-page document.
Netanyahu decided to bring forward the election — originally scheduled for November 2019 — in December. At the time, he was confident that his Likud Party and religious-nationalist right-wing alliance would guarantee him another term as prime minister.
And with good reason: According to the latest surveys, 42 percent of Israelis consider the timing of the attorney general's announcement as problematic. A third of the respondents, however, would like to see Netanyahu's immediate resignation.
On the streets of Jerusalem, the mood is also mixed. "Of course, it was important that the attorney general make his decision known before the election," said Simona Biron. "Why should I vote for someone who's corrupt? I hope the election brings us something new."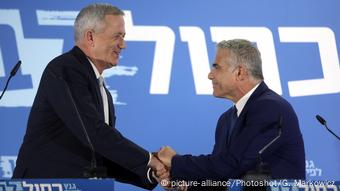 The alliance between Gantz and Lapid poses a serious challenge to Netanyahu
Another passerby, who preferred to remain anonymous, said Mandelblit should have waited until after the election; there is already so little trust in the judiciary, he said, and it could be viewed as interfering in politics. But he had nevertheless been influenced by the announcement, saying he "supported Netanyahu, but probably not as strongly now."
Tourist guide Moshe also said the timing of the decision was problematic, but ultimately thought it boiled down to Netanyahu's insistence on an early vote.
"It might sway people who were not quite sure if they were going to vote for Likud and are now leaning toward Gantz and Lapid," he said. Benny Gantz, a popular former military chief of staff who is surging in opinion polls, has partnered with popular centrist Yair Lapid, and their new "Blue and White" alliance is a credible threat to the prime minister.
Moshe still thinks Netanyahu, in office since 2009 after a previous term from 1996-1999, is a good leader, but said the growing problems are hard to ignore. "I don't think it's good if a person — and a government — are in power for too long," he said. "It's not good for a democracy."
Plummet in the polls
The first potential effects on the election outcome could already be seen in an opinion poll on Friday. If the vote were held today, Netanyahu's Likud party would stand to lose as many as seven seats.
To date, the right-wing bloc, a union of Likud with the ultra-right, religious nationalists and orthodox parties, has never had to worry about achieving a comfortable majority of the 120 seats in the Knesset. But in the end, the Israeli electoral system is about who has the best chance of forming a coalition government, which could prove difficult for Netanyahu. With increasing political pressure, it's questionable whether his coalition partners will remain loyal.
According to recent polls, the center-right "Blue-White" alliance headed by Gantz and Lapid stands to pick up these disillusioned Netanyahu supporters.
"This is a sad day for the state of Israel," said Lapid on Thursday, reacting to the attorney general's news.
Gantz called on Netanyahu to resign immediately to deal with his legal problems, saying Israel could not afford to have a "part-time prime minister."
"Let's imagine our reality when the prime minister needs to divide his time between court and dealing with the critical issues facing the state of Israel," he said.
According to Israeli law, Netanyahu can — despite the proceedings against him — remain in office and campaign for re-election. The case is a precedent for the Israeli judiciary, marking the first time that a sitting prime minister has been charged.
Former Prime Minister Ehud Olmert, who spent time in prison for corruption, resigned in 2009 before his indictment. Political pressure had become too great for him to remain in office.
Every day, DW's editors send out a selection of the day's hard news and quality feature journalism. Sign up for the newsletter here.