The UN high commissioner for human rights, Zeid Ra'ad Al Hussein, on Tuesday decried "an emerging pattern" in which governments were increasingly refusing to cooperate with rights observers.
"States may shut my office out - but they will not shut us up; neither will they blind us," Zeid said as he opened a three-week session of the UN Human Rights Council.
"If access is refused us, we will assume the worst."
Belarus, Eritrea and North Korea have routinely barred all access to UN rights observers, he said, while Israel has repeatedly refused to cooperate with probes into the situation in the occupied Palestinian territories. Zeid also accused Turkey, China, and the Philippines of delaying or outright blocking independent monitors. Venezuela, he said, had refused to issue a visa to his representative in the region over the past two and a half years.
"Its comprehensive denial of access to my staff is particularly shocking in light of our acute concerns regarding allegations of repression of opposition voices and civil society groups," he said. Iran meanwhile had blocked all access to his staff since 2013, which he said was "particularly regrettable given the reports we continue to receive of fundamental problems with the administration of criminal justice" in the country.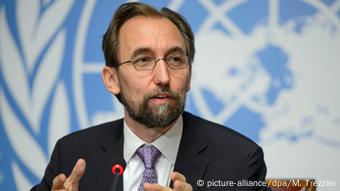 UN high commissioner for human rights Zeid Ra'ad Al Hussein
Alarming situation in Syria
Zeid also condemned the government in Syria, where no UN rights monitors have been allowed since the conflict began there in early 2011.
"This is a state led by a medical doctor and yet is believed to have gassed its own people; has attacked hospitals and bombed civilian neighbourhoods with indiscriminate explosive weapons; and maintains tens of thousands of detainees in inhuman conditions," Zeid said.
A ceasefire brokered by the United States and Russia appeared to be mostly holding across Syria on Tuesday, as agencies prepared to deliver aid convoys to besieged areas. Monitoring group the Syrian Observatory for Human Rights said it had not documented a single civilian death since the truce came into effect on Monday, although some shelling had been reported.
The UN had repeatedly called for an end in fighting to allow supplies into the city of Aleppo where thousands of civilians are in dire need of food, medicines and fuel.
More than 301,000 Syrians have been documented as having been killed since the five-year conflict broke out, the Observatory said in its latest assessment on Tuesday. However, the group estimates the actual toll is much higher - around 430,000.
nm/rc (AFP, dpa, Reuters)