Flying back from a holiday in Spain, Oumar Diallo had a disagreeable experience at a Berlin airport. "I was the only black on board. All passengers were German. I was the only one who was stopped and checked by the police," Diallo told DW. Diallo is from Guinea. He has been living in Berlin for more than 20 years. At the airport, police officers told him that the check had nothing to do with the color of his skin.
But Diallo's experience is not uncommon. The United Nation's Working Group of Experts on People of African Descent is "very concerned" about the situation of people of African descent in Germany, chairman Ricardo Sunga said. He was speaking at the end of a week-long fact-finding visit to Germany.
According to Sunga, black people are routinely discriminated against. They are the victims of racism, prejudice and hate crimes, Sunga said while presenting the commission's preliminary report. "They fear for their safety and avoid certain places, as they will be attacked. They are subjected to racial discrimination by their classmates, teachers, workmates and the structural racism by the government and criminal justice system," Sunga said.
Commission demands abolition of 'racial profiling'
Racial profiling is one example of structural racism mentioned by the working group. It is likely that Oumar Diallo was a victim of this controversial practice at the Berlin airport. Racial profiling means that the police stop and control people according to certain characteristics like skin color, religion or nationality. The commission found that the practice was widespread in Germany, despite official denials. "Stop and search controls by police are usually targeted at minority groups, including people of African descent. Boys and young men experience day-to-day confrontation with law enforcement, with higher risk of imprisonment," Sunga said.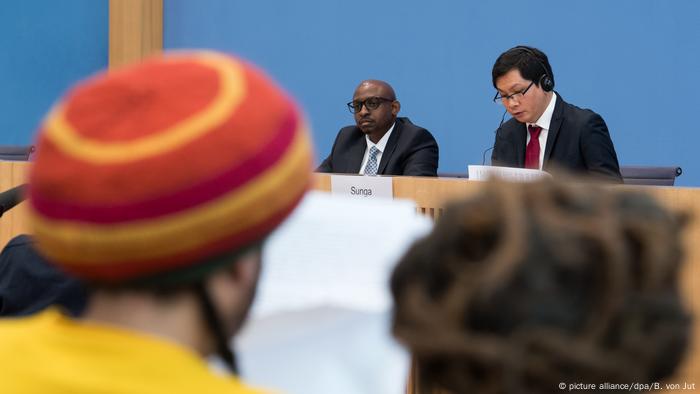 UN experts Sabelo Gumedze and Ricardo Sunga (left) presenting their findings on racism in Germany
Sixty-three percent of Germans believe racial profiling is necessary for reasons of security. But experts said the practice should be abolished by amending the federal police law. They also called for effective complaint mechanisms. Presently, complainants almost never stand a chance of having their grievances addressed.
While in Germany, the experts talked to government representatives, members of parliament and officials form several state governments. They also met with civil society representatives, who complained about the everyday racism experienced by people with African roots.
"People are so prejudiced that they believe we are not capable of doing a job and won't even invite us for a job interview. Prejudice also means that we are discriminated against when looking for housing," student Karen Taylor told DW. "There are aspects of discrimination you experience every day," she added. Taylor's parents are from Ghana. She is an activist from the Black People in Germany Initiative.
On the 'lowest' rung of society?
"People of African descent are on the lowest rung of German society," chairman Sunga said. "They end up with jobs which nobody else wants, like cleaning toilets. They drive people of African descent into poverty, forcing them into depression."
The Commission called for a national action plan to improve the situation of black people in Germany. More people of African descent should be employed in the public sector. The education system must be rid of discrimination. Germany should also deal more thoroughly with its colonial past, the experts recommended. Among other things, the UN working group called for representatives of the Herero and Nama to be allowed to participate in talks between the Namibian and German governments on colonial crimes.
Oumar Diallo has also been fighting for a change of attitude towards blacks in Germany. In 1993 he opened a meeting space, the "Afrika-Haus", in Berlin, where debates, concerts and readings about Africa take place. Diallo said he hoped that would encourage Germans to learn about the importance of Africans for Germany. "We are a gain and a chance for this country. That is my approach," he said.