Mahboubeh Mofidi was 13 years old when she married her husband. Three years later, at the age of 16, she allegedly killed him with the help of her brother-in-law. The alleged murder landed her on Iran's death row — but she is no longer there.
Mofidi was executed on January 30, one of three Iranian individuals subjected to the death penalty for alleged crimes committed when they were under 18 years of age.
Iran is a signatory to two international treaties that prohibit capital punishment for offenses committed by minors. But that has not stopped the country from being the worst international offender when it comes to executing such juveniles, the Office of the United Nations High Commissioner for Human Rights announced on Friday in a statement.
"I am sad to say that Iran violates this absolute prohibition under international human rights law far more often than any other state," the office's high commissioner, Zeid Ra'ad Al Hussein, wrote. "No other state comes even remotely close to the total number of juveniles who have been executed in Iran over the past couple of decades."
According to Human Rights Watch, Iran is only one of four countries, the others being Pakistan, Saudi Arabia and Yemen, that have executed child offenders since 2013.
Iran did not immediately react to the UN commissioner's statement.
Read more: Child marriage in Iran forces girls into a life of oppression
The new year starts with a 'surge'
Alongside Mofidi, Iran also executed two men in January: 18-year-old Amir Hussein Pourjafar, for alleged rape and murder when he was 16, and 22-year-old Ali Kazemi, who allegedly committed murder at age 15.
These three executions in the first month of the new year alone already put Iran just slightly below its total from 2017, when five juvenile offenders were executed, the commissioner's statement noted.
Zeid described the past month's executions as a "surge" and urged Iran to "abide by international law" and "immediately halt" the execution of individuals who committed crimes as minors.
"The execution of juvenile offenders is unequivocally prohibited under international law, regardless of the circumstances and nature of the crime committed," Zeid said.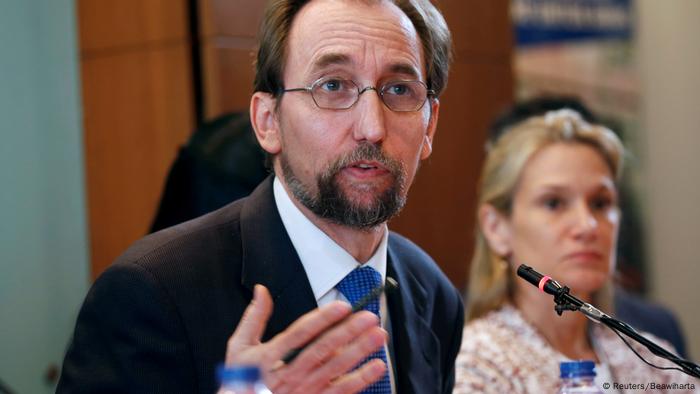 Zeid expressed concern for individuals who were convicted as minors and remain on death row
Zeid expressed particular concern about three pending executions that had been postponed various times, in one case due to a promised payment of "diyah," or blood money, from the convict's family to the family of the alleged victim. He described the trial of another juvenile offender who faces the death sentence as "widely considered to have been grossly unfair."
Some 80 individuals are thought to currently be on death row in Iran for crimes they committed as minors.
Read more: Amnesty International: Fewer executions worldwide, but more death sentences
Criminal responsibility for boys and girls
The UN human rights head also blasted Iran for its gender discrepancy on the age of criminal responsibility, calling it "wholly unjustifiable on every level." Girls become criminally responsible at the age of 9 and boys at the age of 15.
However, Zeid immediately reiterated that executing any minor, whether male or female, was "illegal and unacceptable."
The International Covenant on Civil and Political Rights and the Convention on the Rights of the Child both ban capital punishment for juvenile offenders. Iran has ratified both — and therefore breaks international law with each execution.
The commissioner's statement pointed to "partial improvements" in other areas related to the death penalty, singling out a 2017 bill that commuted death penalty sentences for some drug offenses into prison terms. However, it noted that "the mandatory death sentence is retained for a wide range of drug-related offenses."
The UN human rights commission has pushed for Iran to end the use of the death penalty altogether.
Every evening at 1830 UTC, DW's editors send out a selection of the day's hard news and quality feature journalism. You can sign up to receive it directly here.