DW: Mr. Hoeness, what do you say about the fact that people call you the soul of Bayern Munich?
Uli Hoeness: Well, it makes me extremely happy, but you can't expect me to make a judgement about whether its true. That is up to others. But it's nice if that is your opinion. I also hope that the way that I work and help form the team makes me worthy of that description.
How would you describe your role at Bayern?
I have certainly done my part to contribute to our success, but such a gigantic club requires contributions from a lot of different people. We have, of course, profited greatly from the fact that we have had and still have charismatic people who played soccer here themselves: Franz Beckenbauer, Karl-Heinz Rummenigge, Paul Breitner, Gerd Müller and Sepp Maier all did their part to build up the team after they ended their careers as players. I was part of every phase of that development throughout my career as sporting director, chairman and president of the club – so it seems natural that people assume that my contribution to our success was especially large.
Read more: Exploring the Mia san Mia Phenomenon
You became sporting director in 1979, at the age of 27. Did you already have a vision for the club back then?
I always had a vision for the club. I was always of the opinion that Bayern could be transformed from a small team into a global brand. But we had to change a lot of things, turn a lot of different screws. Back then, Bayern had an annual revenue of about 12 million Deutschmarks (roughly €6.1 million today). 85 percent of that came from ticket sales. There was not a lot of room for us to compete with the world's biggest teams, mostly from Italy and Spain. So one of the first things we did was to try to lessen our dependence on ticket sales. Today, ticket sales make up about 10 percent of our €630 million ($740 million) turnover.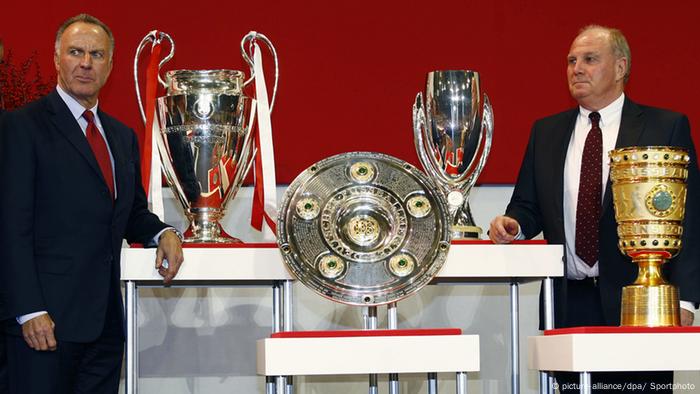 Bayern Munich chairman Karl-Heinz Rummenigge and Bayern president Uli Hoeness after their European trebble
I tried to make the club financially independent from the start. I flew to the USA to take a closer look at the NFL and the NBA. I flew to Manchester as well, because at the time Manchester United had an especially good merchandizing concept. Everything we were doing on the pitch was fine but we were playing in an entirely different league from many of the other international teams financially. We had to up our game there, and we did it on our own – without major sponsors or investors.
Today we have three stakeholders that each own 8.3 percent of our shares, but that is the only outside money that flows into our coffers. We are extremely proud of the fact that members own 75.1 percent of the team. That allows us to make our own decisions, and nothing happens in the club without input from team management.
'The sparks flew'
You have said that, when in doubt, you choose the human perspective when times are hard. Is there a particular philosophy behind your leadership style?
There is no handbook that I use when I work. I also never went to university to learn that, rather I have worked with the motto 'learning by doing' from the start. I have never gotten ahead of myself. I have always tried to build this club slowly but surely. At the beginning, I naturally had to work with my elbows. As manager, I wanted to take the club to the top. The sparks certainly flew on the path getting there, no question. Especially if someone tried to insult or shame the club, then there was a real conflict.
The more Bayern – and also me personally – became financially independent, the more I concentrated on letting others participate in our club. I have always respected the fact that Bayern is not a juggernaut who couldn't care less about its surroundings. It just so happens that we have supported clubs, ones even in the Bundesliga, when they had problems – especially in the east.
Bayern were almost always there whenever they were called upon. That's what makes us stand apart – I think that's what makes me stand out, too. I've never cosied up to those above me or ridden roughshod over those below, but rather the other way round. I've always tried to help the weak and attack the strong – something which didn't always meet with universal approval. But the people who I have dealt with would rarely speak badly of me.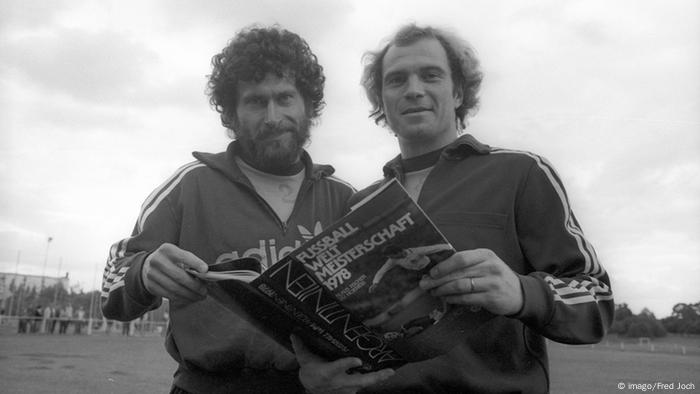 The beginners: Paul Breitner (left) and Uli Hoeness (right)
Charter flight for Kuffour
Like former player Sammy Kuffour, for instance. He says you were like a father to him.
What can I say? Sammy came to us as a 16- or 17-year-old from Italy where he hadn't been treated particularly well. My secretary looked after him and he ended up coming into my care. I remember one situation which I wouldn't wish upon anybody in the world. I had just come back from a Christmas holiday skiing and was lying on the couch reading the newspaper when my secretary rang me. She was crying and told me that Sammy Kuffour's daughter had fallen into a swimming pool in Africa and drowned. But Sammy couldn't fly back to Ghana until the following evening because there weren't any flights.
So I immediately chartered a plane for €80,000 so that he could fly home that night. We had the plane wait in Africa for as long as it took until Sammy and his wife felt ready to come back. You can't look that sort of thing up in a handbook and I would do it again without a second thought.
'Power is everything'
What does your family mean to you?
Over the past few years, when I was in prison and then when I was on day release, I've realized how important family is. My family helped me to survive through a difficult period. While I was in prison, I realized how difficult it must be for all those men who have lost their families. Many of them struggle to lead meaningful lives afterwards.
And what about justice?
It is very important – I have never tried to enrich myself at the expense of others or screw anybody over. Of course you can then say: "He was convicted of tax evasion which is ultimately screwing over the state." But I want to move on from that. I accepted the consequences and I have admitted that it was a huge mistake. Justice is one of the most important elements of our society.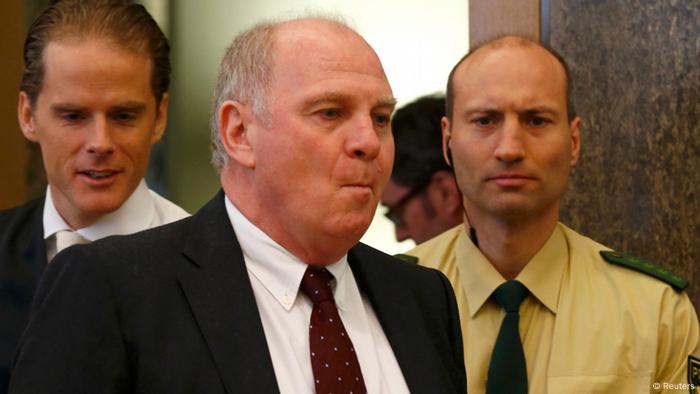 Uli Hoeness arrives for his 2014 tax evasion trial
And tradition?
Despite the pace of modern life, I always try to maintain tradition. A club like Bayern Munich is a global player with interests in China, North and South America, all over the world. But we mustn't forget that our roots are in Bavaria.
And power?
That's a word which has a lot of negative connotations in our society – but I don't see it that way. When you use power responsibly, it can be a good thing because, without it, you can't decide things or change things. Power – well-intentioned, humane power – is everything. Not just in society, not just in politics – but also in a football club.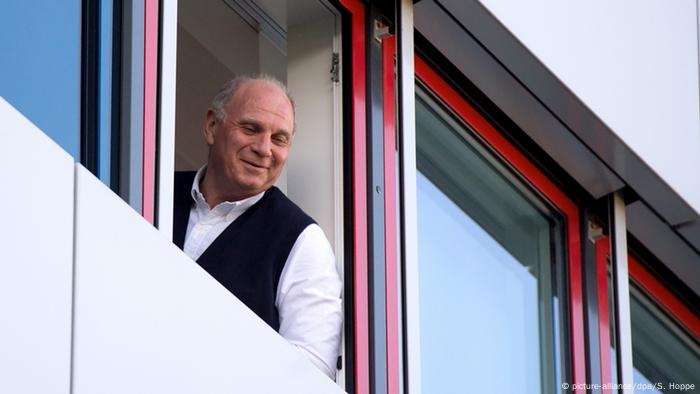 At home at Bayern Munich headquarters on Säbener Street in Munich
A self-made man
How would you describe the phenomenon of "Mia San Mia" at Bayern Munich?
To understand Mia San Mia, you need first of all to understand Bavarian culture, the Bavarian people, the Bavarian country. It's when you sit on the banks of the Tegernsee and gaze down at the lake. It's when you're in a beer garden and people don't say "No, sorry, this seat is taken" but rather "Sit down, we'll all budge up." It's having a beer with complete strangers and enjoying a nice evening together. If I need a handyman on a Sunday – and this applies to everyone in my village, not just Uli Hoeness – the handyman comes, even on a Sunday. It's this willingness to help on the one hand but to grumble on the other – to grumble about oneself and question oneself – that's really important. It's being dissatisfied but recognizing all the same that we are lucky to have been born here, in Bavaria. We could have grown up in Aleppo. If you've experienced all that, you would never, ever think that we're not well off.
Where does Mia San Mia come from?
I believe it comes from the self-confident politics of Franz-Josef Strauß and Edmund Stoiber [former Bavarian state premiers]. They transformed a small, struggling agricultural region into a modern political state. Using a mixture of Lederhosen and technology, they forged a state which is now the wealthiest in Germany and which supports other regions financially.
'A home or replacement family for many'
Bayern are a very polarizing club. Great love or blatant rejection. There is rarely anything in between. How do you explain that?
I don't see it as that extreme. I have experienced things in the last three or four years that I never thought were possible. For example, I received around 5,000 letters in Landesberg (when I was in prison). Among them were many from fans of other clubs, who wrote: 'I don't like Bayern for many reasons, but I wish you the best.' It has totally changed. We are also experiencing that now when we play away games. Before it was plausible that, at Werder Bremen, 35,000 fans chant: 'Hoeness, you asshole.' That's not the case anymore. As recently as January I couldn't follow the game because I had to take so many selfies.
I think that is because the people respect that we turned a club with 8,000 members into a world-class club with our own hands – without foreign assistance, without winning the lottery and without an American sugar daddy. We have also demonstrated that we appreciate our social responsibilities to other clubs opposite us, that we look outside of the box. Bayern made €1 million available during the refugee crisis. Karl-Heinz Rummenigge gave €100,000 to help with the flooding in Niederbayern at short notice. That means we do not regard Bayern just as a football club anymore, but also as a social organization, which for many people is a home or a replacement family.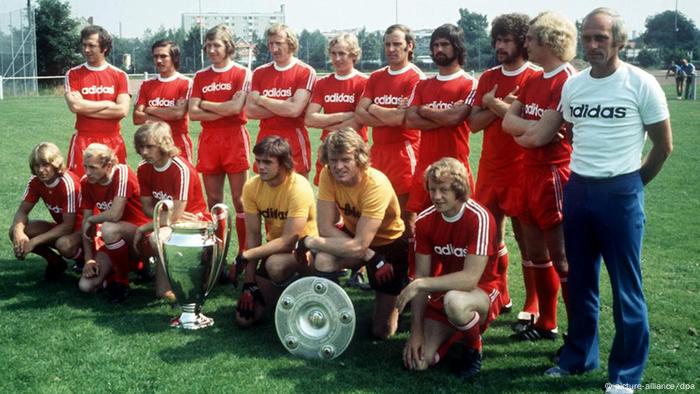 Bayern Munich, the 1974 European Cup champions
In retrospect, how do you see the antagonistic Uli Hoeness, who often put himself ahead of his colleagues and his club?
I think it's a pity that I cannot be the same as I was before because it has become more difficult to voice my opinions openly after my tax problems. I believe the popularity, the disputability and also the rejection towards me had to do with the fact that I never wavered, never kept my opinions to myself. Now I have a dilemma: On the one hand, I would like to continue (voicing my opinions), but on the other hand I cannot stand with my past and be a know-it-all. My life has been fractured in a way I will not get rid of in the foreseeable future. I think it's a pity because right now, when the world is out of line, more people need to stick their fingers into the wound without consideration for their own reputation.
Uli Hoeness, born in 1972, joined Bayern as an 18-year-old. As a professional, he won the European Cup three times (1974, 1975 and 1976), was a three-time Bundesliga champion (1972, 1973 and 1974), won the German Cup in 1971 and the Club World Cup in 1976. With the German national team, he was a European champion in 1972 and a World Cup champion in 1974. He became the manager of Bayern when he was 27 after ending his career due to a knee injury. In 2009, the Bayern members voted him club president. During his time in the Bayern front office, Bayern won two Champions League titles (2001 and 2013), the UEFA Cup (1996), 19 Bundesliga titles and 11 German Cups. In 2014 he was handed a prison sentence of three years and six months for tax evasion, which he began in June 2014. He was released on parole in February 2016.
Interview conducted by Niels Eixler.