International success story
Germany's most famous football team first made international headlines 50 years ago when they won the European Cup Winners' Cup. Bayern Munich have since secured a total of 60 domestic and international titles, making them one of the most successful sports clubs on the planet – and also one of the biggest. The club counts some 300,000 members, compared to Real Madrid's 100,000 and the 150,000 of Barcelona and Manchester United. "We started out with a turnover of 12 million deutschmarks and around 20 staff. Now we have a turnover of €630 million and almost 1,000 employees," says president Uli Hoeness.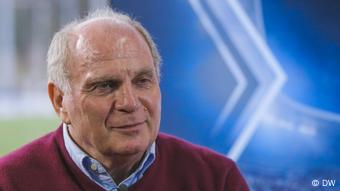 Uli Hoeness: since joining the club at 18, the president has been instrumental in turning Bayern into a global brand.
The filmmakers covered 50,000 kilometers on a journey to find the heart of the side behind those stats, and see how the club is viewed worldwide. And also to answer vital questions such as: what is the source of people's fascination with the club? Is "Mia san mia" a battle cry or just a promotional slogan? Why does the club have a following of fans everywhere from Brazil, Ghana and Japan to London, New York and Tel Aviv? What are its weak spots? And why are some people resentful of the club?
This film is not a historical account of the rise of Bayern. It is more a global jigsaw bringing together facts, emotions, and associations. It has no narration but is informative, self-explanatory and entertaining with an elliptical structure combined with various linear plots — but at all times serving the one purpose of finding answers to the question:
What is the 'Mia san mia' phenomenon?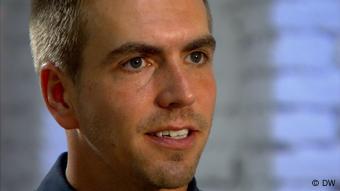 Philipp Lahm: the homegrown hero is the quintessential product of Bayern's youth academy.
The filmmakers talked to a range of insiders as they accompanied the team on the Champions League campaign trail. Among the big-name protagonists are Uli Hoeness, Carlo Ancelotti, Oliver Kahn, Giovane Elber, Sammy Kuffour, Franz "Bulle" Roth und Philipp Lahm. But we also hear the views of committed Bayern supporters from around the world. Camila is a bartender from Rio de Janeiro, Raffaell an IT specialist from New York, and Kamal is a Palestinian psychologist from Israel. Jaime from Madrid and Andy from London are journalists and experts on Bayern's travels to their respective home clubs. Representing the future of Bayern is Kanata Takumoto, a 14-year-old talent who plays for FC Bayern Tsuneishi: the youth team of a Japanese shipbuilder.
The film presents a profound insight into the Bayern universe, and above all will be anything but predictable.