In an interview on Monday with French broadcaster RTL, Paris demanded that Britain honor its promises to take in migrant children from the Calais camp.
Ahead of a meeting with his British counterpart Amber Rudd on Monday, French Interior Minister Bernard Cazeneuve said: "I am solemnly asking Britain to assume its moral duty."
"There are several hundred unaccompanied minors in Calais who have family in Britain. We are in the process of drawing up a precise list and the British need to live up to their responsibilities.
"We have lived up to ours," Cazeneuve stressed.
UK family ties
Cazeneuve said last week that up to 950 children are living in the "Jungle," many of whom are unaccompanied.
The Red Cross charity also accused the UK on Sunday of leaving hundreds of young children with the right to join family in Britain in limbo in Calais.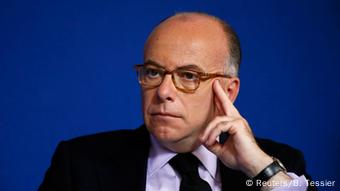 French Interior Minister Bernard Cazeneuve
"Of the estimated 1,000 unaccompanied children who are currently living in the Calais 'Jungle', 178 have been identified as having family ties to the UK. This gives them the right to claim asylum in the same country," the Red Cross said.
Tension between London and Paris
French officials have said that work to dismantle the Calais migrant camp could begin as early as this month. Following its closure, residents are due to be sent to reception centers across France.
The makeshift settlement has become the focal point in France of Europe's migrant crisis and has become a contentious issue between France and their British neighbors across the channel.
The two countries have signed several agreements which have seen British border controls move to the French side of the English Channel, while Britain has also helped pay for security upgrades to areas around high-speed rail tracks and the port.
A new wall is currently being built to prevent migrants gaining access to ferries illegally.
Joint effort
At a previous meeting in Paris, Cazeneuve and Rudd pushed for a united effort in dealing with both the camp as well as general cross-Channel security. Migrants desperate to get to the UK regularly try to stow away on lorries heading to the Channel ports for the ferry crossing to England.
"We are committed to working together to strengthen the security of our shared border (and) to strongly diminish the migratory pressure in Calais," they said in a joint statement.
ksb/kl (AFP, AP, Reuters)