The Foreign Affairs Committee of the British Parliament slammed the government on Monday for "turning a blind eye" to the role London's financial center plays in laundering the proceeds of Russian corruption. The result is that it helps the Kremlin finance its aggressive foreign policy.
In a report published Monday, the committee said that despite the tough rhetoric over the nerve agent attack on a former spy in Britain earlier this year, for President Vladimir Putin's allies it was "business as usual" in the UK.
"The use of London as a base for the corrupt assets of Kremlin-connected individuals is now linked to a wider Russia strategy with implications for the UK's national security," said the committee.
It added that failing to act sent a message that "the UK is not serious about confronting the full spectrum of President Putin's offensive measures."
According to the committee, Russian money hidden in British assets and laundered through City of London financial institutions damages the government's efforts to take a tough stance against Moscow's aggressive foreign policy.
"The scale of damage that this 'dirty money' can do to UK foreign policy interests dwarfs the benefit of Russian transactions in the City," said committee chairman Tom Tugendhat.
Britain's financial center has benefited mightily from the massive flight of Russian cash since the 1991 fall of the Soviet Union and London remains the Western capital of choice for the oligarchs and Russian officials who flaunt their wealth across Europe's luxury destinations.
Among several recommendations, the committee said Britain should work with international allies to make it more difficult for Russia to issue sovereign bonds, which are not subject to sanctions, via banks which are sanctioned — a practice the report said undermined efforts to rein in Russian behavior.
One of Britain's most prestigious law firms, Linklaters, was singled out for criticism over its work on deals involving Russian companies close to Putin.
Linklaters, however, said it was "very surprised and concerned" at the criticism and rejected any suggestion that, because the firm works in a particular market, it is involved in corruption.
The committee said it should be up to others to judge whether the firm had become "so entwined in the corruption of the Kremlin and its supporters, that they are no longer able to meet the standards expected of a UK-regulated law firm."
Destination of choice
The British National Crime Agency said earlier this month that potentially hundreds of billions of pounds of money-laundering is channeled into Britain each year and that for Russians it is a prime destination to legitimize the proceeds of corruption.
"The use of London as a base for the corrupt assets of Kremlin-connected individuals is now clearly linked to a wider Russian strategy and has implications for our national security," the committee report said.
After convincing dozens of countries, including the United States, to expel Russian diplomats in response to the use of a nerve agent on British soil in March, Britain has promised further measures to tighten sanctions against Russia.
The committee's report recommended working with the European Union and the United States on a way to prohibit the purchase of Russian bonds which have been sold with the help of sanctioned banks. It also urged a ban on European clearing houses making Russian debt available.
"The size of London's financial markets and their importance to Russian investors gives the UK considerable leverage over the Kremlin," the report added.
Meanwhile, on Monday, British Prime Minister Theresa May's spokesman said the government could not comment on why Russian billionaire Roman Abramovich's visa had yet to be renewed.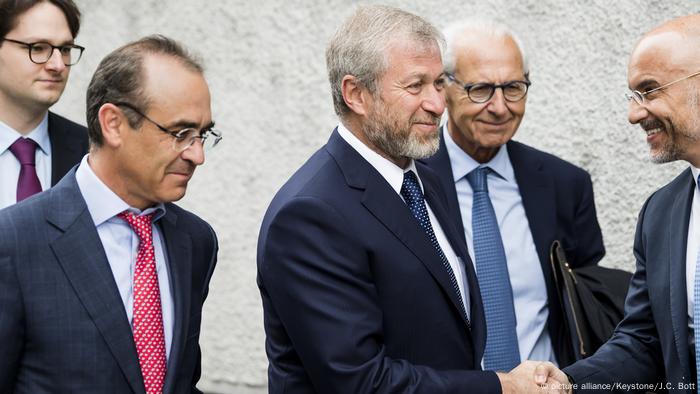 No word yet on Abramovich's UK visa
Abramovich, who is best known in Britain as the owner of Premier League soccer club Chelsea, is in the process of renewing his visa as part of a standard procedure after it expired last month. However, it is taking longer than usual, sources told Reuters on Sunday.
In Moscow, Vladimir Putin's spokesman Dmitry Peskov told reporters, "We are witnessing Britain's rather unprecedented anti-Russian mania which is manifested in various ways. I have no doubt that such actions won't go unnoticed by investors from other countries," he added.
Relations between Moscow and London have been strained since a former Russian double-agent Sergei Skripal was poisonedin Britain in March, an act Britain has blamed on Russia but in which the Kremlin denies any involvement.
av/rc (Reuters, AP)
Each evening at 1830 UTC, DW's editors send out a selection of the day's hard news and quality feature journalism. You can sign up to receive it directly here.