Rescuers were searching on Thursday for a New Zealand cargo ship that went missing off the coast of Japan, as a typhoon Maysak tore through the region.
The Gulf Livestock 1 had sent a distress call from the west of Amami Oshima island in southwestern Japan as strong winds and rains. One Filipino crew member has since been rescued, after Japanese navy P-3C surveillance aircraft found him wearing a life vest and waving, while bobbing in the water.
The survivor told rescuers that an engine stopped, causing the vessel to stall. The boat then capsized after being hit by a powerful broadside wave and sank. To save his life, he quickly put on a life jacket and jumped into the sea. He is currently hospitalized, but in good health, Japan's coast guard said.
Over 5,800 heads of cattle on board
The Gulf Livestock 1 left Napier on New Zealand's north island on August 14 with 5,867 cattle, heading for the Port of Jingtang in Tangshan, China. The trip was supposed to last for around 17 days, New Zealand's Foreign Ministry told Reuters news agency.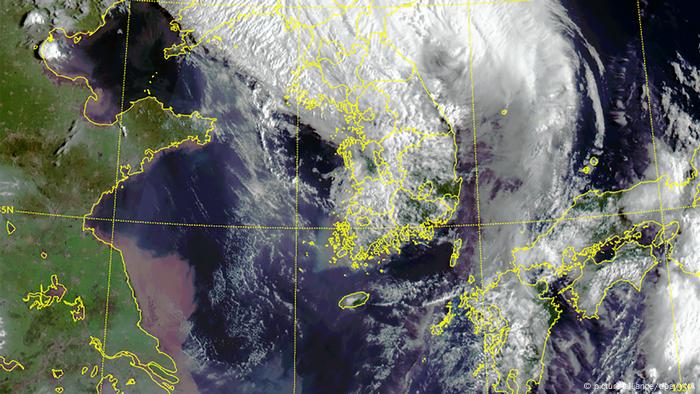 Typhoon Maysak is moving northward along the eastern side of the Korean Peninsula, in this image taken by South Korea's geostationary satellite
Japanese coastguard authorities said the ship had 43 people and almost 6,000 cattle on board. The crew consisted of 39 citizens from the Philippines, two from New Zealand, and two from Australia, Japan's coastguard confirmed.
The crew consisted of 39 citizens from the Philippines, two from New Zealand, and two from Australia, Japan's coastguard confirmed.
North and South Korea badly affected by storm
Maysak has also been causing devastation in South Korea, with winds reaching up to 140 kilometers (87 miles) per hour, off the coastal region where the city of Gangneung is located. The typhoon is headed for North Korea, South Korea's weather agency said.
Read more: Mauritius oil spill: Japan asked to pay $34 million, support local fishermen
North Korea's state TV showed widespread flooding in the eastern coastal cities of Wonsan and Tanchon.
1 death, more than 2,000 evacuated
Maysak has resulted in at least one person's death and forced more than 2,200 people to flee their homes in South Korea. The typhoon has taken out dozens of trees, utility poles and lamp posts, ripped off signboards, and damaged or flooded numerous homes and vehicles.
A woman in the southern city of Busan died after being injured by shattered window glass.
Four nuclear power reactors near Busan automatically shut down, but no leak of radioactive materials has yet been detected, South Korea's Ministry of the Interior and Safety said.
As of Thursday morning, officials have managed to restore electricity to roughly 40,000 homes with 80,000 still without power.
jsi/sms (AP, AFP, Reuters)