Zeybekci told a crowd of about 300 guests and 70 journalists at the Senats hotel in central Cologne on Sunday evening that the three million Turks living in Germany were staying "in a country that is our friend," Spiegel Online reported.
Tensions have been running high between Ankara and Germany for several months, but heightened in recent weeks, culminating in Sunday's accusation by Erdogan that the German authorities were behaving like Nazis. German Justice Minister Heiko Maas told broadcaster ARD that Erdogan's
comments were "absurd, disgraceful and outlandish" and designed to provoke a reaction from Berlin.
This followed several high-profile Turkish politicians being denied the right to attend rallies in Germany in the run-up to an April referendum in Turkey.
According to Mayor of Cologne, Henriette Reker, the city did not have the power to stop the appearance of Zeybekci in the city. "As the rooms are private, the town hall has no influence on whether the event takes place there," Reker said on Sunday.
Constitutional change in Turkey
The minister as expected promoted a "Yes" vote in Turkey's referendum on increasing the powers of the president.
"Turkey will become much more democratic with the constitutional change than now," Zeybekci said.
To sounds of approval from his audience, the minister said: "I have a present for you: the greeting from Erdogan, the man of the people."
He went on to thank the German authorities, who had "made his appearance possible," a comment that was met with ironic laughter from the crowd.
Zeybekci also attacked Erdogan's opponents. Referring to the coup attempt of last July he said: "The defeat of the putschists will enter the history books with golden letters."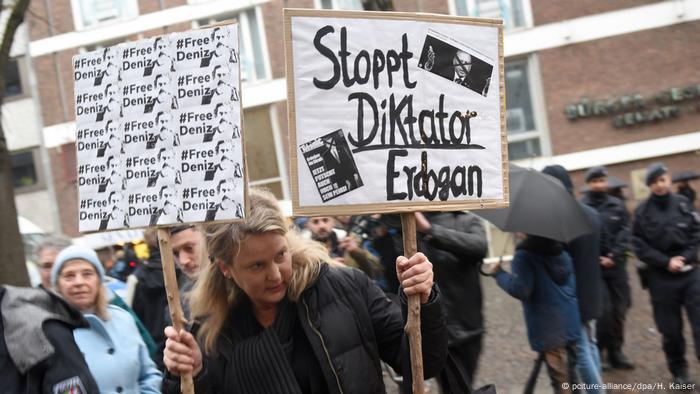 Protestors outside the Senat hotel in Cologne calling for the release of German-Turkish journalist Deniz Yucel who is in custody in Turkey.
Economic and cultural projects
The Turkish minister went on to praise Turkey's economic performance. "Turkey is ranked 16th of the world's strongest economies - sixth place in Europe - you are citizens of this country!"
About 1.4 million Turks living in Germany are eligible to vote in the April referendum in Turkey.
The Turkish minister had earlier attended a concert in the city of Leverkusen but did not address political issues. A spokesman for the cultural society holding the event said that Zeybekci had been invited several months before to a concert honoring a Turkish musician.
jbh/jm (dpa, Reuters)