An Istanbul court on Thursday ruled to keep the head of Amnesty International's Turkey office in custody on terrorism charges.
Taner Kilic has been in jail for more than one year. He was arrested in June 2017 for allegedly having links to self-exiled Turkish cleric Fethullah Gulen, who Turkish authorities blame for a failed coup in 2016.
Turkish prosecutors accused Kilic of using ByLock, an encrypted messaging app that authorities claim was created specifically for Gulen's supporters.
Kilic is one of 11 human rights activists on trial in Turkey, including Amnesty's Turkey director Idil Eser. If Kilic is found guilty, he faces up to 15 years in prison.
"Today's heart-breaking decision to keep our colleague in jail is yet another travesty of justice," said Amnesty director Salil Shetty. "Taner's situation is emblematic of what is happening in Turkey today. Many of human rights defenders are either languishing in jail or living in constant fear of arrest."
Read more: Post-coup Turkey: Journalists, public employees under fire
'Silence critical voices'
Since the failed coup, Turkey has launcheda nationwide crackdown targeting journalists, academics and human rights activists. More than 50,000 people in the armed forces, police, schools and judiciary have also been arrested as part of the campaign.
Ankara has blamed Gulen for orchestrating the coup, claiming he operates a global network of supporters aimed at undermining the Turkish state. Rights groups have accused Turkey of using the crackdown to stifle dissent, especially ahead of key elections slated for Sunday.
Read more: We must speak up for free expression in Turkey
"Taner's treatment is one of many recent attempts to silence critical voices in Turkey. Since the failed coup attempt of July 2016, there are ongoing criminal investigations against over 150,000 people," Amnesty said.
"In the last year, more than 180 media outlets have been shut down and an estimated 2,500 journalists and other media workers have lost their jobs. More than 120 journalists and media workers are imprisoned pending trial."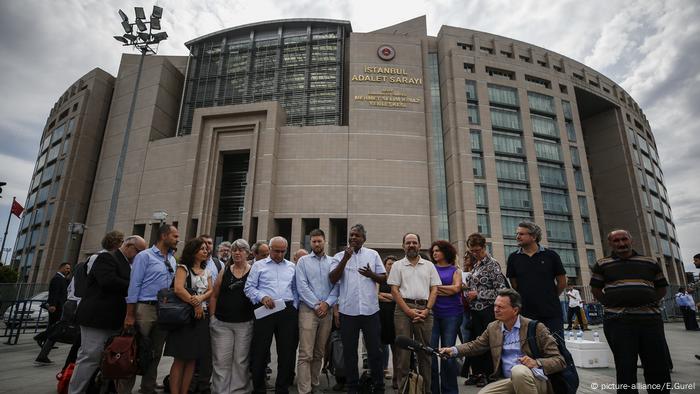 Salil Shetty, secretary general of Amnesty International, called on Turkish authorities to release his colleagues while speaking to the press outside a court in Istanbul
ls/sms (Reuters, AFP)
Each evening at 1830 UTC, DW's editors send out a selection of the day's hard news and quality feature journalism. You can sign up to receive it directly here.