Turkish President Recep Tayyip Erdogan will officially open a new central mosque in the western German city of Cologne, the Turkish-Islamic organization DITIB confirmed on Tuesday evening.
Erdogan will open the mosque at a ceremony at the end of his state visit to Germany, which is set to take place on September 28 and 29.
During his two-day visit, Erdogan will be received with military honors as well as a state banquet hosted by German President Frank-Walter Steinmeier. The Turkish leader is also due to meet with German Chancellor Angela Merkel for talks in Berlin.
Sources familiar with the visit told the dpa news agency that Erdogan has been hoping to speak with members of the Turkish-German community in either Berlin or Cologne during his visit. The Turkish leader and members of his government were blocked from holding campaign rallies in Germany last year to stir up support ahead of key elections in Turkey.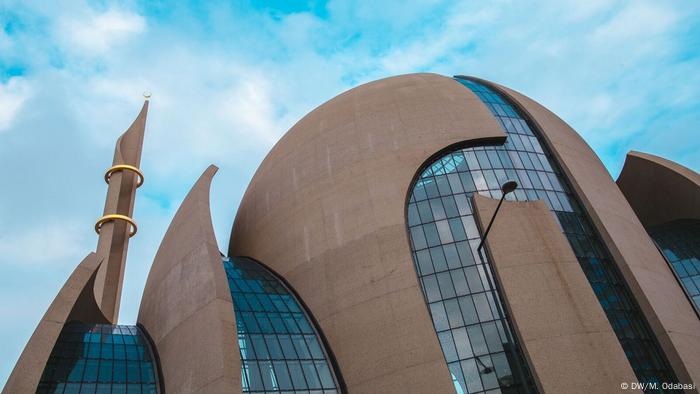 Cologne's central mosque can hold up to 1,100 people
Europe's largest mosque
With space for 1,100 people, the central mosque in Cologne is the largest mosque in Europe — outside of Turkey. The mosque was first used for Friday prayers a year ago, but it hasn't officially opened.
Construction on the building began in 2009, but took several years longer than scheduled to complete. The project was continuously delayed due to building defects as well as disagreements with the architect. It's situated in the heart of Cologne's Ehrenfeld neighborhood, which is home to the city's Turkish community.
Meanwhile, German media reported late Thursday that the country's domestic BfV intelligence agency is considering formal permanent surveillance of DITIB on suspicion of "anti-constitutional religious-nationalist activities." Last month, the German government said it will no longer fund projects with DITIB.
Cologne's central mosque is run by DITIB, which operates over 900 mosques in Germany and has direct political and economic ties to Turkey's government. Some DITIB imams are accused of following orders to spy on Erdogan opponents in Germany.
Berlin 'hosting a criminal'
German-Turkish journalist Deniz Yücel slammed Berlin's decision to go ahead with the state visit on Tuesday evening, saying it was a form of "betrayal." Yücel, a correspondent for the German Die Welt newspaper, was imprisoned in Turkey for a year on terrorism-related charges.
"It seems as though the German government is gearing up to betray once again all those in Turkey who are longing for a free, democratic and secular society," Yücel said as he accepted the M100 Media Award in Potsdam.
He added that Steinmeier would be "hosting a criminal at a state banquet."
German politicians and the country's large Kurdish community have also criticized Berlin for hosting Erdogan, particularly in light of accusations that he is shifting Turkey towards authoritarian rule.
Relations between Germany and Turkey have been strained in recent years, particularly in light of Ankara's crackdown on dissent after a failed coup attempt in July 2016. Both sides are currently seeking to de-escalate tensions, with Ankara under economic pressure from US sanctions.
rs/sms (AFP, dpa, KNA)