Top German and Turkish diplomats took their bid to repair deeply eroded relations to Istanbul's Alman Lisesi (German School) on Thursday to mark 150 years since its founding.
German Foreign Minister Heiko Maas told the audience that if bilateral ties between Ankara and Berlin were "as good as at this school, [the two sides] would have accomplished a lot."
Maas, who is on Turkey ahead of a state visit to Berlin by Turkish President Recep Tayyip Erdogan, expressed hopes of reviving a "close and constructive" partnership following multiple standoffs between the two countries.
His counterpart, Mevlut Cavusoglu, described the "friendship between Turkey and Germany" as "a historic one, a deeply rooted one." Addressing students at the school, he added that such institutions and their students would "surely contribute to the further growth and stability of this friendship."
Read more: Ankara tries to mend ties
Multiple disagreements
Chancellor Angela Merkel stressed Thursday that reaching "an understanding with Turkey is important," given the unstable situation in the region — a reference to a possible escalation in the rebel-held Syrian city of Idlib, near the Turkish border.
Germany has "a strategic interest in Turkey's sound economic development," the chancellor told broadcaster RTL, but acknowledged that "serious" political disputes with Ankara remained.
Read more: German politicians wary of pending Erdogan state visit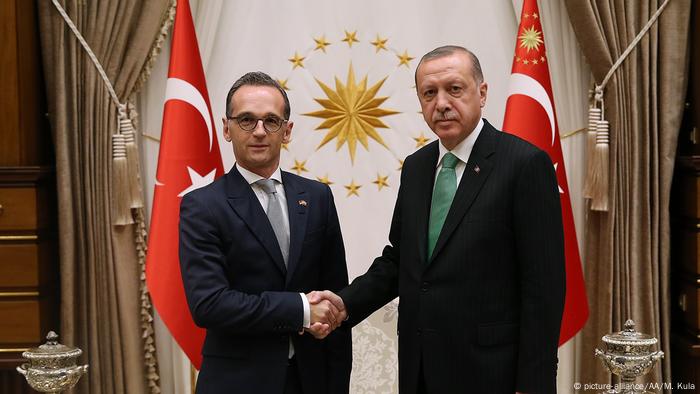 No German flag but undeterred, Maas with Erdogan on Wednesday
Germans behind bars
Relations between Turkey and Germany have soured since the crackdown that followed an attempted coup against Erdogan in mid-2016. According to German officials, seven German citizens — some with dual Turkish nationality — are in custody on political grounds in Turkey.
Despite the release of prominent detainees, like Mesale Tolu, Maas insisted before his trip that normalizing relations couldn't happen until all Germans were freed. Cavusoglu, for his part, has said Turkey would not accept preconditions for this.
In an interview with DW, Germany's former minister for integration, Aydan Özoguz of the center-left Social Democrats (SPD), said Maas shouldn't back down.
"Every fundamental demand has to be reiterated. And the release of the political prisoners is at the very forefront," the politician with Turkish roots said. "We are witnessing a Turkey that is getting worse and worse."
"I think Turkey will need our help, and we always have to tie that to rule of law."
Erdogan is set to meet German President Frank-Walter Steinmeier and Chancellor Merkel when he visits Berlin on September 28 and 29.
ipj/msh (dpa, Reuters, AFP)