Ankara launched a new wave of anti-German rhetoric on Sunday, with President Recep Tayyip Erdogan calling out the German chancellor in a televised speech.
"When we call them Nazis, they (Europe) get uncomfortable. They rally together in solidarity. Especially Merkel," Erdogan said.
"But you are right now employing Nazi measures," he said, addressing Merkel directly and using the unofficial, personal way of saying "you" in Turkish.
Erdogan has previously accused both the Netherlands and Germany of acting like Nazis after the two countries prevented Turkish ministers from holding campaign rallies on their territory.
In his Sunday speech, Erdogan accused Merkel personally of using Nazi methods against his "Turkish brother citizens in Germany and brother ministers." The row with Europe "showed that a new page had been opened in the ongoing fight against our country," he added.
Berlin was decidedly not amused, saying that the Turkish president had "gone too far." Foreign Minister Sigmar Gabriel told the Passauer Neue Presse that he warned Ankara against continuing this "shocking" rhetoric.
"We are tolerant but we're not stupid," Gabriel said. "That's why I have let my Turkish counterpart know very clearly that a boundary has been crossed here."
'Thank God' that German reporter was arrested
Erdogan also described German reporter Deniz Yucel, who had been arrested in Turkey, as a "terror agent." Yucel was initially detained after reporting on emails allegedly coming from the private account of Berat Albayrak, Turkey's energy minister and Erdogan's son-in-law.
"Thank God he has been arrested," the Turkish president said.
Berlin has urged Yucel's release and rejected earlier claims that he was working as a German spy.
Ankara also responded furiously to a Kurdish rally in Frankfurt yesterday, where participants carried flags and symbols of the outlawed Kurdistan Workers' Party (PKK) and called for a 'no' on the upcoming referendum. The Turkish government said the rally showed Berlin's hypocrisy after halting similar events for the 'yes' camp. They also summoned the German ambassador over the incident.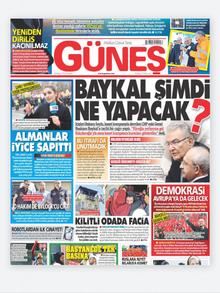 DW covering Kurdish 'terror rally'
Germany's international broadcaster Deutsche Welle was also targeted by the Turkish mass-circulation newspaper Gunes. In its Sunday edition, Gunes ran a picture of a DW reporter covering the rally with the caption "terror propaganda on live-TV."
"Enough is enough: The same Germany that stops Turkish ministers from speaking in public has approved a rally for the PKK supporters. And German DW television broadcast the terror rally live."
DW's Director General Peter Limbourg described the accusation as "absurd" and said it was yet another indication of the state of media in Turkey.
"This same paper recently ran a picture of the chancellor portrayed as Hitler," Limbourg said. "The media must act decisively against this kind of instrumentalization of the press in Turkey and provide people there with objective information."
dj,es/tj (Reuters, AFP, dpa)