Turkish presidential spokesman Ibrahim Kalin decried the open use of Kurdistan Workers' Party (PKK) insignia at the demonstration in an interview with broadcaster CNN Turk on Sunday.
"The German ambassador was invited - was summoned - to the Foreign Ministry and this was condemned in the strongest way," he said.
Some 30,000 pro-Kurdish protesters attended the rally on Saturday to call for a 'no' vote in an April 16 referendum on expanding the powers of Turkish President Recep Tayyip Erdogan.
The demonstration prompted an angry response from Turkey. Officials in the foreign ministry accused Germany of hypocrisy for allowing the march to go ahead despite preventing Turkish ministers from campaigning there for a 'yes' vote.
Rising tensions
The ban on Turkish officials addressing rallies of expatriate Turks in various European countries, including the Netherlands and Germany, has brought relations between Ankara and the EU to a new low. Erdogan responded by calling the bans fascist and threatening to pull out of a year-old migration deal with the bloc.
In a move that could further increase tensions with Berlin, Erdogan spokesman Kalin told CNN Turk there was a possibility Erdogan could plan another rally to address Turks in Germany before the referendum.
The controversial constitutional amendment would create an executive presidency in Turkey and give Erdogan sweeping new powers. The Turkish government says the changes would boost stability and make governance more efficient. But opponents fear the shift would lead to one-man rule.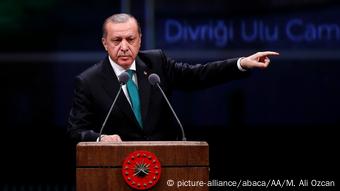 Erdogan blames Gulen for the July coup attempt
Kalin: Germany supports coup plotters
In the interview with CNN Turk, Kalin also accused Germany of supporting the US-based cleric Fethullah Gulen, who Ankara believes was responsible for last year's attempted coup. His comments came after the head of Germany's foreign intelligence agency, Bruno Kahl, said Ankara had failed to provide evidence of Gulen's involvement in the July plot.
"Turkey has tried to convince us of that at every level but so far it has not succeeded," Kahl was quoted as saying by the "Spiegel" news magazine.
Erdogan's spokesman said the remarks were "proof" Berlin was siding with Gulen and his supporters. "Why are they protecting them? Because these are useful instruments for Germany to use against Turkey," he said.
Gulen, a former Erdogan ally who has lived in self-imposed exile in the US since 1999, has denied the allegations.
nm/tj (AFP, EFE, Reuters, dpa)