In a deal that Human Rights Watch has labeled as "a flawed and potentially dangerous policy response" to the influx of refugees, the European Union promised Turkey 3 billion euros ($3.2 billion) back in November to go toward efforts that would keep refugees and other migrants in Turkey.
Although the conditions are still vague, Turkey has said it would allocate the money in such a way that would both prevent refugees and migrants from taking illegal means to reach Europe as well as provide incentives to stay in Turkey. While Syrian refugees who are registered with the Turkish government have legal access to health care and education, only half of all Syrian kids in Turkey are going to Turkish schools. Turkey has promised to step up the integration of children in its school system.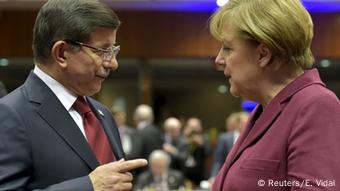 Much more than money is at stake in the EU-Turkey talks
Until recently, refugees in Turkey had no legal right to work. A few weeks ago the government passed new conditions for Syrian refugees to obtain legal work permits, under certain circumstances.
However, Zeynep Alemdar, professor of political science and international relations at Okan University in Istanbul, said that job regulations are too rigid. Only 3 percent of refugees, she told DW, could actually get jobs - there just wasn't access, "or where they're located, there aren't jobs."
Even if some of the terms are still unclear, Turkish officials have concrete ideas where the money could flow.
"[The money] will help with infrastructure - like water sanitation and sewage - in those areas very populated with Syrians, like [the southern border town of] Kilis, where more than half the population is Syrian," said a Turkish government official close to the issue, who spoke with DW on condition of anonymity.
Asked how much had actually already been allocated, the answer was somewhat sobering: "The true answer would be 0," the official said, before going on to explain that none of the money had arrived because the joint EU-Turkey committee hadn't figured out how the money would actually be delivered - whether it would go directly to Turkey or via a third party, like the UN refugee agency (UNHCR).
Shortly before the summit it was revealed that some 90 million euros had now been released earmarked for education and humanitarian aid.
Just peanuts
While the 3 billion euros is intended to be put to good use, "it's actually peanuts compared to what we have spent helping refugees," the official said.
But the money, said Alemdar, is not what this deal is really about. "The real deal for Turkey would be the visa liberalization," Alemdar told DW - the promise of visa-free entry into the Schengen zone for Turkish citizens.
In fact, talks on the EU-Turkey refugee deal are hinging on simultaneous conversations that could jump-start a better "harmonization" of relations between the EU and Turkey.
"Many meetings are ongoing on different issues," explained the government official. "Therefore visa liberalization, accession negotiations, high level dialogues on energy and customs unions - they're all part of [this process]," he added.
Meanwhile, some 12,000 migrants have amassed at the Greek-Macedonian border, sleeping in makeshift tent cities, braving the cold late-winter temperatures in the hope that officials will unlock the fences currently preventing people from making their way to Western Europe.
Thousands more are stranded in Athens and the Greek islands. Most are asylum seekers from Turkey's southern neighbors, Syria and Iraq, as well as refugees from Afghanistan, Iran and some African nations. The majority crossed the Aegean Sea from Turkey.
'Not good justice'
The fear among many of those stuck in Greece, especially as Turkey and the EU negotiate the readmission of certain migrants to Turkey, is that they'll be sent back to where they came from. "This is not in line with the Geneva Conventions," explained the government source. "It's not good justice, I would say, as [the EU] wants somehow for Turkey to accept Syrian refugees [trying to reach Europe], but since they are fleeing war that would be violating international humanitarian law," he added.
Many have criticized the deal for considering Turkey a "safe" country for those fleeing war. "It is naked self-interest and wishful thinking to say Turkey is a safe country of asylum - it is not, and this deal could cause much more harm than good," acting deputy Europe director of Human Rights Watch, Judith Sunderland, told DW. A report issued by the organization states that Turkey "does not provide effective protection for refugees and has repeatedly pushed asylum seekers back to Syria," violating the 1951 Refugee Convention.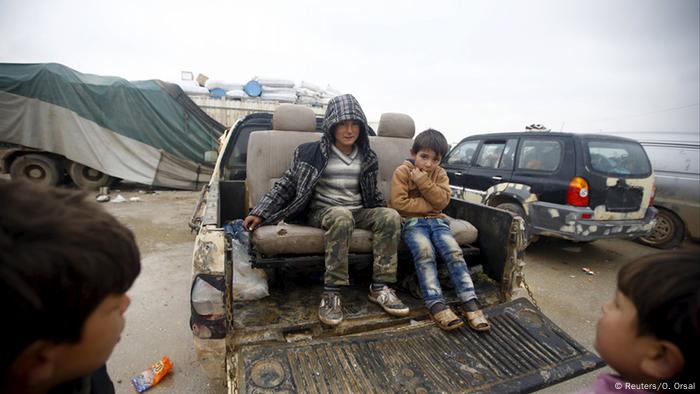 NGOs like Human Rights Watch say that Turkey is not doing enough to help and protect refugees
Indeed, with incidents that involve targeted attacks on Syrian asylum seekers residing in Turkey, many agree it does not meet "safe country" requirements. Just before the new year, Syrian journalist and filmmaker Naji Jerf, known for exposing "Islamic State" (IS) atrocities in the Syrian town of Raqqa, was assassinated in the Turkish border city of Gaziantep. This came just a couple months after two anti-IS Syrian activists, Ibrahim Abd al-Qader and Fares Hamadi, were beheaded in the nearby Turkish town of Sanliurfa.
That said, those trying to reach Europe for other reasons can be deported. "Two days ago we accepted 308 applications from Greece," the Turkish government official explained. Those being returned to Turkey came mostly from North African countries.
More than 1 million migrants crossed into Europe in 2015, and 130,000 have journeyed so far in 2016. Europe has labeled the recent mass migration a "crisis." But Alemdar said that the term could be an exaggeration.
"Naming this a crisis while only two out of 1,000 - 0.2 percent - of people in Europe are refugees, whereas 3.3 percent of people in Turkey are refugees, is a comparison we should keep in mind," she said. "The EU should be more honest itself in terms of calling this a crisis and finding better ways to deal with it than throwing some money at Turkey"