Observers from the Organization for Security and Cooperation in Europe (OSCE) concluded on Monday that opposition parties were denied equal conditions for campaigning in Turkey's election race.
Turkish President Recep Tayyip Erdogan celebrated victory as his main rival accepted the official results of Sunday's election despite complaints over how the campaign was conducted. The vote was the first held under a new system which gives the president expansive powers.
The OSCE found:
Excessive media coverage and emergency measures tilted the playing field in favor of Erdogan.
Erdogan and the ruling Justice and Development party enjoyed an undue advantage.
Restrictions on freedom of speech, media freedom and freedom of assembly impacted the vote.
International leaders weigh in
Some world leaders were quick to congratulate Erdogan on his electoral victory, including Russian President Vladimir Putin, while others such as Germany's chancellor took longer to send their regards.
German Chancellor Angela Merkel said she looked forward to working with a "stable and pluralist Turkey in which democratic participation and rights are reinforced."
German President Frank-Walter Steinmeier said he hopes the president succeeds in reuniting Turkish society, according to a presidential spokesperson.
Read more: The impact of Turkey's election: Erdogan's sweeping new powers
Russian President Vladimir Putin praised Erdogan's "great political authority." The two leaders later had a phone conversation about improving bilateral ties.
British Prime Minister Theresa May said she hoped the UK and Turkey could continue cooperation on security and trade, noting the "important of the bilateral relationship."
Trouble in Turkey: The losing opposition candidate, Muharrem Ince of the social democrat Republican People's Party (CHP), had earlier complained that Turkish state broadcaster TRT ignored him during the election race. "You didn't broadcast my three major rallies," Ince told TRT reporters attending a news briefing. "Please just leave."
Erdogan's triumph: According to results published by Turkey's state news agency Anadolu, Erdogan's People's Alliance, which includes his Justice and Development Party (AKP) and the ultra-nationalist Nationalist Movement Party (MHP), won 52.5 percent of the vote, with Ince trailing with 30.6 percent.
What happens next? On July 8, Erdogan will be sworn in and the new parliament will convene. It will mark the final step in Turkey's transition to an executive-style presidential system of which Erdogan was the architect.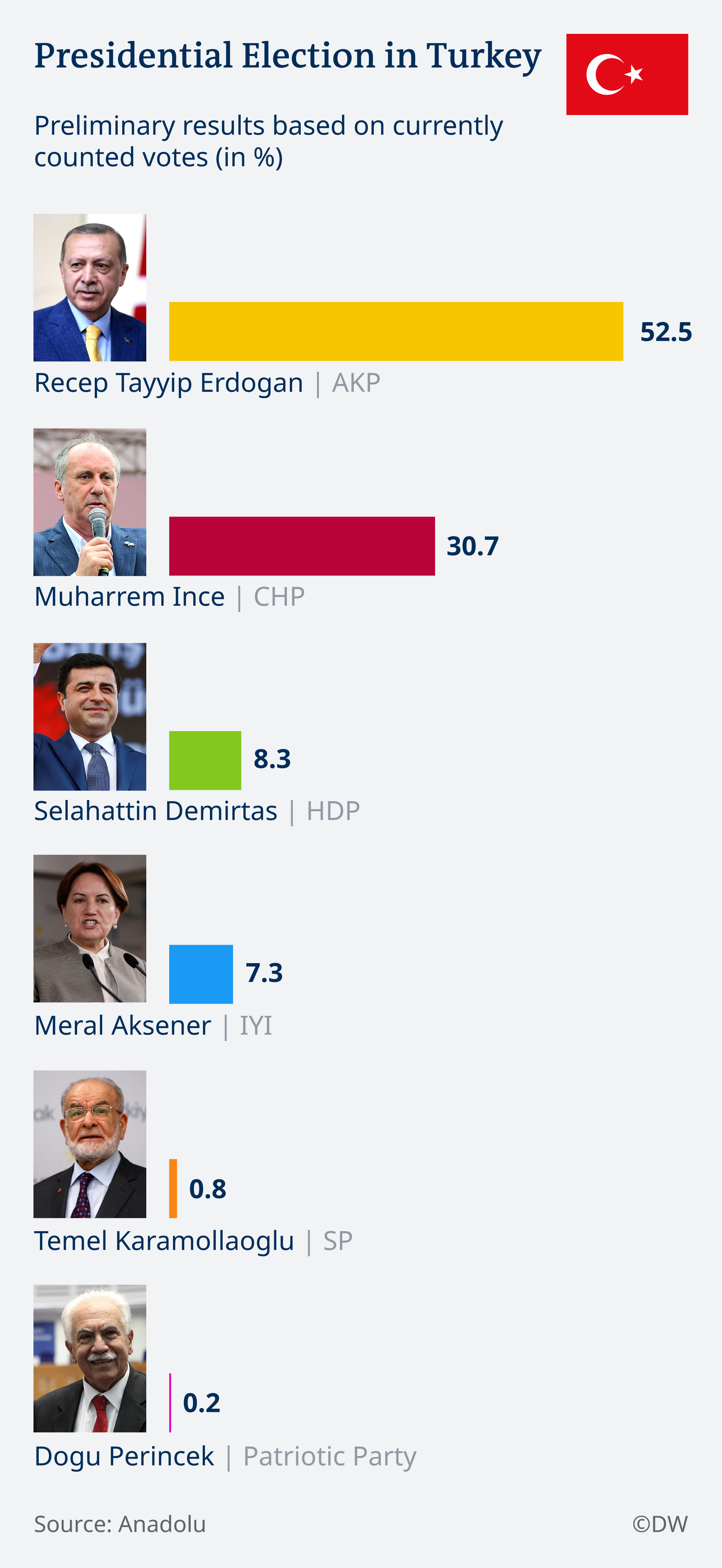 Each evening at 1830 UTC, DW's editors send out a selection of the day's hard news and quality feature journalism. You can sign up to receive it directly here.
kw/rt (AP, dpa)