1. Class is permanent
It's going to be one hell of a transition for Bayern Munich when the time finally does come for them to move on from Arjen Robben and Franck Ribery. With a combined age of 66, the pair are certainly coming to the end of their prime, but their recent form shows why Bayern were right not to let go just yet. Aside from the obvious emotional attachment to two men who have shaped the club over the last decade, their skill never seems to fade. Granted, Werder Bremen has been a favorite hunting ground for the Bavarians but both were a constant threat. Aside from combining for a gorgeous first goal that displayed all of Ribery's trickery and Robben's finishing, it was their movement that kept an often troubled Bayern from getting sloppy. Douglas Costa and Kingsley Coman look like fantastic heirs, but Bayern's favorite foreign wingers still make the difference.
2. Consistency remains the issue
It could have been the perfect start to 2017 for Leverkusen. Roger Schmidt's team have faced two teams since the restart, one vying to stabilize themselves as a top-four club, the other enjoying one of their best seasons in recent history. Both are rivals in the context of the season, and both should have been dispatched. Against Gladbach, Leverkusen crumbled in shocking fashion. It begs questions of player composure, Roger Schmidt's approach and Leverkusen's European pedigree. Hakan Calhanoglu, Jonathan Tah and Chicharito all had great first halves, but then disappeared with the game comfortably under their control. Tah was notably poor, despite scoring his first ever first-team goal. It was a thriller, but from Leverkusen's perspective drama they could have avoided. Next up: Hamburg, Frankfurt and Augsburg. The points return there will affect how their Champions League duel with Atletico Madrid will go - an increasingly important game with every passing week in the league.
3. New year, new man
Mario Gomez is starting to look like his old, Bundesliga self again. His opener against Augsburg on Saturday was his third in three league games. The rediscovery of his scoring touch has unsurprisingly coincided with the return of Wolfsburg's form - they've won their last three. The arrival of French winger Paul-Georges Ntep looks like it will be a boost to both Wolfsburg and their leading striker. The more elusive wingers who can deliver a good end product Wolfsburg have, the more goals Gomez will score. It's simple really, and were it not for Marwin Hitz and some calamitous defending, Wolfsburg's winning run wouldn't have ended.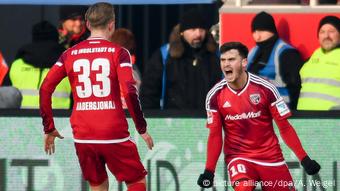 Ingolstadt might well avoid the drop now
4. Surprise season
While Darmstadt's relegation looks nailed on after their drubbing this weekend, the rest of the pack gasping for air at the foot of the table continues to throw in surprises. Maik Walpurgis has gone from the most obscure new head coach to the best gamble ever made by Ingolstadt, who now look a very decent bet to stay in the Bundesliga another year. The side they beat this weekend, Hamburg, are facing the very hard possibility that the infamous HSV clock might well be approaching its final hour. Markus Gisdol's team continue to put together only parts of performances and the league continues to grow unforgiving for such displays - as Werder Bremen's spirited effort against Bayern further proved. Gladbach's defeat.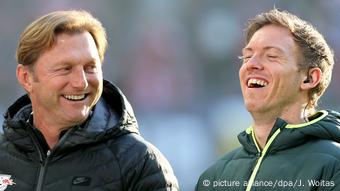 Two of Germany's brightest head coaches
5. Plastic performs
Dubbed "El Plastico", Leipzig against Hoffenheim was a match-up on paper rued by many as the end of football as it once was. On the pitch, it proved as entertaining a sporting fixture as most predicted. Hoffenheim delivered an exemplary piece of counterattacking football, but were undone by a red card, a deflection and, ironically, exactly the type of gegenpresing that Julian Nagelsmann said before the game wasn't Leipzig's only asset. Both sides can be devastating in their own way, and while the clubs might not be everyone's cup of tea, both head coaches showed why their both destined for greatness.