The Berlin Philharmonic, the Staatskapelle Berlin and the Konzerthaus Orchestra Berlin seldom team up. But on Tuesday evening, the three orchestras and their principal conductors made music in affirmation of what Fischer described as "the new Europe." Under the patronage of Chancellor Angela Merkel, the concert titled "Welcome in Our Midst" was for anything but a normal audience, consisting of refugees and their professional and volunteer helpers. Transmitted by Radio Berlin Brandenburg to other public radio broadcasters in Germany, the performance was streamed live on the Berlin Philharmonic's Digital Concert Hall site. The admission was free of charge, tickets having been distributed after prior registration.
Culture comes first
"Welcome, feel at home and enjoy the music," said Fischer in Arabic to the audience before striking the downbeat to his part of the event. In statements transmitted between performances, the three conductors explained their motivation. "Do we really want to go back to the old Europe? Nations against nations, religions against religions, colonies? A new Europe is being born where people open their doors and their hearts, and we want to show this to the world."
Daniel Barenboim, for his part, wanted more than just to wish a warm welcome: "It's important that refugees have their material needs met - but also that they are shown that they have arrived in a country where culture is very important. This evening's message is that music and culture don't come last, but are instead part of the mix from the very beginning."
With characteristically infectious enthusiasm, Simon Rattle added, "It's an extraordinary opportunity for Germany and Europe to welcome extraordinary people. We play to show our support and our love. We are thrilled to communicate with these new Europeans."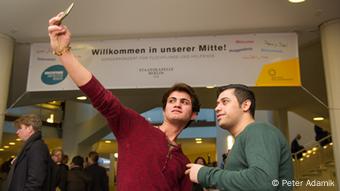 Entrance was free, and helpers registered the audience members in advance
Warm reception
In the program, Barenboim played solo piano and led the Staatskapelle in Mozart's Piano Concerto No. 20 - albeit not impeccably, but from memory. Fischer led the Konzerthaus Orchestra in a bubbly rendition of Prokofiev's "Classical" Symphony No. 1 - and Rattle conducted the Philharmonic in Beethoven's Seventh Symphony. The latter rendition was animated and moving, the funeral march of rare depth and sensitivity, with Rattle egging his musicians on to an ecstatic finale.
For many in attendance, it may have been among their first contacts with Western art music. Applause came after every movement, with standing ovations and a tumult of clapping and whistling at the end.
"As musicians, we feel welcome anywhere in the world," declared the three maestros in a joint statement. "We hope that this also applies to people who have been hit hard by fate and who were forced by war, hunger or persecution to leave their homeland."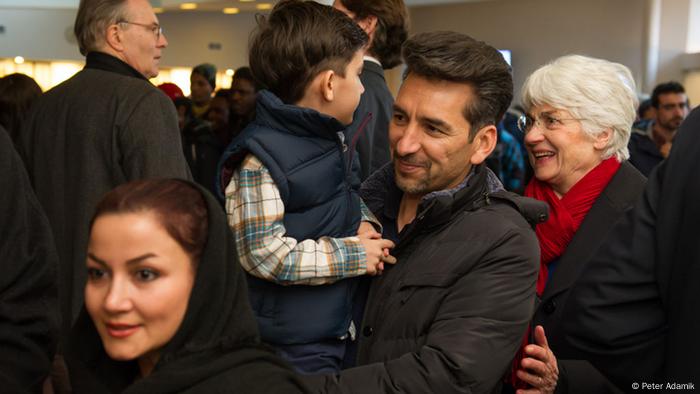 Time enough for a pre-concert selfie