Jörg Tiemann never expected such hatred over a joke on his menu.
In April, the manager of "Urban Burgery", one of the many new gourmet burger restaurants in downtown Cologne, put a burger with a big chunk of goat's cheese on his menu, and named it the Erdogan burger.
He was responding to President Recep Tayyip Erdogan's bid to prosecute a German comedian, Jan Böhmermann, for a lewd poem attacking the Turkish leader. Thiemann said that despite Erdogan's restrictions on freedom of the press in Turkey, few of Cologne's Turks were protesting, telling German media: "We wanted to set an example."
The Erdogan burger with the extra big slice of goat's cheese was an immediate hit, so much so that the restaurant even closed for the day on May 1 because it had run out of burgers.
A week later, the place was closed again - but for other reasons.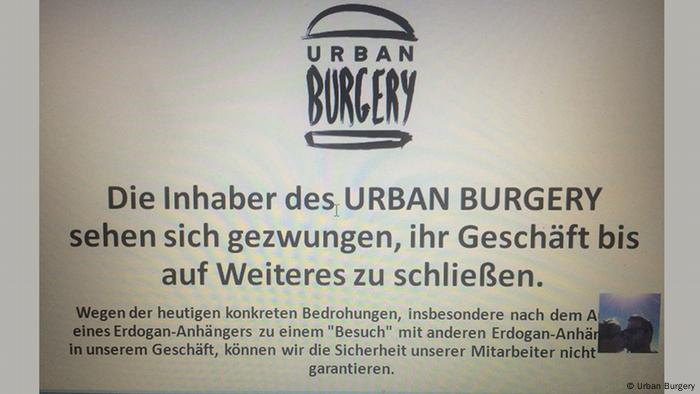 The restaurant was forced to close due to 'concrete' threats from Erdogan supporters, but it plans to re-open
Threats online, loiterers outside
The specialty had triggered a flood of critical comments on social media against the burger place - including lies, agitation, insults and a concrete threat by supporters of the Turkish president that they planned to pay a visit to the restaurant. Strangers were observed loitering in front of the restaurant.
Goat's cheese and Erdogan - the burger's ingredients were tied to the words of comedian Böhmermann's contentious poem, which included the insinuation that Erdogan had sex with goats.
Fearing for the safety of his staff, the 52-year-old owner took a drastic step, and shut down his new restaurant until further notice.
At the same time, he made it clear that he plans to continue to fight for the freedom of opinion in Turkey, saying he would not be "gagged by enemies of democracy, of the rule of law, and of civil rights."
"Due to concrete threats, and in particular calls by Erdogan supporters to come to our restaurant, we can no longer guarantee the safety of our workers," he wrote on Facebook. To illustrate his concern, he posted part of a threat by a person calling himself "Smith Wesson," seemingly an ode to the US gun manufacturer, who posted on Facebook: "I'd say we them pay a visit. Who'll join me?"
Thiemann says his two Turkish burger cooks have decided to give notice because they, too, received threats. He says he plans to beef up security at the Urban Burgery, including installing video cameras. He hopes to reopen soon.