"We stayed until they started throwing people off of buildings, cutting off fingers and hands - then we decided we had to go," 32-year-old Amira said, overcome with disgust as she told the story of why she and her husband fled Mosul six months ago. "We were forced to witness all of that. It was horrific." Fear of "Daesh," as the "Islamic State" (IS) is known in Arabic, sits deep, even though Amira, her husband and her three children are safe for now. She said their journey to the Gazaliya refugee camp west of Baghdad was an odyssey, and that it cost them $600 (550 euros) per person to flee Mosul. IS is trying to make sure that residents do not leave Iraq's second largest city.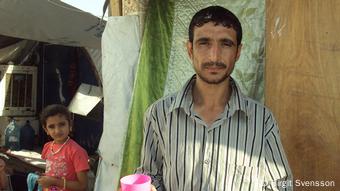 Abdelkadr and his wife fled Mosul with their two daughters
Amira's husband, Abdelkadr, said the price had since increased to over $1,000 (912 euros) per person to flee Mosul . Most roads out of the city are closed because of land mines; the ones that are open lead to Syria. The family was picked up at Syria's border and taken to Turkey, where they found themselves stranded. Abdelkadr won't say how they made it to Kirkuk, in Iraqi Kurdistan. From there they traveled to Baghdad.
Abdelkadr's cellphone rings. It is a former neighbor from Mosul, where people are becoming increasingly nervous as military operations to recapture the city loom. Estimates put Mosul's remaining population at between 1 million and 1.5 million people. When IS took the city in June 2014, it had roughly 3 million inhabitants.
Soldiers in position
Preparations have been in full swing for weeks for the largest military operation against the Islamic State since it declared its "caliphate" two years ago. Apache helicopters stand ready at the airport in the Kurdish metropolis of Irbil, 80 kilometers (50 miles) west of Mosul. Transport planes deliver American heavy military equipment. And US President Barack Obama has deployed a further 500 service personnel for operations in Mosul, raising the total number to 5,500. Washington continues to refer to these men and women as advisers and experts. Nevertheless, according to media reports, they also have fighting orders. The 4.8-kilometer (2.9-mile) runway at Irbil is the longest in the Middle East and was conceived for military use from the very beginning of its construction 10 years ago. A number of air assaults are to be launched from here.
The deployment of Iraq's army was completed last week, and soldiers have taken up fighting positions. Eight to 12 brigades will take part in the operation. Initially, Iraqi army troops are to enter the city; anti-terror units and police forces stand ready to assist.
The United States has pledged air support. Various militias, some of which have competing aims, will also take part in the offensive: the brigades of the Shiite Popular Mobilization Forces, Kurdish peshmerga fighters, troops loyal to former provincial Governor Atheel al-Nujaifi, Sunni tribal militias and Turkish army units. Thus, the battle for Mosul can commence. Insiders predict that the offensive will get underway before October 20, but Iraqi Prime Minister Haider al-Abadi will make the final decision.
The offensive has been announced repeatedly. Now, the noose is tightening around the necks of IS fighters who remain in the city. The terrorist organization's cash and terrain are both disappearing fast.
The semiofficial Iraqi daily newspaper "Al Sabaah" recently reported on a cash-swapping operation in Mosul in which people are being forced to hand over Iraqi dinar in exchange for the caliphate's own "gold dinar." US satellite reconnaissance has reportedly spotted currency transports out of Mosul.
IS's leadership has been decimated in US drone strikes. The most recent target was Wa'il Adil Hasan Salman al-Fayad, the head of IS propaganda and a close confidant of the organization's leader, Abu Bakr al-Baghdadi.
In August, Iraqi army soldiers liberated the city of Qayyara, also taking control of its strategically important military airport. Jihadis torched oil fields in the area while retreating - in part to hide their movements under the cover of dark smoke clouds.
The same is to be feared in Mosul. Residents have told of graves being excavated and then filled with oil in preparation of setting them alight when the Iraqi army begins its approach.
'Fear the worst'
About 240 families currently live in the Gazaliya camp - more than 1,500 people in all. Most come from Anbar province, where IS recently lost two important cities: Ramadi and Fallujah, which is where camp manager Omar Youssef al-Nouri came from. "We have about 35 families from Mosul," al-Nouri said. Most are arriving from Kirkuk, which is currently trying to make space for people fleeing Mosul ahead of the battle.
"We fear the worst," al-Nouri said, adding that camps do not have the capacity to take in the sheer number of people fleeing Mosul. He reports vacant tents to authorities immediately so that new people can be sent to the camp. Residents of Ramadi, which was liberated from IS in January, are now returning to their homes. But those from Fallujah have yet to return to their homes: The city remains unlivable even though it has been four months since IS was expelled.
"The people of Mosul are being constantly humiliated," al-Nouri said, summing up the many conversations that he has had with newer arrivals at the Gazaliya camp. Terror attacks were never-ending while the Shiite-led government of Nouri al-Maliki held power in Baghdad, and the mostly Sunni population of Mosul was given no hope whatsoever for the future.
There is no doubt that the sectarian policies of the former prime minister had a role in the rise of the caliphate. "Better to live under IS than to die under Maliki" was an often heard slogan among the discontented and disadvantaged in Mosul. Many believed the group when it sold itself as the savior of Sunni Muslims. "Of course it was naive," Amira said of her and her husband's own delusions at the time, "but it was pure desperation."