Thousands of people marched in Hong Kong on the first day of 2017 to protest the government's recent moves to oust some pro-democracy lawmakers.
The group chanted "sovereignty belongs to the people" as they marched through the streets, led by four popularly-elected legislators.
It came a month after the city's courts kicked out two other lawmakers for failing to swear their oaths of office correctly, a move backed by Beijing.
The four leaders were also facing court in February for alleged breaches in their swearing-in ceremony and in their oaths of allegiance, after they altered their oaths to stage apparent protests against the Chinese government in Beijing.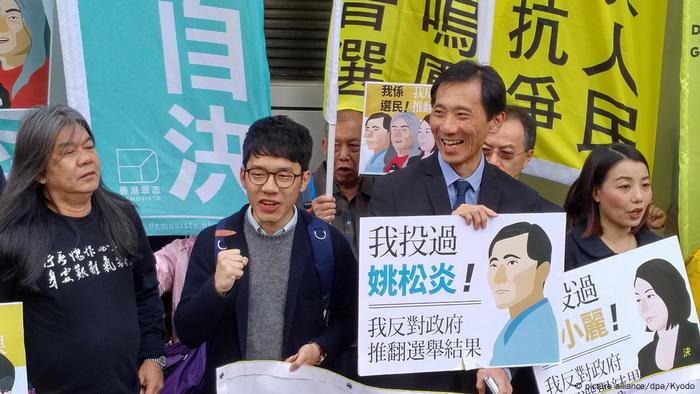 Four pro-democracy lawmakers (from left) Leung Kwok-hung, Nathan Law, Edward Yiu and Lau Siu-lai, all face disqualification
Many Hong Kong residents were alarmed by Beijing's intervention fearing the Chinese government was eroding the city's broad autonomy. In 1997, Britain handed Hong Kong back to China under a deal which gives Hong Kong widespread autonomy for 50 years.
"We can see that under Hong Kong's rule of law, the government, with its unlimited resources, will use legal procedures to bully leaders and representatives with fewer resources," Joshua Wong, a prominent student leader, said at Sunday's rally.
"This has shown that 'one country, two systems' is a failure and we should use the 20th anniversary of the handover to reflect on our political situation."
Organizers of the march said 9,150 people attended, police counted 4,800.
"The four lawmakers are genuinely concerned about the future of Hong Kong to ensure that our core values will be maintained," Peggy Ng, a retired civil servant, said at the rally.
"Particularly, that our next generations will enjoy the freedoms that I have enjoyed before."
In March a pro-Beijing committee of 1,200 people will elect Hong Kong's next leader.
aw/se (AP, AFP)