Protesters walked to Hong Kong's city court and the Beijing liaison office, chanting slogans and carrying banners saying, "Chinese law interpretation tramples on Hong Kong people."
Alex Wong, an office clerk who participated in the rallies, said, "Hong Kong has its own legal system, it should not be controlled by Chinese authorities…We must tell the government we are not happy."
Thousands of people also gathered on Sunday evening to protest outside Beijing's liaison office. Police used pepper spray to disperse the mob after some scuffling ensued. Senior police official Tse Kwok-wai said police had arrested two men for obstructing their work. "Police strongly condemn protesters for breaking the law," he said.
Lee Cheuk-yan, a pro-democracy activist and former lawmaker, said people were concerned that Beijing would curb freedom of speech and expression. "We may not agree with the two [elected lawmakers], but we have to protect their rights because they are elected members," he said, referring to Baggio Leung and Yau Wai-ching, who got elected to the city's Legislative Council (LegCo). Their oath-taking was declared invalid after they draped themselves in "Hong Kong is not China" banners and used derogatory terms in their pledges.
China's top legislative body, The National People's Congress Standing Committee (NPCSC), has called Leung and Yau's actions "a grave threat to national sovereignty and security." Earlier this week, the committee said that if such a situation would persist, it would hurt the interests of Hong Kong's residents and China's progress. "The central government cannot sit idly and do nothing," the NPCSC said, according to Xinhua news agency.
The Standing Committee has the "final say" in the dispute and Hong Kong's highest court would accept the decision as binding," Maria Tam, a Hong Kong official at the NPCSC, told reporters.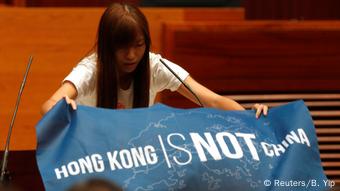 Yau Wai-ching displayed this banner during her swearing-in last month
On Monday, the committee will discuss a law which states that LegCo members must vow allegiance to the "Hong Kong Special Administrative Region of the People's Republic of China." Lawmakers say the interpretation could mean a "lethal blow" for the city and have called the city's chief executive officer, Chun-ying a "traitor to Hong Kong."
Hong Kong, a former British territory, was handed over to China in 1997. A "one country, two systems" formula allows the city a certain degree of autonomy, including judicial freedom under the Basic Law, or Hong Kong's constitution.
mg/rc (Reuters, AFP, AP, dpa)