The marches, in Washington, Boston, Chicago, Austin, San Francisco and a number of other major cities, saw demonstrators chanting "I can't breathe!", ''Hands up, don't shoot!" and "No justice, no peace!"
Both black and white people were in the crowds, many holding banners proclaiming, "Stop racist police!" and "Black lives matter!"
"My husband was a quiet man, but he's making a lot of noise right now," said protest marcher Esaw Garner, speaking in Washington. Her husband, Eric Garner, died in July after he was pinned down by police officers arresting him on suspicion of illegally selling cigarettes on the streets in Staten Island, New York.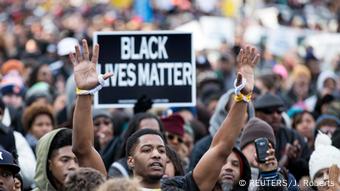 As many as 25,000 people showed up in Washington
It's reported Garner's final words as he was tackled to the ground by officers were "I can't breathe." The words have become a rallying call at protests against police violence across the United States, sparked by a recent grand jury decision not to charge white police officer Daniel Pantaleo, who was implicated in Garner's so-called "chokehold" death.
Public outrage
The Garner jury decision came after another grand jury ruling not to prosecute the white police officer responsible for the death of 18-year-old Michael Brown.
Brown, 18, was shot dead by officer Darren Wilson in the town of Ferguson, Missouri, in August. The grand jury decision last month not to indict Wilson over the killing also sparked several protests, some of which became violent.
Elsewhere, there was public outrage over the death, also in November, of 12-year-old Tamir Rice. The boy was shot dead by Cleveland police as he brandished a toy gun.
"I'm here for the justice of Eric Garner and Mike Brown, and all the people that got killed by police," said Armari Walker, 15, who came to march in Washington from Brooklyn with his friends. "It could be anybody, any black kid that could get killed, and we need justice."
'Racism is at the heart'
"There's a feeling of helplessness, that this is just so rampant," said Jarret Gramza, who came to Washington from Syracuse, New York with her twin sister Joyce to join the march.
"Just in the last year, all these young black men have been murdered by police. We came here to try and make our voices heard, with all the people who want the Justice Department to overturn the grand jury decisions. They were corrupt!"
"There's no question that racism is at the heart of all these deaths and all this brutality. It needs to be addressed," said her sister Joyce. "It is changing, with young people and their attitudes. I think you're going to see a lot of people here today who think that the system is broken, but that it can be changed. It can be changed very quickly, as long as people speak up."
"We're calling on President Obama and all the leadership to listen to the people," she added.
'It's a movement'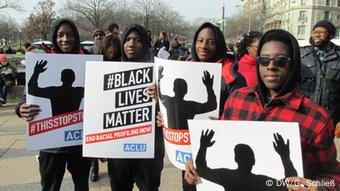 Armari Walker came to march in Washington from Brooklyn with his friends
"We're going to keep the light on Mike Brown...on all of the victims. The only way you make roaches run is to keep the light on," said civil rights leader the Reverend Al Sharpton, whose National Action Network organized the Washington march.
Sharpton has urged Congress to pass legislation that would allow federal prosecutors to take over cases involving police violence.
Rally organizers had predicted 5,000 people at the Washington march, but some estimates put the number as high as 25,000. At least that many protesters also turned out in Manhattan, causing traffic problems but remaining peaceful.
In Boston, however, about two dozen people were arrested for disorderly conduct after a confrontation with officers as they blocked a highway on-ramp.
"It's a movement," said another Washington protester, Vernon Romain, speaking with DW. "And it's just the beginning of what will happen in the next days and weeks."
cmk, lw/bw (Gero Schliess, AP, AFP, Reuters)