In an interview that aired Monday on BET, Obama said video of police assaults opened up difficult conversations. The US president has personally watched a recent video in which a pack of white officers restrain the unarmed black man Eric Garner while another places him in a chokehold, a move banned by the New York Police Department, that a medial examiner would later rule had ultimately killed him.
Obama said videos made it harder to argue that "maybe blacks are exaggerating" about police violence.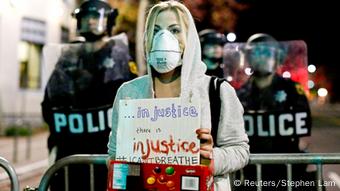 "I can't breathe," the unarmed black man Eric Garner told the white police officer who choked him
Last week, a New York grand jury did not indict an officer whose chokehold killed Garner, a father of six. That intensified protests across the United States after a grand jury in Ferguson, Missouri, failed to indict a white police officer in the shooting death of the unarmed black teenager Michael Brown.
Overnight, protesters blocked a California freeway and basketball stars wore shirts invoking Garner's last words: "I can't breathe," said over and over as the white police officer strangles him with a nightstick. Officials in New York have also begun investigating the case of the unarmed black 28-year-old Akai Gurley, whom a police officer shot dead in the stairway of his Brooklyn apartment building last month.
On Sunday, New York City Mayor Bill de Blasio - who has expressed worries over his son, a black teenager, in the current US policing climate - said the country needed to face up to its "centuries of racism."
'Certain recent incidents'
On Monday, US Attorney General Eric Holder, who will leave his post in January, announced a measure forbidding federal officers from profiling individuals based on ethnicity, religion, race, nationality, sexual orientation or gender. That means that identity checks conducted in a "routine" or "spontaneous" manner based on race, gender or religion will be forbidden.
"In light of certain recent incidents we've seen at the local level - and the widespread concerns about trust in the criminal justice process which so many have raised throughout the nation - it's imperative that we take every possible action to institute strong and sound policing practices," Holder said Monday.
The policy requires federal agencies to provide training and collect data on complaints of racial profiling. The new guidelines were not in immediate response to the protests over the failure to indict the police officers responsible for the deaths of Brown, Garner, Gurley or Tamir Rice - a black 12-year-old with a toy pellet gun killed by a white police officer in Cleveland in November - but were rather the end result of a five-year review process. The new rules provide concrete examples of what is and isn't acceptable, though border checkpoints and airport security will be exempt, a move that has disappointed civil rights activists.
mkg/rc (Reuters, AFP, dpa, AP)