The 17th annual 'Equality Parade' took place as Poland's conservative government continues to oppose civil unions for same-sex couples.
Organizers put the number at 50,000, while the police said 13,000 attended the parade, with 40 foreign embassies, including those of France and the US, expressing their support.
The parade was intended to "draw attention to the rights of LGBT people, fight discrimination and promote acceptance of same-sex unions," with people also marching in support of people with disabilities, religious minorities other marginalized groups, the organizers said.
Poland's constitution is one of seven in the EU to ban gay marriage and the country is one of six in the 28-member bloc not to allow same-sex civil unions.
The ruling Law and Justice (PiS) party in Poland came to power in late 2015 on a ticket of promoting traditional Polish values, family and Catholic traditions.
he government has been attacked by the EU and other international institutions for its alleged attacks on democracy in Poland, in particular accusations it has politicized civil service, media and other areas of public life, while also undermining the Constitutional Tribunal.
Love thy neighbor?
"Men who live with each other, will not inherit the kingdom of God," read a banner held by a woman standing on the sidelines of the parade, the daily Gazeta Wyborcza reported.
Kateetan, a 28 year-old gay Catholic told the newspaper the woman holding the banner told him it was impossible to combine faith with homosexuality. "She believes that homosexuality is a sin, but she does not believe that children should be stoned or wear clothes made of a single thread," he said.
In an open letter, the assembly of Catholic bishops in Poland asked Polish Catholics not to participate in the parade, claiming that advocating for LGBTQ issues was "falsifying the church's unchangeable teaching."
Right-wing groups tried to disrupt the march route.
Inconducive conditions
In January, President Andrzej Dudea said that the country's constitution defines marriage as between a man and a woman, adding that the governing majority will unlikely change the law.
Duda, asked whether it is likely that international organizations, various lobby groups, but other European countries could force Poland to accept gay marriage, said: "I do not think that the political majority today would agree to any amendment to the constitution, water down this clause and open interpretation that marriage could also include other genders."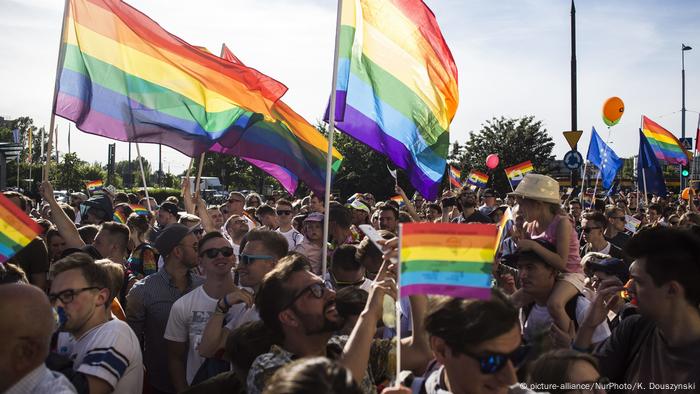 At the 17th Equality Parade (Parada Rownosci) in Warsaw on June 3.
Little progress expected
Tomasz Basiuk, who directs the Institute of the Americas and Europe at University of Warsaw, told DW that little or no progress can be expected from the government on LGBT rights, or women's rights.
It is even likely that existing rights will be curbed should PiS yield to pressure from lay and clerical Catholic fundamentalists and from right-wing nationalists whom it is not so coyly courting, he said.
The previous PiS-led government of 2005-2007 dissolved the office for gender equality. A decade later, the post - restored by the PO (Civic Platform) government - is now filled by conservative appointees, Basiuk adds.
"PiS is more likely than was PO to be pressured by the Catholic church, especially by its dominant fundamentalist wing, to further restrict access to abortion or to make teaching about homosexuality illegal. It is the openly xenophobic rhetoric that most clearly separates PiS and PO, and that has made the greatest difference so far to women's rights and to the vulnerable LGBT community," Basiuk said.
The only occasions when the Warsaw gay pride, called the Equality Parade, was banned was in 2004 and 2005, during the late Lech Kaczynski's term as mayor. In 2005, a right-wing youth organization, the All-Polish Youth, planned what they called "Parada Normalności," or "The Normalcy Parade."
jbh/bw (AP, dpa)