Supporters and opponents alike were equally surprised by President Andrzej Duda's announcement. He wants to change Poland's constitution and has called for a referendum on it. The opposition and outside observers fear it is one step closer to authoritarianism. The nationalist-conservative government has already meddled in judicial affairs, drawing the ire of the European Union.
Duda was elected president in 2015 after being made a candidate by his mentor, Jaroslaw Kaczynski, the former prime minister and head of the ruling nationalist-conservative Law and Justice Party (PiS). One of the youngest heads of state in the world, Duda, 44, has not been known for his own initiatives, making his announcement on the constitution all the more surprising.
"It is time for a serious debate on the constitution," he said. "Not only among elites and politicians, but among the Polish people." Voters should have the chance to express whether they are satisfied with the current political system or would like to see changes, he said, adding his own perspective: "Poles and Poland have earned a new constitution."
More presidential power
A referendum could be scheduled for 2018, Duda said, in which voters would decide the roles for the president and parliament as well as which rights and freedoms should be "more strongly emphasized" as a means of defending against a privileged "caste system." It is an anti-establishment argument that parallels statements made by Kaczynski, who divides society between decent and patriotic "better" citizens and a "worse kind."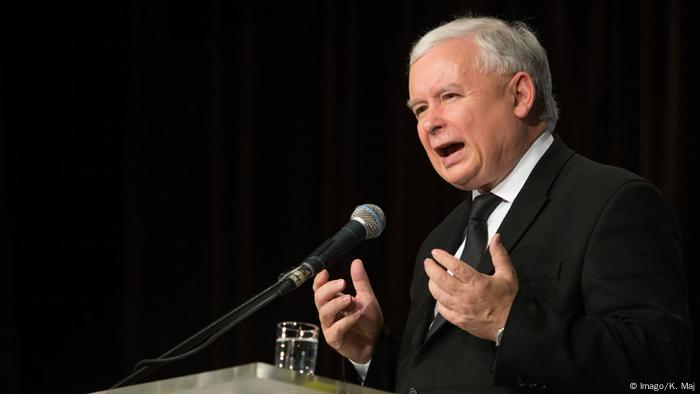 Jaroslaw Kaczynski divides citizens into "good " and "bad"
The specific questions a referendum would put forward remain to be seen, with members of government cautioning that it was only the very early days of the envisioned debate. The constitution should strengthen social rights, said Duda ally, Pawel Mucha.
Opposition fears authoritarian state
Experts and members of the opposition have expressed their concerns, pointing to the government's campaign against checks and balances and the country's constitutional tribunal. A PiS proposal in 2010 would have "ended the democratic and secular state, (replacing it with) an authoritarian, Catholic state," said Andrzej Halicki, a liberal politician.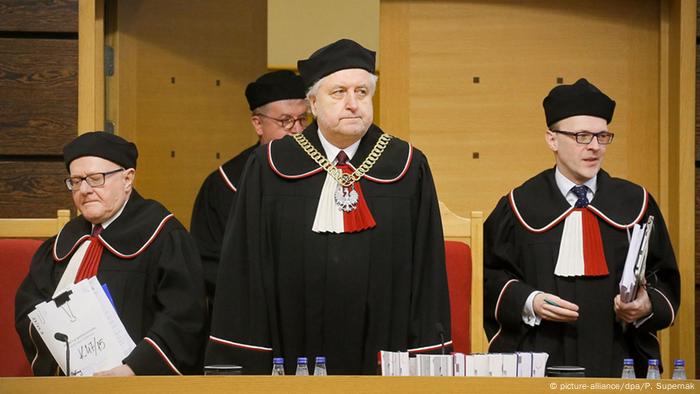 The opposition points to the government's pressure on the constitutional tribunal
Bronislaw Komorowski, Duda's predecessor, criticized the envisaged constitutional reform as an effort to conceal Duda's failure to defend the current constitution. "He has violated this constitution," he said. "As I see it, he will be brought to court in the future." As such, Komorowski declared he would not partake in the announced constitutional debate. Other critics have suggested the deep polarization of Poland's society may make such a debate impossible.
Disagreement in government
Internal politics are also at play. Duda has been recently at odds with Defense Minister Antoni Macierewicz, with the president requesting additional disclosures regarding the Defense Ministry's work. Meanwhile, a new poll has the liberal party (PO) ahead of PiS for the first time in two years.
The current constitution was adopted in 1997. It was approved in a referendum with 53.5 percent of the vote, but calls for amendment have continued since. Although widely viewed as a modern legal document, there are shortcomings, such as the lack of definition of the president's role and powers. On Thursday, Poland's national ombudsman, Adam Bodnar, suggested the constitution could be in need of small changes, but not an entire reform.