DW: As a Thomas Mann researcher, what do you like most about the writer?

Heinrich Detering: I'd say Thomas Mann is one of the most entertaining writers in world literature, and one of the funniest. It's odd that people still haven't realized that novels like Buddenbrooks, The Magic Mountain as well as Joseph and his Brothers contain some of the funniest lines and dialogues ever.

Then, of course, he has all the characteristics you would expect of him: Reading his works can help you reflect and fuel imagination, and you can crisscross entire mountains of western culture. It's difficult to be bored with Thomas Mann.
Read more: German-language winners of the Nobel Literature Prize
You're going to be a fellow and scholar in the residency program at the Thomas Mann mansion in LA. What does that mean for you?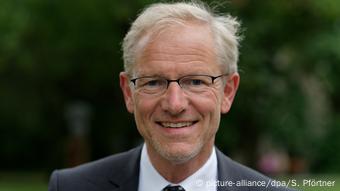 Thomas Mann expert Heinrich Detering
First of all, it means I'll get to meet "old acquaintances." Over the years, I've read and written a lot about what went on in this house — meetings that took place there, texts that were written, and conflicts Mann grappled with there, internally and with others. And I never even entered the mansion!
I once stood in front of the house when I was a young postgraduate, but it was private property so I couldn't get a step closer. So I now want to breathe a bit of the local atmosphere, which is very important.
I also believe that in times of what I'd say are choppy trans-Atlantic relations, when the two continents seem further apart than they have been in a long time, it's more than just a platitude to look at what it means to actually practice German-American literary, cultural and intellectual relations.
Ties between Germany and the US aren't at their best at the moment, that is true. Can Thomas Mann, who was a kind of crossover artist, serve as an inspiring model?
Yes, he can, because he went through many situations similar to what we are experiencing right now. He was disappointed — maybe that was his biggest disappointment — that in America, a new populist mass movement emerged in the form of the Cold War almost seamlessly after Germany's Nazis were triumphantly vanquished.
The word "populist" didn't exist at the time, but nothing else was lacking.
In 1947, Thomas Mann wrote in his diary that "rule of law was declining" and observed a creeping new form of "fascist violence," with all the characteristics of populism, agitation against the media, anti-intellectualism recurring racism and so forth — it was something he was horrified to watch. Everything connected to the name "McCarthy" was a mess of authoritarian and anti-democratic movements that Thomas Mann experienced and countered in word and text.
There are quite a few texts about those experiences that are rarely read even though they are still as current as the major novels written in that period. Much remains to be rediscovered.
Would you say Thomas Mann's disappointment is comparable to the disappointment many Germans currently feel with regard to the US?
One could almost say that, from Thomas Mann's point of view, the transition from the glorified persona of Roosevelt to McCarthyism bears similarities to the transition from Obama to the Trump movement. Perhaps it's not simply about anecdotal analogies coming together in both cases, but similar constellations of American liberalism and reactions.
What's the solution? Thomas Mann wrote; what will you do?
As a fellow, I plan to try on a smaller scale what Thomas Mann did on a large scale in world literature, namely to remind of past traditions of global liberal thinking and life in the broadest sense, and perhaps to learn a lesson, too.
What he did in many of his speeches, essays and in a big way in the Joseph novels — the last volume unmistakably combines biblical traits with contemporary American characteristics — is something one could endeavor today.
This could be achieved by rediscovering buried texts and giving them a voice, for instance works by protagonists of German-American ties, such as Carl Schurz [Eds: a German revolutionary who emigrated to the US in the late 1840s and became a politician] or a forgotten writer named Franz — later: Francis — Daniel Pastorius [Eds: a lawyer and the only German baroque writer in the US], an amusing poet and one of the first to fight against slavery.
There are many hidden literary and political traditions that would be worth unearthing and bringing into the present.
Read more: KINO favorites: 7 great movies inspired by German books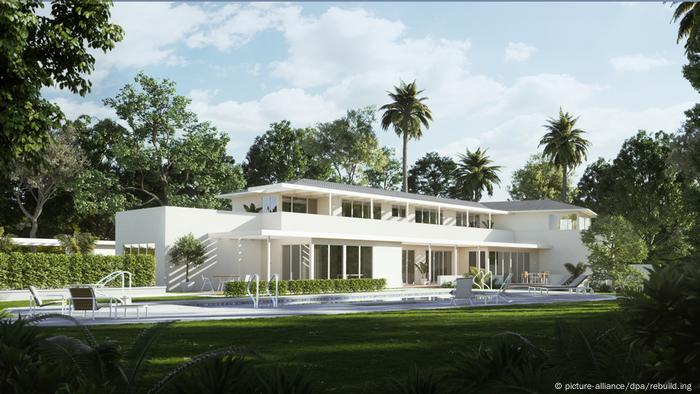 The German government bought the LA mansion Mann once lived in, to serve as a home to a residency program
Are you looking forward to your stay in the US?
A year ago, I would have answered with an enthusiastic yes. Meanwhile, I have to admit that I have strangely mixed feelings as I head to the mansion's dedication; perhaps because fear of what I might discover there counters the joy of spending time in this lovely house. The present has poured vinegar into the historic pleasure.
I was in the US when the Tea Party movement first massively made itself known to the public, during the battle against Obama's health care reforms. I was shocked by how the aggressive racist discourse that you couldn't escape suddenly darkened my bright image of America. I don't know if something similar will happen to me again. I certainly hope not.
Heinrich Detering, born in 1959, currently teaches contemporary German literature and comparative literature studies at Göttingen University and was also guest professor at several US universities. From 2011 to 2017, he was president of the Germany Academy for Language and Literature. In 2018, he and three other fellows head to the Thomas Mann mansion in LA.