With more than 33,000 murder investigations opened in 2018, Mexico has one of the highest murder rates in the world. For journalists, it is the deadliest country not at war, according to a December 2018 report by Reporters Without Borders (RSF). The figures, which do not include those who are missing and not confirmed dead or cases still under investigation, count nine journalists murdered in 2018, down from 12 in 2017.
Among those journalists killed in 2018 were reporters who covered stories related to government local corruption and those who were investigating organized crime and drug cartels. In January, 22-year-old reporter Agustin Silva Vazquez, who worked for the regional newspaper El Sol del Istmo, went missing in the southern state of Oaxaca. In Quintana Roo, web editor Ruben Pat was gunned down in the street in July, just a month after one of his colleagues, reporter Jose Guadalupe Chan Dzib, was murdered. And in Chiapas, journalist Mario Leonel Gomez Sanchez was shot and killed by gunmen.
The violence against journalists knows no boundaries — and remains unprosecuted. "In Mexico, we have essentially a 100 percent impunity rate. The state is not investigating itself," said Ana Cristina Ruelas, regional director of Mexico and Central America for Article 19, an organization which documents media freedom.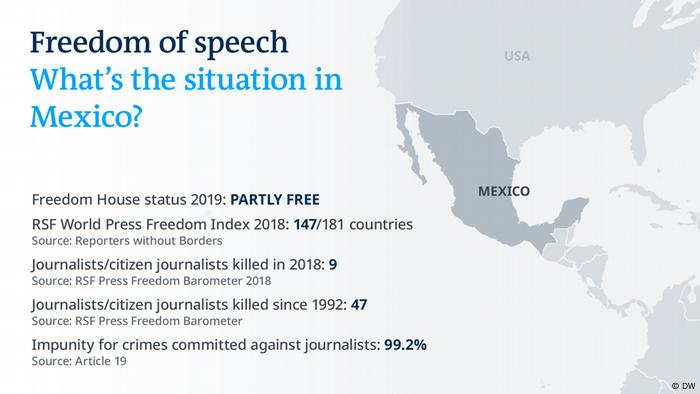 "This has been the reality for some years now, since the beginning of the war against the drug cartels in 2006," said Ruelas. "What we've seen is a state policy that tries to reduce the flow of information that gets to the public."
The silence of journalists
That impunity is part of a vicious circle of violence that has seen many journalists leave their line of work after being threatened. Media outlets are increasingly self-censoring, freezing particular reporters out and killing stories before they go to publication.
Investigative reporter Anabel Hernández, the recipient of the DW Freedom of Speech Award 2019, was one of those journalists whose stories were not published by newspapers after she revealed corruption at the highest levels. In a speech accepting the Golden Pen of Freedom Award in 2012, she spoke about the impact that had on press freedom.
"Silence foments crime and impunity and there is no free press in Mexico," Hernández said. "Television stations intentionally omit certain subjects sometimes out of fear and sometimes out of complicity. Important newspapers or prestigious magazines demonstrate the lack of press freedom each time they remove a thorny subject from their pages or they publish reports without crediting the author."
Like many of her colleagues, Hernandez has fled Mexico and is living in exile due to the death threats she has received. For those who have remained in the country, the outlook is grim.
"Every year, we have documented an increase in violence against journalists," Ruelas told DW.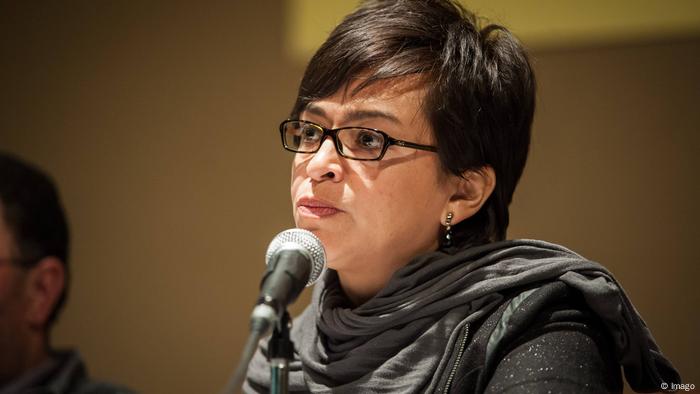 Mexican investigative journalist Anabel Hernandez will receive the 2019 DW Freedom of Speech Award
In 2015, she said, her organization recorded 397 aggressions against journalists, ranging from threats and intimidation to espionage or the use of defamation laws at the federal level. In 2018, an election year that was the most violent electoral process in recent history with more than 100 politicians murdered, that number had increased to 544. At least half of these documented aggressions, Ruelas said, came from state actors.
Spying on journalists
The Committee to Protect Journalists likewise noted that technology has contributed to increased danger for journalists operating in Mexico. The organization put out an advisory warning that Pegasus spyware, which is used to collect data and monitor mobile phone usage, was found being used against investigative journalists in the country.
"Mexico has been ground zero for Pegasus's deployment against journalists," wrote the Columbia Journalism Review in 2016 when the software was originally discovered. "At least six reporters have been targeted there, according to exhaustive research by both Citizen Lab and the Mexican digital rights group R3D. Those attacks coincided with major journalistic investigations that challenged the Mexican government."
Although these dangers have led some journalists to leave the field, those who remain have changed their habits to ensure that stories of corruption and crime still get out. In the state of Veracruz, labeled the deadliest place in the world to be a journalist after 17 journalists were murdered there between 2010 and 2016, media professionals have banded together in their investigations.
"Journalists are getting used to measuring the risk before they publish," Ruelas told DW. In some cases, that means publishing an investigative report across various channels simultaneously to protect the journalist and their sources. In others, that means working together as a group to piece together a story.
While the Human Rights Department at the Interior Ministry in Mexico has recognized the dangers that journalists in the country face, according to Ruelas, the new government has not yet laid out their approach to combating the threats against the media. Instead, she noted, President Andres Manual Lopez Obrador, who took office in December 2018, has singled out journalists for criticism at a daily briefing, a move that has led to increased attention, especially via social media.
"It's very worrying to have digital threats in a context like ours, where violence is high and there are no consequences for the perpetrators," Ruelas said.
"In a country where impunity is the rule, the silence of journalists is very fruitful," said Ruelas.