"Donbas is the heart of Ukraine" read signs on the outskirts of Donetsk in eastern Ukraine. This is true, at least economically: The coalfield, which extends across the east to Russian territory, is the fourth-largest in Europe, with extractable reserves estimated at over 10 billion tons.
The region around the city of Donetsk makes up only 5 percent of Ukraine's territory. About 10 percent of the population lives here - but they produce 20 percent of gross domestic product and about a quarter of Ukraine's export volume. The rest of the country is dominated by agriculture.
The unrest in the eastern parts of Ukraine has pushed the region to the forefront of world attention: Pro-Russian separatists have brought administration buildings under their control and seized caches of police and military weapons. The government in Kyiv has called in its anti-terror units.
If the governor of the Donetsk region, Serhiy Taruta, is to be believed, this can hardly be due to the area's economic importance: In the past there was the myth that Ukraine fed the entire Soviet Union, Taruta recently told the newspaper "Novosti Donbassa."
Today, he said, there is a myth that the Donbas feeds Ukraine. "And yet if we look at the statistics, we see that the Donbas is a subsidized region."
Donbas coal is not competitive
As for the Donbas coalfield, Ewald Böhlke, director of the Berthold Beitz Center in Berlin, can only agree: "Since the 1980s, it has been unprofitable, expensive and has really only been kept alive artificially for social reasons."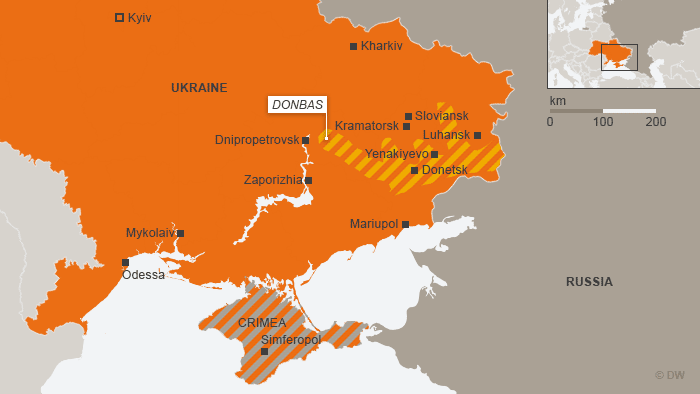 Ukraine's east is extremely volatile
Nevertheless, following its actions in Crimea, there is justified concern that Russia could now aim to annex eastern Ukraine. Unlike on the Crimean peninsula, there is not a large majority here who feel like they belong to Russia - and only about a quarter of the population of the east overall are ethnic Russians.
"In essence, it's a very mixed population," Böhlke said in an interview with DW. "And until the beginning of this year hardly anyone had given any thought to reorienting themselves toward Russia."
But now for the past several weeks, Kyiv and Moscow have been in a veritable propaganda war. It is difficult for the public to get unbiased information, Böhlke said, with many dependent on rumors and increasingly suspicious of the Kyiv central government.
The Cossack myth
But in the face of this ambiguous mood, what interest does Moscow have at all in eastern Ukraine? In purely economic terms, an annexation to Russia would hardly be worth it, Böhlke said: "Russia should really be saying, thank God the Donbas is part of Ukraine and we don't have to subsidize that region."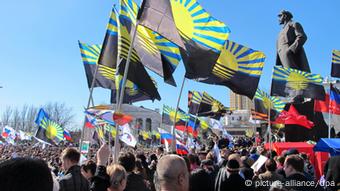 Pro-Russian protesters in Donetsk: What is Moscow's goal?
Much more important than any pragmatic benefit is something quite different: "There is in Moscow a renaissance of the thought that 'we want to establish a new Russian Empire.'" And in this line of thinking, the Donbas, once the center of Soviet heavy industry, plays a highly symbolic role: "These are the old Cossack areas that were agrarian for centuries and were only industrialized by Stalin."
Steel for Russian tanks
Besides these symbolic justifications, there is one very tangible reason: Numerous companies in eastern Ukraine provide important raw materials and products to Russia - especially for the Russian space and defense industries.
The western world barely noticed the news in March that the transitional government in Kyiv was suspending military cooperation with Russia. But that didn't make it any less explosive. Russian Deputy Prime Minister Dmitry Rogozin, who is also responsible for the defense industry, spoke up immediately, saying Russia had to make a greater effort to become independent from foreign technology and supplies.
But that might not be so easy: Twelve types of Russian intercontinental ballistic missiles, along with spare parts and maintenance, come from the eastern Ukrainian city of Dnipropetrovsk alone. In the Donbas, a special steel is produced for the tanks of the Russian armed forces, and most Russian combat helicopters fly with engines from Zaporizhia.
Who depends on whom?
Even so, eastern Ukrainian companies are much more dependent on demand from Russia, said Andreas Umland of the Mohyla Academy in Kyiv. They fear that Russia could close off its market. "That would be a problem, because the products - systems and equipment - are made specially for the Russian market and cannot be sold so readily on other markets," Umland told DW.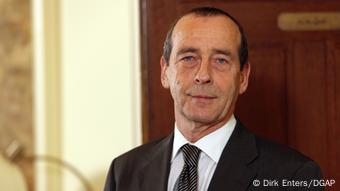 Böhlke: Giving in to separatists is dangerous
Even if parts of the industry are dependent on subsidies, the eastern Ukrainian export products represent an important source of income for the government in Kyiv. This is all the more important as Ukraine is virtually bankrupt - and therefore increasingly dependent on international donors. "If separatist movements succeed, Kyiv would completely collapse in the risk assessment of the money markets because the country would lose so many resources," Ukraine expert Ewald Böhlke said.
He still does not believe in the idea of granting eastern Ukraine grant more autonomy to pacify it. In the current unstable situation Ukraine only has a chance with a strong central government: "Any kind of federalization would tear the country apart - in the extreme case, the whole Ukraine could collapse."