The problem starts with the phrase itself. For many, "refugee crisis" has too many negative connotations. Migration, economists and social scientists tell us, should be seen as an opportunity, not a problem (or even a "challenge," as the current political euphemism goes). That was the theme of this year's "Global Diplomacy Lab" in Berlin, where diplomats (traditional and non-traditional), political scientists, activists, and NGO representatives from around the world met to discuss an issue that has been vexing European governments ever since the summer.
But it was not meant to be all discussion. In an intensive four-hour workshop on Friday, armed with an array of multi-colored magic markers and sticky-notes, the 42 participants broke into groups and came up with practical ideas - while workshop leader Sabine Junginger badgered them to make the plans "actionable."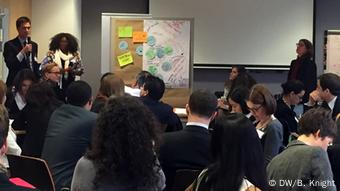 Participants came to the Global Diplomacy Lab with lots of energy and ideas
All this happened under the patronage of German Foreign Minister Frank-Walter Steinmeier, whose policy planning staff director Thomas Bagger was on hand to measure their energy and creativity against the cold yardstick of international diplomacy and the machinery of the German civil service. Meanwhile, the dean of the whole enterprise was Ruprecht Polenz, veteran foreign policy leader from the Bundestag.
"A key is indeed what a lot of people here said: we have to get the refugee and migration issue away from the idea that it's a burden, that it's something we want to keep away from us - to put it crassly - like the bird flu," he told DW.
The perceived "problems" of migration are, he said, natural: "It's a human trait that you see with young children - when there's a group there, and two new ones join them, it generally takes a little while until they're allowed to play. The question of whether refugees can contribute something positive depends a lot on whether we let them contribute."
Practical ideas
Thus, the groups came up with a host of new ideas, from migration apps (the MigrApp), to help refugees share information along migration routes, and a scheme called "Policy-makers Without Borders," in which government officials volunteer to spend two to four weeks offering their services in a refugee camp, on their own time. Instead of having reporters and TV cameras hovering behind them waiting to pick up soundbites, the policy-makers would also document their experiences themselves.
This last idea came from a group that included Imran Simmins, a talkative diplomat from the South African embassy in Berlin who thinks MPs and civil servants need to know what it's like to be a refugee.
"With that in mind they would be able to design policies that are more effective to the needs of the refugees themselves, as opposed to pie-in-the-sky policies where they read documents and watch documentaries and think this is what life as a refugee is all about," he told DW. "It's always the big picture that everybody sees, that policy-makers are selling to the world. Nobody is really selling the small picture."
As Polenz put it, though, the enthusiastic participants were heading for a "reality check" when they had to put these ideas to politicians and civil servants. Indeed, the "Policy-makers Without Borders" idea received a guarded response from the government representatives there.
Listening to unreasonable people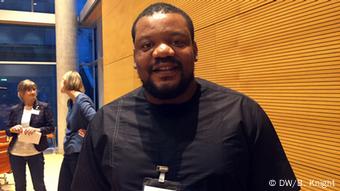 Ikegwuonu: Germany needs better ways to deal with unskilled migrants
Nnaemeka Chidiebere Ikegwuonu, a Nigerian farmer, entrepreneur, and executive director of his own Smallholders Foundation, was also not particularly excited by the policy-makers without borders. He was educated in Europe and returned to Nigeria determined to make it easier for people starting businesses - for him, that was the key to tackling and reducing migration.
"I'm one of the few who beat the odds," he told DW. "Let the world listen to entrepreneurs, people who have been able to create something - they are unreasonable people. I'm an unreasonable person, but let the world listen to us in spite of our craziness."
Ikegwuonu thinks Europe needs to radically re-think how it accepts migrants, not least because migration is inevitable as long as developing countries don't have the infrastructure to support new businesses.
"Germany and the other European countries are afraid of unskilled migrants - they need a comprehensive immigration system for them," he said. "A merit-based system for the unskilled - the carpenters, plumbers, bricklayers who have no university degree - to streamline how many are coming into Europe."
The radical part of the idea is this: Germany should set up centers across Africa where people can come to in order to have German authorities assess their skills, and whether they can be an asset to the German economy.
"Once that is proven on a points-based system," he said, "I should be given the right to come in legally, for a probational period, in which if I satisfy all the rules, I should be elevated either to permanent immigrant, or whatever status, and I should be able to bring my family."
The 'T-visa' and the Jane's Walk
In the afternoon, the participants had the chance to present migration ideas to MPs in the Bundestag - though only two actually showed up, while a handful of others sent staffers. Washington-based attorney Seth Oppenheim suggested that Germany consider introducing a version of the US' so-called "T-visa," which allows victims of human trafficking to be granted asylum in the country if they help to uncover trafficking rings.
"In Germany, in order for the individual to get some legal protection to allow them to stay in the country, they need to actually testify," he told DW. "And many victims of human trafficking are sufficiently fearful that they may not want to - it's a very difficult experience in normal circumstances - and these aren't normal circumstances."
Then there was the "Jane's Walk" scheme, part-neighborhood tours and part-story-telling forums, which have, according to community worker Chi Nguyen, proven successful in Canada. This found the approval of Social Democrat MP Ute Finckh-Krämer, one of the two who did turn up.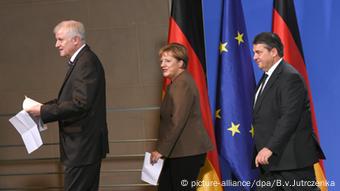 Angela Merkel's government coalition agreed on stricter rules for asylum seekers
"In Berlin we made the mistake of having migrant communities in individual districts that remained completely insular," she told DW. "The idea that tolerance is not enough - that we need inclusion - and that inclusion can happen if we see people as experts for their direct community, I think we could pick up on that in a city like Berlin. I'd at least like to suggest that to the Welcome alliance in my constituency."
The trouble is, of course, that in Germany and in most European countries, the mainstream political debate rarely escapes the "migration as a problem" sphere. Chancellor Angela Merkel's administration has just introduced the strictest asylum law in Germany in more than 20 years, whose main purpose is to keep as many migrants out as possible.