Moray is Scotland in miniature - the picturesque northeast combines rugged beauty and heavy industry. The glens, peppered with flowering heather, are home to around 40 whisky distilleries. There are snowcapped Cairngorm mountains to the south and the sea to the north. In between are military bases and fields of rich farmland.
Moray (pronounced "murray") is also witnessing a local version of the key general election battle in Scotland - between the dominant Scottish National Party (SNP) and Scottish Conservatives hopeful of making gains on the back of the party's vociferous opposition to a second referendum on Scottish independence after the 2014 vote against breaking up the UK.
In May's elections to the local council, the Conservatives gained five seats, finishing one behind the SNP. Moray also recorded the strongest pro-exit Brexit vote of any council area in Scotland in last year's referendum on European Union membership. Many of those who backed Leave were connected to the traditional fishing communities that once thrived along the coast of the Moray Firth.
Read more: How much pain will Brexit bring to Scotland?
Obsession with independence
Douglas Ross, a Conservative regional member of the devolved Scottish parliament in Edinburgh, is the Tory candidate in Thursday's vote. He says local opposition to a second referendum on Scottish independence - which SNP leader Nicola Sturgeon called for in the wake of the Brexit vote - could help his party to win a Westminster seat in Moray for the first time since 1987.
"People on the doorsteps are so fed up with Nicola Sturgeon's obsession with independence," says Ross, who gave up farming to go into politics and is still a professional linesman in the top flight of Scottish soccer. "When you have momentum behind your campaign and you have people that are disenfranchised and angry at the SNP, then there is everything to play for."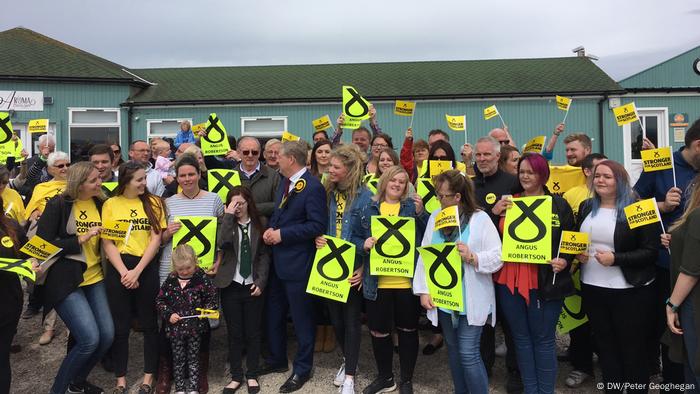 Despite a Tory surge, SNP voters are confident the party will emerge as winners on June 8
The SNP is certain to emerge as Scotland's largest party after June 8, but polls suggest the nationalists could lose seats. In 2015, the SNP won half the vote, but the pro-UK opposition was divided between the Conservatives, Labour and the Liberal Democrats. Now, the Tories believe they are best placed to capture the unionist vote.
Read more: UK election reinforces Scotland's divide
"People are starting to listen to the Conservative party, to engage with what we have to offer, and our position over whether Scotland should stay in the union has meant people are starting to listen who hadn't for generations," says Nathan Wilson, a Tory councilor for Ravenscraig, once the site of a massive steelworks that was closed under a Conservative government.
New generation
At 23, Wilson is part of a new generation of Scottish Tories, many of whom were not even born in the 1980s when Margaret Thatcher became a hate figure for many Scots. They blamed her for the de-industrialization that ravaged large tracts of major Scottish cities. Having once been popular north of the border, the Tories saw their support collapse: the last time Conservatives held more than a single Scottish Westminster seat was back in 1992.
Paradoxically, the Tory resurgence has been fueled by talk of Scottish independence. Where the SNP has, at times, played down the prospect of leaving the UK, Conservative election leaflets have been dominated by their opposition to a second referendum. That message seems to be resonating on the streets of Elgin, a former cathedral city and Moray's administrative center.
"(Independence) was supposed to be once in a generation last time," says Susan, who asks not to use her second name. "I don't want another vote on it."
Many Scottish voters are tired of voting in general. Thursday's election is the fourth major vote in barely 12 months, and there is a palpable sense of fatigue. The SNP has struggled for relevance in a campaign dominated by the question of who will be the next British prime minister, a decision that will be made in marginal seats, where the battle is between Labour and Conservatives.
Read more: Scottish nationalists take on London over Brexit
Stronger for Scotland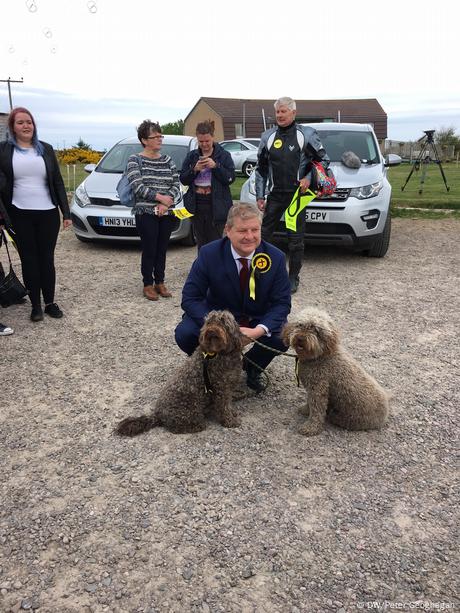 SNP deputy leader Angus Robertston says he wants to make Moray stronger and more prosperous
On a blustery afternoon, outside a cafe overlooking a sprawling Royal Air Force base in Lossiemouth, on the Moray coast, dozens of SNP activists have turned up to meet Angus Robertson and Scottish First Minister Nicola Sturgeon. Spirits are high. Many wave yellow SNP flags emblazoned with the campaign slogan: "Stronger for Scotland."
"This has been a strong SNP area for years and we are sure it will stay that way," says Sheena Nicolson, who was one of the more than 100,000 new members that joined the nationalists in the wake of the 2014 independence referendum. Incumbent Angus Robertson seems testy - calling his opponent Douglas Ross 'a part-timer' because of his soccer commitments - but says he is confident of holding his seat.
"The majority of people in Moray do not want a Tory MP who is pro-austerity and pro-cuts," says Robertson. "Mine is a full-time commitment to Moray," the SNP's deputy leader adds.
Scottish Conservatives have put opposition to a second independence referendum at the forefront of their campaign, but what the Tories are in favor of is more ambiguous. There has been little talk of the UK government's policies, or of Brexit, which the vast majority of Scottish Conservatives opposed, including their popular leader Ruth Davidson.
"The Conservatives are trying to turn the general election into a referendum on (a second independence) referendum," says James Mitchell, professor of politics at Edinburgh University. "Ruth Davidson has made her campaign about anything but the Tory record."
Read more: Theresa May's cult of personality
At a UK level, Conservative support has fallen over the general election campaign with Theresa May faltering, most notably performing a U-turn on the party's flagship social care policy. Whether these struggles have any effect on the Tories north of the border could go along way to deciding who wins seats like Moray on Thursday. But whatever the result, the debate about Scottish independence is not likely to be decided anytime soon.