A "Make America Great Again" baseball cap?
A life-size cardboard cutout of Donald Trump?
Many Donald Trump supporters own at least one of those to show their allegiance to the president.
The Gargiulos, Mary and Lou, two ardent Trump supporters thought they could do better than that. So they set up a Trump-themed Christmas tree in the living room of their Hampton Falls, New Hampshire home.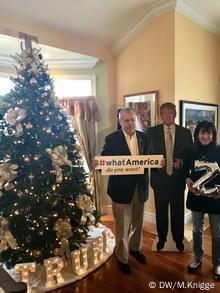 Lou and Mary Gargiulo celebrated a Trump christmas
From the letter T at the top of the tree, to every single ornament bearing a silver T, to the Trump sign on the bottom — nothing was left to the imagination where the Gargiulos stand politically. But just to make sure, they placed a life-size cutout of the president next to the Trump tree.
While Lou jokingly allows that some people might think they may have gone a little too far with their Trump Christmas, he is dead serious about his continued support for the president one year after Trump took office.
Read more: Donald Trump's presidency: Taking stock and looking ahead
Keeping promises
"My support has only increased," said Lou, who owns a real estate company in his home state of New Hampshire, and was featured in DW's originial #WhatAmerica series, which chronicled the hopes and wishes Americans had for their country ahead of last year's presidential election.
In the run-up to the one year anniversary of Donald Trump's inauguration, DW revisited Lou Gargiulo and four other Trump supporters to get their take of the president's first year.
It was a year that fulfilled all the high hopes Lou had for the Trump presidency because, he said, "in my lifetime he is the first person that has been elected president who has attempted to keep his promises. He has been very solid with making sure that the military is strong, that the homeland is protected and that people who are looking for a better life are finding it in the United States."
Asked about criticism that Trump has few tangible results to show for in first year, Lou, who had traveled to the Republican convention, the first presidential debate and the inauguration in support of his candidate, does not mince words. "I would say that's false and fake news."
Radical change
He agrees though that Donald Trump is not presidential in any traditional view of the behavior of past occupants of the White House. But for Lou, Trump's nontraditional behavior is actually an asset. "There's nothing that he says or does now that should be a surprise to anybody because he did it during the election," he said. "But if you want to have radical change you have to have people in office who can impart that change. And he is someone who I think can."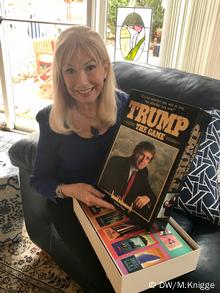 Alice Butler-Short plans a Trump birthday bash
That sentiment is shared by Alice Butler-Short, who originally hails from Ireland, but now calls Lorton, Virginia, home. There she founded and presides over a group called Virginia Women for Trump, an organization that not only worked hard to get out the vote for candidate Trump before last year's election, but also knows how to celebrate President Trump. To commemorate his birthday, Butler-Short gathered530 women, all donning hats, at Washington's Trump International Hotel. "It was such fun," she said, adding she thinks her next Trump birthday bash will draw 1,000 women (and perhaps first lady Melania).
Family man
As to the question what draws all her women to support Trump, Butler-Short offers a one-word answer. "Family," followed by the explanation that "he cares about the future of our children, he cares about the grandchildren."
She also has only positive things to say about Donald Trump's treatment of women, calling it "amazing and wonderful. He respects women."
Butler-Short, who owns a vintage board game aptly called "Trump — The Game," is also completely satisfied with the president's first year in office.
"He is working day after day to increase prosperity in this country, to keep us safe and to make it okay again for us to talk about our Judeo-Christian values," which she feels had been under threat by Trump's predecessors course towards socialism.
Outlier among Trump supporters
Among staunch Trump supporters Bob Hayssen, who owns a small excavating business in Seneca Falls, New York, could be considered something of an outlier.
Not because he single-handedly built his own Trump wall in his front yard out of concrete blocks after then-candidate Trump vowed to erect a "beautiful wall" along the US-Mexican border. Not because he wears Trump-themed socks to every Republican Party event. But because his girlfriend is a "resister" as he calls her — and they still get along. "She voted for Hillary. She does not like Donald Trump at all. We can hardly even talk about it," he said.
Sensing the reporters' puzzlement as to how this arrangement will hold up for at least three more years of the Trump presidency, Hayssen quipped, "it's working pretty good."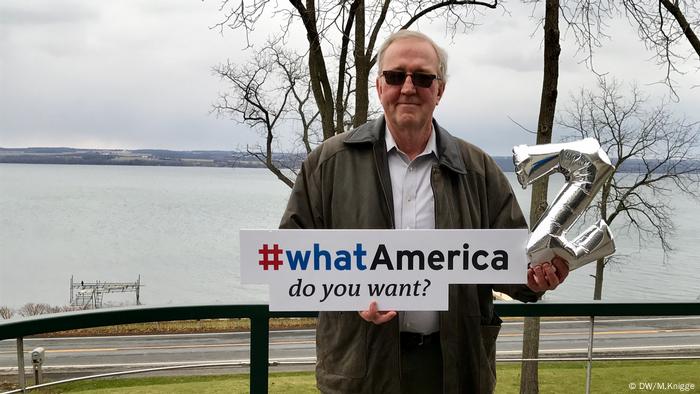 Bob Hayssen's girlfriend is a resister
He is not joking. The relationship of political polar opposites probably already survived its biggest test after Thanksgiving last year when his girlfriend finally took matters in her own hands, went into his front yard and took down Hayssen's red, white and blue Trump wall which had stood there for months as one of the area's local attractions.
"She was fed up with it," noted Hayssen nonchalantly. He did not take the demolition of his wall personally — a sentiment which was probably made easier by the fact that his candidate had won the election.
Working class in mind
Having a "resister" as girlfriend also means that Hayssen is not fazed by the frequent negative reviews of Trump's first year in office.
"He is an unconventional president. But this is the time in the history of America that we need an unconventional president and Donald Trump fits that bill good. He's perfect on that."
"I think that's what's amazing about Donald Trump — he is really rich, but he can relate to us, he cares about the working class. He didn't have to do this."
Thirteen hundred miles south of Bob Hayssen's home, in Miami, Florida, Maria Padron-Robbins lives in a small house in a nondescript neighborhood not far from the airport. The two have never met and their lives took different trajectories: Hayssen grew up and has always lived in New York state; Padron-Lobbins came to the United States as a refugee from Cuba in 1971.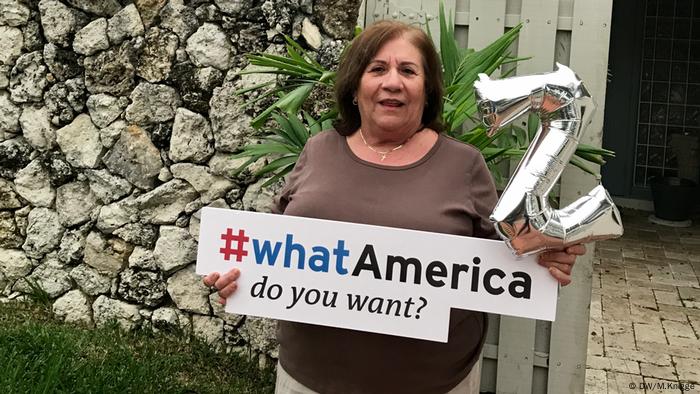 Maria Padron-Robbins follows the president's tweets.
Trump loves America
And yet despite their different backgrounds, Padron-Robbins not only agrees with everything Hayssen said about Trump, but unprompted also gives the same reasons for supporting him — just using slightly different words.
"Why Trump? He loves America, I think he loves America. He doesn't need to do this, he is a millionaire. But he wants to make America great again. And I believe that."
And since curbing illegal immigration is one of the core issues why Padron-Robbins, who emphasized repeatedly that she came here legally as a refugee, voted for Trump, she would probably get a kick out of Hayssen building a Trump wall in his front yard.
Like Hayssen, the Gurgiulos and Butler-Shorts, Padron-Robbins has nothing but praise for the first year of the Trump presidency. "As president he has been excellent for our country," she said, citing the stock market boom, rising employment and decreased illegal border crossings.
And like the other Trump supporters DW revisited as part of a brief #WhatAmerica2 tour across the United States, Padron-Robbins has her own way of dealing with the widespread criticism of Trump in much of the media — by selecting her sources for news and information.
She is huge fan of Fox News and Breitbart — and of President Trump's Twitter feed.
"I love his tweets," she said, her body shaking with laughter. "Why? You know the news before anybody."
Read more: Opinion: Steve Bannon's demise is not the end of Trumpism