Chinese brands have not really made any inroads into the German market yet - except for Huawei. More and more consumers are opting for Huawei's products because they're reasonably priced and boast good quality. But Huawei is more than a cheaper variation of Apple.
The company, founded in the special economic area of Shenzhen in the 1980s, has turned into a viable technology giant. Huawei - together with the Chinese telco company ZTE - is among the world's top companies when it comes to patents.
In 2012 the number of patents taken out in China outstripped those of Germany. Merely the US and Japan registered more patents. Out of the 650,000 patents filed in China, 60 percent stem from companies.
"This proves that the transformation of China's innovation system has been successful," said economist Philipp Böing at economic forum organized by the Center for European Economic Research (ZEW) in Mannheim in mid-June (12.06.2014).
He is referring to the transformation of a predominantly state-directed system, where research institutes are cut off from the actual production process, into a market economy system in which companies are the main drivers of innovation.
Technological world power in the making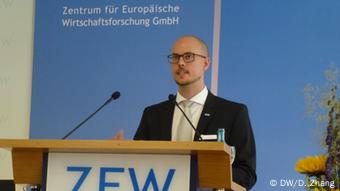 Böing says China will take the lead in five to ten years
"China is trying hard to become a key technological player and this ambition is about to be realised," Böing told DW in an interview conducted on the sidelines of the economic forum. At two percent of GDP, China already invests more in research and development than the EU average, according to Böing.
The only reason he does not consider China a fully developed technological power yet is that the patents registered there need to be taken with a pinch of salt: "The economic value of patents is distributed unevenly. In China there is a deluge of patent applications, but their actual impact is still rather limited." However, he expects China to take the pole position in the next five to ten years.
Andrew Tylecote from Sheffield University is more skeptical though. Of course there are some dynamic companies but on the whole he does not consider Chinese firms terribly innovative; one reason being that China's elite prefer to work for foreign companies, said Tylecote.
Albert Heuser, BASF head for the Asia-Pacific region disagrees and says this view is antiquated. Graduates from top universities were not averse to joining state companies, especially since they could expect a completely different career there than with western companies, he argued.
The German chemical giant has discovered China as a new site for R&D, investing 55 million euros ($67 million) in its research center in Shanghai. By 2020 one in four BASF researchers will be working in the Asia-Pacific region, mainly in China.
The German-Chinese year of innovation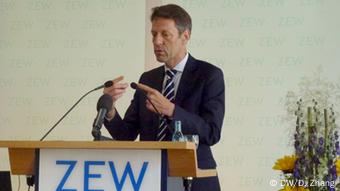 Schütte says China and Germany are oscillating between competition and cooperation
Georg Schütte, State Secretary at the Federal Ministry for Education and Research, describes this trend as the globalization of R&D. Germany aims to enter an innovation partnership with China in response to this development. This spring German Chancellor Angela Merkel and Chinese President Xi Jinping agreed on a joint year of innovation for 2015. "We want to use the year to focus on the topics of urbanization, city planning, environment, energy and mobility," Schütte told DW.
These are areas where Germany exports technology to China, but the Chinese could soon turn into competitors. "Competition starts with the creation of value in the companies," said Schütte, adding that it sometimes paid off for companies to share the research. "But the closer they get to entering the market, the greater the self-interest of the players becomes," Schütte added.
Building barriers to ward off competition is a bad idea though, says Schütte. He gives an example: Recently a security breach in the WLAN router Fritzbox was only closed because an error-prone German part was substituted with one by Huawei.