"I don't know what we can do to prevent hurricanes from happening. All we really can do is rebuild," 70-year-old Vicki Sullivan says with a heavy sigh. The retired teacher has had to endure the trauma of going through hurricanes several times in her life, living in various locations along the Gulf of Mexico.
"When I was younger growing up in New Orleans, we'd sit out the hurricanes like Camille in 1969. We didn't know any better back then or really have alternatives in place. But since I lost everything to Hurricane Katrina in 2005, I now know better."
Sullivan's house in eastern New Orleans was destroyed during Hurricane Katrina, with hardly anything worth rescuing left under the heap of rubble that her family's waterside bungalow was reduced to. Twelve years later, having relocated to Houston soon after Hurricane Katrina, Vicki Sullivan and her family came face to face with another storm of epic proportions: Hurricane Harvey.
Read more: Hurricane Harvey: Unexpected fallout from a climate disaster
Vicki Sullivan and her husband Andrew moved to an elevated part of the Greater Houston area in order to avoid flooding during severe weather events. But Hurricane Harvey still touched their lives and hit a particular nerve: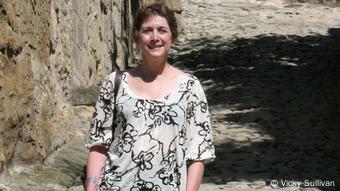 Vicki Sullivan says she has weathered at least a half dozen hurricanes in her lifetime
"Since our house is not in a flood zone, we managed to stay dry during Harvey. But other people in Houston and elsewhere in Texas weren't as lucky. It just made me want to help them as much as I can, remembering what we lost to Katrina and how good the people of Houston were to us people from New Orleans during Hurricane Katrina, welcoming so many of us."
Sullivan and her husband Andrew helped several of their friends rebuild their roofs and garages after Hurricane Harvey as their way of paying back the hospitality they experienced in Houston when their lives were devastated by Hurricane Katrina.
Many others from across the US also felt they needed to assist the thousands of people who were affected by Hurricane Harvey in Houston and elsewhere in Texas.
An expensive trauma
After Hurricane Harvey made landfall 200 miles (330 kilometers) southwest of Houston near the small town of Rockport on August 24, 2017, countless charities from across the US mobilized to help with the recovery efforts. Despite Harvey's relatively modest death toll of 107 fatalities, it was one of the costliest disasters in US history, ranking on par with Hurricane Katrina in New Orleans in 2005.
Rockport Mayor Pat Rios underlines that without the help of all those volunteers, the Texas Coast would not be returning to a sense of normality as quickly as it has: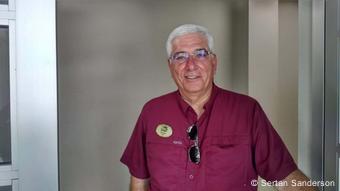 Rockport Mayor Pat Rios highlights that his city lost both its city hall and court house during Hurricane Harvey
"We've had thousands of volunteers that have brought in millions of dollars. Without those folks, we wouldn't see as quick an impact on our rebuild process because they bring manpower, they bring money, they bring material with them."
Rios points at a map of the South Texas coastal bend, showing that the landmass hit by the storm was considerably larger than was the case with Katrina, spreading the damage caused by wind gusts and flooding through a wider and more populated area, including parts of Texas that were difficult to reach by first responders.
"The last year was a lot of work, but we're rebuilding faster than anyone predicted. We're going to build to avoid the mistakes that happened during this last storm. That goes with every facility. They're all going to be built to higher standards."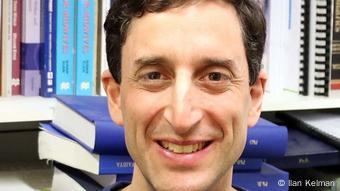 Scientist Ilan Kelman says that hurricanes are perfectly normal natural events, and that people living in the way of them are the ones suffering the consequences of disasters
Experts agree that hurricanes don't need to be as devastating if proper precautions are taken. Ilan Kelman, a researcher in risk resilience and global health at University College London, explains that individuals and cities alike can make arrangements to deal better with the risks associated with storms and other natural phenomena.
"We can build floodways. We can ensure that drainage is improved. We can have urban design and planning which channels water into appropriate locations such as greenways, such as rivers, such as other green storage areas and help it flow out. There are many ways in which cities can address these events," he tells DW.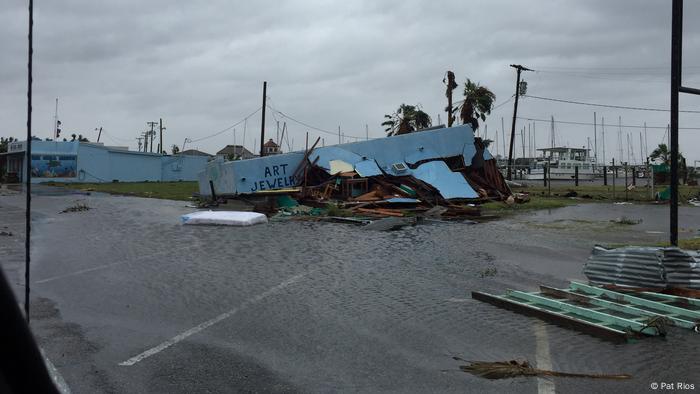 Hurricane Harvey flattened about one third of Rockport completely and caused moderate to severe damage to most houses in the 10,000-strong community
Against the wind
Yet people continue to move to the Gulf of Mexico. Donna and Dave DeBoo recently moved to Rockport, where Harvey made landfall. The couple from North Texas did not do so despite the hurricane but actually because of it. They came to the small coastal town to help with the recovery efforts and fell in love with the local community: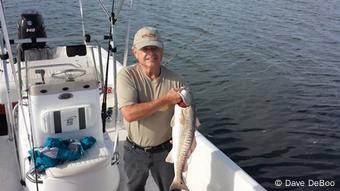 Dave DeBoo came to Rockport to help with the clean-up - and stayed for the fishing
"We wanted to help with the recovery because what we saw on the news looked bad. The destruction was so widespread," Dave DeBoo explains.
The two retirees bought their house only about a mile away from the water, which can flood far inland depending on the direction and strength of heavy storms. But Donna DeBoo remains optimistic about her new home in Rockport, saying that tragedy could strike anywhere.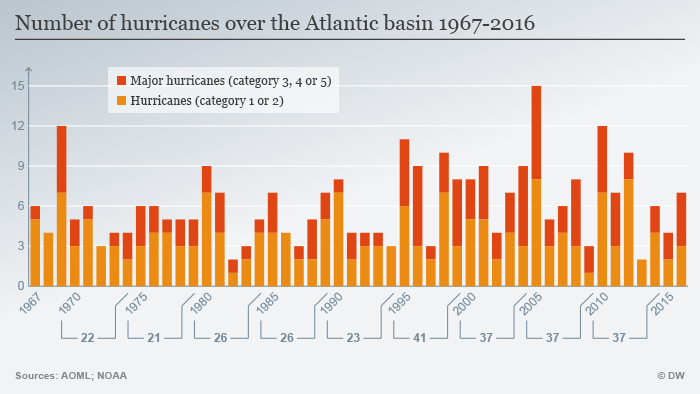 Vicki Sullivan meanwhile is also toying with the idea of relocating back to her hometown of New Orleans, despite its vulnerability to hurricanes and other severe weather events:
"New Orleans is finally fully functional again, but it took a very long time. And for the longest time, I felt resentful about that," she explained to DW. "But it's my home. I miss living in a place where I have a lifetime of references and memories. And culture. I miss having culture."
'Only weather'
Ilan Kelman agrees that cities like New Orleans or Houston should not suffer by getting a bad reputation because of the likelihood of being exposed to future disasters.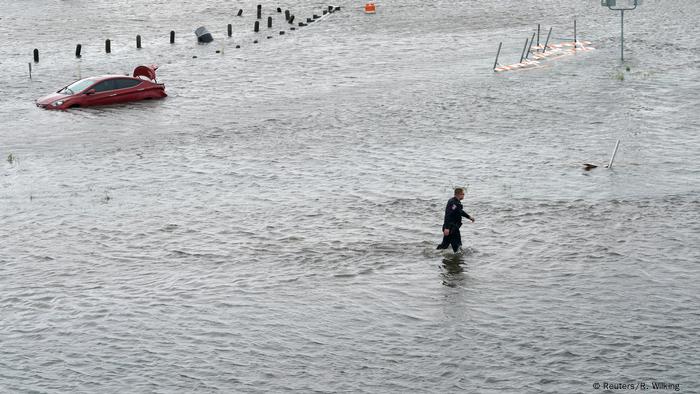 In the Greater Houston area, the damage caused by Hurricane Harvey was mostly related to flooding and not to the storm itself
But he also stresses that the responsibility to prepare for disasters does not only lie with the government and the authorities but rather with every individual, especially against the backdrop of the ever-growing costs associated with such events:
"Disasters are not caused by the weather. Disasters are caused by where we live, how we live, how we allocate resources, how we deal with people, what sort of society we want," he said.
Uncertain future
Kelman also emphasizes that the effects of global warming are expected to decrease the frequency of hurricanes in the US while increasing their intensity, which he fears might lead to a false sense of security on account of fewer hurricanes being registered.
"But we know certain places are going to experience certain hazards in the future, and we need to prepare for that. The time to start preparing is now. If you live along the Gulf Coast of the US, if you live along the Atlantic Coast of the US, forget about Harvey, Katrina and past storms. Prepare for a category-5 hurricane, starting now," he urges.
The DeBoos meanwhile appear to be following that call, stressing that they have their emergency measures in place should disaster strike again: "We're ready to get out of town. It's always in the back of your mind that it could happen. The best advice is: don't risk it. Go ahead and get out. Life and limb are more important than brick and mortar."