Between hurricanes, tornadoes, wildfires and flooding, the US bill for weather disasters in 2017 was $306 billion (255 billion euros).
All told there were 16 major disasters that exceeded one billion dollars, said the National Oceanic and Atmospheric Administration on Monday, a record since NOAA started keeping track of billion-dollar disasters in 1980.
That figure ties 2011 for billion-dollar disasters but eclipsed the previous record of $215 billion in 2005.
Leading the disasters was Hurricane Harvey, which racked up a bill of $125 billion - far greater than the $90 billion dollar price tag of Hurricane Katrina. Hurricane Maria, which decimated Puerto Rico, came in second at $90 billion followed by Irma at $50 billion.
Costs are adjusted for inflation but nonetheless, 2017 had three of the five most expensive hurricanes ever to hit the US.
Out west, wildfires did a lot of damage. By the time the flames had been extinguished, $18 billion dollars worth of damage had been done. According to the NOAA, that is triple the previous record for wildfires.
The costs include estimates of both insured and uninsured losses. However, the final totals are more than likely below the true amount as they do not include health care costs.
Global warming?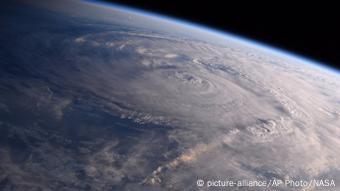 Hurricane Harvey alone racked up a bill of $125 billion
According to statistics, last year was the third warmest year on record in the United States, which raises the question, could the weather be blamed on climate change?
"While we have to be careful about knee-jerk cause-effect discussions, the National Academy of Science and recent peer-reviewed literature continue to show that some of today's extremes have climate change fingerprints on them," said Dr. Marshall Shepherd, a University of Georgia meteorology professor and past president of the American Meteorological Society.
As a whole, 2017 was the third straight year that all 50 states had above average temperatures for the year. Only 2012 and 2016 were warmer. Temperature records go back 122 years to 1895.
av/rc (AP, Reuters, AFP)