The construction sign looks like a defiant survivor. It had been defaced with paint and brute force - but from behind overgrown bushes, it still tirelessly proclaims the completion of the Teufelsberg Resort in the fall of 2002.
"As you can see," says Martin Schaffert, "nothing has become of that." The young historian tells the group to remember this spot, because "we'll come back to it later." By "later" he means in the course of this two-hour tour of Teufelsberg that he is guiding on one beautiful Saturday afternoon. About 50 people are taking part - men and women of all ages, including locals and tourists from Spain, Italy and North America.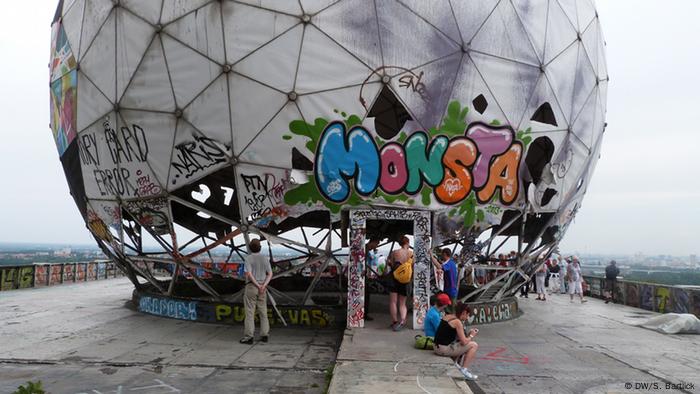 Graffiti, ruins and an interesting view
A curious place
The group gathers in front of a makeshift countertop. While some are still busy paying for the tour and signing a form to confirm they are entering at their own risk, others are already letting their eyes wander in astonishment - over rusty fences, a weathered iron gate, a spray-painted old camper van and the building remains on the slope. Not far away stands a two-storey, flat-roof building with empty, black holes where windows should be. Further up, on top of the hill, are several large radomes with torn-up white covering fluttering comically in the wind.
Schaffert guides the group past graffiti-covered building remains, upon which small, grumpy-looking sculptures sit, and gives an anecdote-rich introduction to the incredible history of this area.
At the beginning of the 20th century, the site was still totally flat and protected, as part of the Grunewald forest recreation area set aside for residents of rapidly growing Berlin. This did not discourage the Nazis, who came to power in 1933. It their ambitions to turn Berlin into "World Capital Germania," they planned to relocate various scientific institutions and the Charite hospital from the city center to northern Grunewald.
In 1937 the foundation stone was laid here for a military technical university, but construction was halted in 1940 as the war ended. The building had become unnecessary, and it was detonated after the war. The remaining ruins were filled with rubble from 1950 onwards, forming Teufelsberg hill.
The facility was still in use in the 1970s
Numerous transformations
Before World War II, explained Schaffert, Berlin's parks and green spaces were all flat. Today, most of them feature a hill made of rubble. The highest of these, at 115 meters (377 feet), is Teufelsberg.
Until 1972, the debris of some 15,000 war-damaged buildings was dumped here. Eventually, vegetation was planted on the hill and it was turned into a winter sports paradise with ski lifts, a ski jump and a toboggan - all run by the Berlin government.
Later, allied forces discovered the hill, seeing it as the ideal location from which to monitor the air corridors to West Germany, as well as the radio and telephone networks in East Germany.
A part of Teufelsberg was a closed military zone. Behind fences, gates and security systems, various secluded building were constructed, as well as five powerful antenna domes. More than 1,000 people are said to have worked here around the clock, every day of the year. They were part of the global ECHELON surveillance network.
More details about their work will only be available after 2022 - until then, the documents that were not destroyed when the site closed in 1992 are subject to a confidentiality agreement.
Things to fix

Schaffert led the tour group through dark corridors and stairwells. He shined his flashlight on pinned-up photos that illustrate the history of the area. He pointed to an old elevator that used to go down into the hill, and to huge paper shredders. He told of parabolic reflectors and spies - and every now and again urged caution, as all around are holes in the ground, missing railings and unsecured stairwells.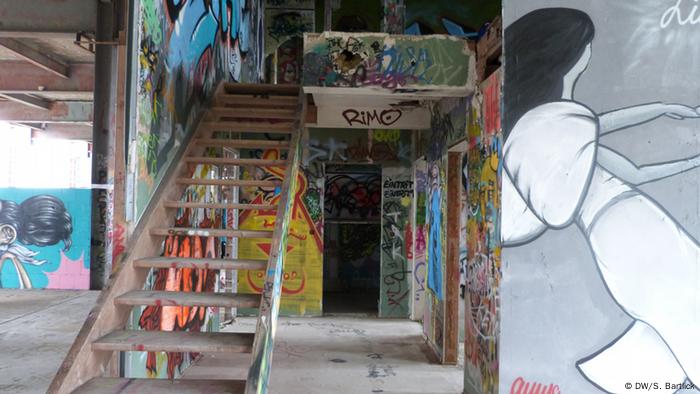 What's left of the model apartment for the Teufelsberg Resort
For years, the place was a popular target for vandals. They defaced an apartment that a group of investors built in the late 90s on one of the upper floors. That was meant as a prelude to the planned Teufelsberg Resort, which was to feature a hotel, conference center and trendy apartments. But especially conservationists didn't like this idea. Berlin, which had previously sold the site to the investor group, declared it a natural area once again, and withdrew the building permit.
New image, new purpose
For more than one-and-a-half years now, the area has been used by the Teufelsberg Community of Interest. It has opened the site to graffiti artists, who make their contributions visible everywhere. Under supervision, parties can be organized and filming done here. Not to mention the weekend historical tours.
Tour participants were impressed. This is a place that feels isolated, yet at the same time is located within the city - a kind of time warp transformed by young creative people. The Teufelsberg Community of Interest wants to gradually secure the terrain. And they aim to not only protect the building and its history, but also its natural environment - with its plants as peaceful settlers, who came here of their own free will.