It happened on a Saturday afternoon, shortly after 4. Anna Politkovskaya had just driven home and was carrying groceries into her central Moscow apartment. The 48-year-old journalist was shot four times at point-blank range. She was found in the apartment building's elevator. The date was October 7, 2006.
The murder shocked Russia and made headlines abroad. When Russian President Vladimir Putin visited Dresden a few days later he was greeted by protesters yelling "Murderer!" The fact that Politkovskaya was murdered on Putin's birthday, of all days, only fueled speculation. Some believed that the killers sought to give Putin a macabre birthday present. No connection to Putin has ever been established.
Politkovskaya was born to Ukrainian diplomats in New York in 1958. She studied journalism in Moscow. She wrote for a number of print outlets and became nationally known at the end of the 1990s as a reporter for the renowned "Novaya Gazeta" newspaper. Her favorite topic was Russia's second war with the breakaway republic of Chechnya.
The journalist traveled often in the North Caucasus, writing prize-winning reports on, among other things, the murders, torture and kidnappings that took place on both sides of the conflict. In her reports she also leveled accusations against Ramzan Kadyrov, now the head of the Chechen Republic. Politkovskaya wrote political commentary books such as "Putin's Russia," in which the journalist attacked the Kremlin boss and his authoritarian rule.
Politkovskaya was also an engaged human rights activist: She worked on behalf of Chechen families as well as the mothers of fallen or missing Russian soldiers. Her work in this regard brought her a number of honors.
Hunt for murderers
The search for Politovskaya's murderer and his accomplices was difficult. Although the first suspects were found relatively quickly, a number of trials were needed before anyone was eventually found guilty, eight years later.
It quickly became apparent that the perpetrators' trail could be traced to Chechnya. The first trial began in 2008, and ended with an acquittal just a few months later - for lack of evidence. At the time, there were only three suspects: two brothers, Ibragim and Dzhabrail Makhmudov, as well as former policeman Sergei Hajikurbanov. In 2009, Russia's Supreme Court overturned the verdict and ordered a retrial.
After further investigations the number of suspects grew. In 2011 Rustam, a third Makhmudov brother, was arrested. And in a separate trial in 2012, Dmitry Pavlyuchenkova, a former Moscow police lieutenant, was sentenced to 11 years in prison. Pavlyuchenkova was a principle witness in the Politkovskaya trial, and admitted to having tailed the journalist as well as having procured the murder weapon.
The most important - and, to date, last - trial took place from January to May 2014, ultimately producing five convictions. Rustam Makhmudov, the actual murderer, was sentenced to life in prison. His brothers Dzhabrail and Ibragim were sent to a penal colony for 14 and 12 years respectively. Sergei Hajikurbanov was also given a 20-year jail sentence. The Chechen businessman and criminal Lom-Ali Gaytukayev was given a life sentence for his role in organizing the murder. All five continue to proclaim their innocence.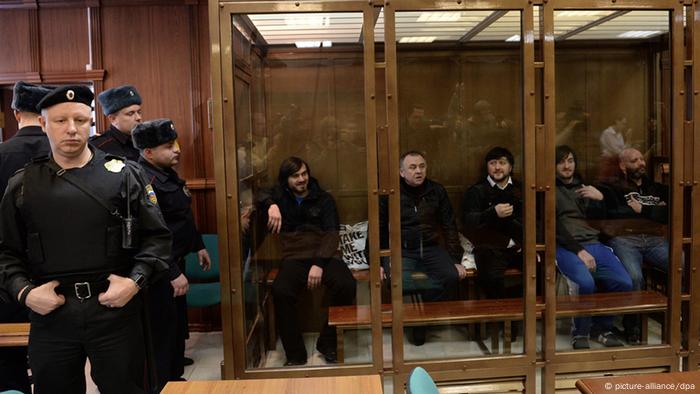 The five defendants in court in 2014
More Chechen leads
At the time, the Novaya Gazeta welcomed the verdict but also called for investigations to continue into who had hired the killers. The now-grown children of the slain journalist, Ilya Politkovsky and Vera Politkovskaya, expressed similar sentiments. Both survivors maintain that the murder has not been solved. Nevertheless, further investigations seem stuck, and there is no news of any further progress having been made.
Politkovskaya's murder is one of several killings with political implications in Russia in recent years. In 2009, human rights activist and journalist Natalya Estemirova was kidnapped and murdered in Chechnya. In 2007 Estemirova was the first recipient of the Anna Politkovskaya Award, which was initiated by an international human rights organization devoted to protecting women's rights during wartime.
In the same year, journalist Anastasia Baburova and human rights lawyer Stanislav Markelov were gunned down in a crowded Moscow street. The last such prominent victim was the opposition politician Boris Nemtsov, who was killed near the Kremlin, in the heart of Moscow, in 2015. Much as in the case of Politkovskaya, all evidence in the that assassination points to Chechnya. The initial trial in Nemtsov's murder began on October 3.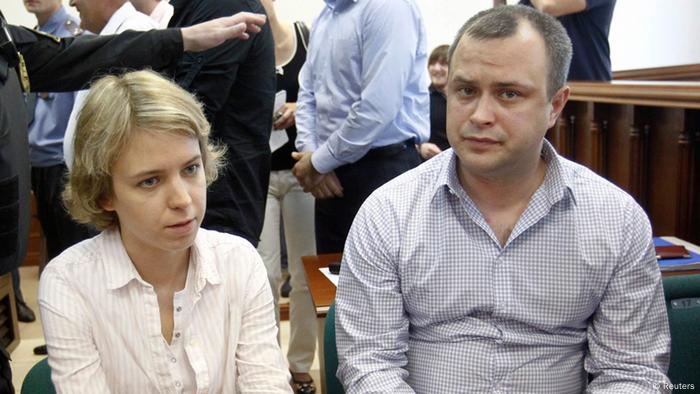 Politovskaya's children, Vera and Ilya, have called for further investigation