The jerseys of Germany's national soccer team were already selling nicely in the run-up to this year's World Cup in Brazil, but when the German squad clinched its fourth title in Rio de Janeiro, demand went through the roof.
Adidas, the giant German sports apparel maker, could not get shirts with the newly added fourth star - one for each World Cup title - quickly enough to stores across Germany to satisfy customer demand. As a result, many stores sold out the shirts they received in a matter of minutes and had to tell fans to come back later or order online.
What many Germany fans probably did not know about their favorite national team's jersey is that it comes equipped with a tracking tag. The device known as a radio frequency identification or RFID chip is used to transfer or track data automatically via electromagnetic fields. The technology has been used for logistics purposes for some time, but is increasingly being applied in consumer products as well - often without customers' knowledge.
Earlier this year, digitalcourage, a German Internet freedom group, reported that Adidas had equipped RFID tags in German national team soccer jerseys. The company confirmed a test run of the tags, but declined any additional comment.
Logistics project
Almost half a year, one World Cup title and a best-selling shirt with an additional star later, Adidas is apparently still continuing its RFID tag test. Asked by DW whether it equipped the new shirts with the tags as well, the company replied with the same brief statement, it had provided the rights group digitalcourage earlier this year: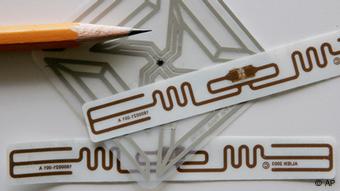 RFID tags can be tiny and hard to spot
"As part of a logistics project we have tested for the first time an RFID label with a virtual number. It is a read-only label without any additional data. The label is not tied to the article number, size or color of the article and we also can't link it with end customer data. It is of course up to customer of this product to cut out the RFID label along the dashed line and throw it in the trash."
Adidas' statement did not address DW's questions whether and how customers were informed about the inserted tag and about details of the logistics project.
Open questions
Asked for a clarification, a company spokesman told DW that all German team jerseys were outfitted with the chip, but could not say whether this also applied to other national team jerseys supplied by Adidas (Spain, Argentina, Russia, Nigeria, Mexico, Columbia, Japan, Bosnia). The spokesman was also unable to elaborate on specifics about the logistics test and about the company's stance on potential transparency and privacy issues that could affect customers who are not aware of the embedded tag.
What the spokesman could confirm however are historic sales figures for the German team jersey: two million have been sold already.
For digital privacy experts, Adidas' conduct raises a lot of questions.
"Customers do not only have an interest, but a right - not in a legal sense, but in a moral sense and from a consumer protection perspective," Thilo Weichert, data protection commissioner in the German state of Schleswig-Holstein, told DW. "They obviously should be informed when their clothes are being tagged and the problem with these RFID tags is that they are very easy to tag."
Weichert added that everyone with an RFID reader could potentially track specific shirts and, coupled with information about the owner or wearer of the shirt, could create profiles about him or her. "I don't want to imply that Adidas or anybody else is doing that, but it is a feature of the shirt that the customer must be informed about and he must also be informed about how he can dispose of this form of identification."
Raegan MacDonald, European policy manager for digital rights group Access Now, agrees. "In the case of Adidas it seems like the consumer is not getting adequate information about these devices," she told DW.
She points to a 2009 EU recommendation on data privacy and security aspects of RFID-enabled applications that says that these tags have to be deactivated at the point of sale unless customers give their informed consent to keep the tags operational. "In the Adidas statement the onus is completely on the consumer to cut out the tags," says MacDonald.
Inform and remove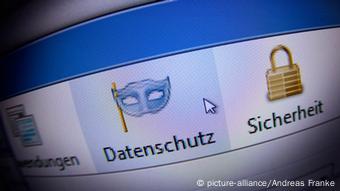 The tags raise privacy, security and transparency issues
Only when a so-called privacy assessment has been made by the operator determining that activated tags do not represent a threat to privacy or to the protection of personal data can the tag remain activated. Adidas has not revealed whether it carried out such an assessment.
Asked how he would expect Adidas to deal with the sensitive issue of RFID tags, Weichert says the company should at least inform customers about it and since the tag is only used for logistics purposes it should be removed at the latest at the point of sale.
Asked by DW to provide a statement, Adidas' shirt partner, the German Football Association (DFB), referred to the Adidas statement and declined any further comment.