The awards ceremony took place in Weimar on Friday (28.08.2015), on the 216th anniversary of Goethe's birth. This year's motto was "The Spirit of History."
The recipients of Germany's official decoration, Sadik Al-Azm, Neil MacGregor and Eva Sopher, are international figures who have close ties to the country and contribute to intercultural understanding, in the spirit of the Goethe-Institut.
The Syrian philosopher Sadik Al-Azm, one of the most recognized intellectuals in the Arab world, is a strong advocate of freedom of speech and democracy. He aims to strengthen understanding between the Arab-Islamic world and Europe. Due to the conflict in Syria, he obtained political asylum in Germany three years ago.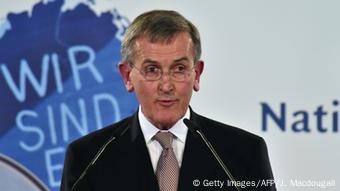 Neil MacGregor will be directing one of Germany's largest cultural centers
Neil MacGregor has been the director of the British Museum since 2002. He recently led an exhibition there called "Germany: Memories of a Nation" commemorating the anniversary of the fall of the Berlin Wall. MacGregor was appointed chairman on the advisory board of the Humboltforum this year - a massive cultural center planned in Berlin's City Palace.
Eva Sopher, president of the Theatro Sao Pedro in Brazil, has revitalized the cultural scene in Porto Alegre by creating a unique international meeting place for performers, among them many Germans. She was born in 1923 in Frankfurt in a Jewish family who fled to Brazil to escape Nazi rule.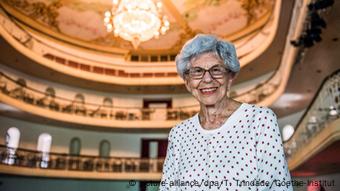 Eva Sopher, president of the Theatro Sao Pedro in Brazil
The president of the Goethe-Institut, Klaus-Dieter Lehmann, said that Sopher's biography is a crucial reminder of Germany's responsibility in the current refugee crisis. To allow coexistence between people, "knowledge of origins and history is essential," he says. "This year's winners embody this attitude in their work in a very special way."
Over 338 people from 62 countries have received the honor since its establishment in 1955, among them Daniel Barenboim, Pierre Bourdieu, Jorge Semprún and David Cornwell (better known as John le Carré).
eg/kbm (dpa, epd)