Rami Makhlouf will be a busy man in the coming years. He's the director of Damascus Cham Holding, which has been tasked with rebuilding Damascus' southern suburbs.
Makhlouf, the cousin of Syrian President Bashar Assad, is one of the country's wealthiest individuals. He'll be overseeing the construction of some 12,000 high-class housing units in what was once a mixed neighborhood of houses and apartments.
Makhlouf and his company won't have to worry much about the rights and claims of those who own property in the area, as many homes have been destroyed in the seven-year civil war. Few homeowners will be able to actually prove their ownership.
A law passed earlier this month has paved the way for this new construction scheme. The legislation stipulates that each district must establish a department tasked with rebuilding the respective area. After development plans are drawn up, owners of land, houses and apartments have 30 days to prove their ownership.
But the problem is that many who are affected by this new law have left the country. They have no way of returning to Syria within the 30-day time frame. And often, no relatives are left who could talk to the authorities on their behalf.
Not only that, but many documents proving ownership rights have been lost or destroyed in the war. Even if those affected by Syria's reconstruction efforts were in the country, they'd have a hard time proving ownership. According to French daily Le Monde, the United Nations estimates that only 9 percent of Syrian refugees abroad are in possession of such documents.
Read more: Will Assad get the message? Ask Russia and Iran, say former US officials
Fear of Syria's security agencies
Many homeowners face an additional obstacle: they must be vetted by Syria's security agencies. Which means that many opposition activists will opt to give up what is rightfully theirs. "Nobody who fled Assad will be so brave as to return to Syria," said Samir Matar, a DW journalist originally from Syria. "That could mean getting arrested."
Many of the areas now earmarked for reconstruction are predominantly inhabited by Sunnis, who tend to be critical of or outright reject Assad's regime. Many of these Sunnis were quick to join the 2011 uprising.
"From a political point of view, this law is a kind of punishment for those who protested," said Matar. "Assad is making it clear to his adversaries that their deeds are being punished through expropriation. He is teaching them a lesson that anyone who opposes him pays a price. And that can even mean losing your house."
Read more: German far-right AfD politicians travel to Syria in effort to send back refugees
Forced to sell below value
But even if owners have the documents necessary to receive compensation, they would be little help. The new law stipulates that the property value is based on the worth before being integrated into the development scheme. Given that informal settlements were widespread in these areas now intended for high-class housing units, former owners face a massive loss in value. They will not benefit from the rise in property value resulting from the development scheme. Companies like the one controlled by Makhlouf purchase land cheaply, and stand to make huge profits.
The money earned from these developments — if it doesn't flow into the pockets of entrepreneurs — will serve to partially support Assad's regime and make it less dependent on Western money for reconstruction. In Assad's eyes, that's a good thing: Western money comes with strings attached, such as demands that minorities and opposition figures be protected.
These de facto expropriations also allow Assad to reward his political and military allies. "The properties are expropriated but don't belong to the local Syrian development departments. Instead, they're given to Assad-friendly businessmen," writes Jihad Yazigi, publishing editor of The Syria Report.
"The new law allows the regime to task entrepreneurs who have close ties to the government with rebuilding the country, be they Syrians, Iranian or Russians," Michel Shammas, a Syrian human rights activist, told news platform L'Orient-Le Jour.
Read more: Eastern Ghouta tragedy pits neighbors against each other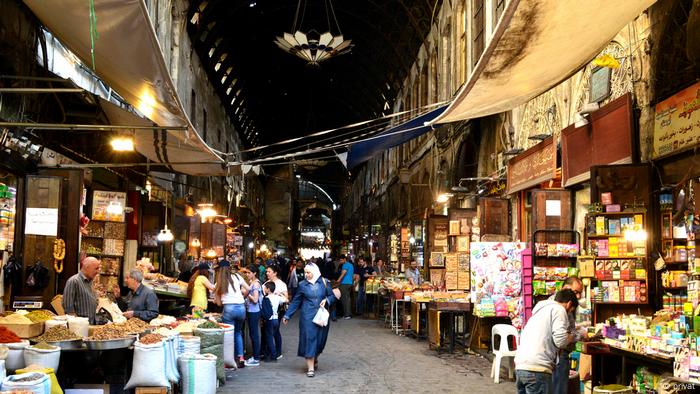 The area around Souq al-Hamidiyya, Damascus' main market, is valuable real estate
Collective punishment
The new law will also help the regime make far-reaching demographic — and political — changes in areas that have traditionally been critical of Assad. Matar suspects that regime supporters and loyalists among the civilian population will be first in line when it comes to selecting residents for the newly built areas. Alawites and Christians will largely benefit, while the Sunni majority will not — and Assad will have eradicated typical pockets of resistance. "And that way, Assad will ensure he has the support of new majorities in politically sensitive areas," said Matar.
DW journalist Sami Al-Habbal, whose family owns a house near Damascus, is among those who will be affected by the new property law. "We're currently unable to prove our ownership. We belong to the opposition. And it's too risky to return to Damascus," he said. "This law is like a collective punishment against the entire opposition."
In an unusually strong response, the German government has sharply spoken out against these moves. Germany is currently home to hundreds of thousands of Syrian refugees, many in the same situation as Sami Al-Habbal.