German broadcaster ARD on Thursday published its DeutschlandTrend survey, showing an increased support for Chancellor Angela Merkel.
Some 59 percent of Germans polled welcomed Merkel's candidacy for the chancellery in next year's Bundestag election campaign, marking an increase of 13 percent compared to the last survey conducted in September.
If the Germans could choose for the chancellery directly in a dual between the current German Chancellor and Vice Chancellor Sigmar Gabriel, Merkel would come out ahead with 57 percent of the vote compared to Gabriel's 19 percent, according to the survey.
If the hypothetical electoral battle took place between Merkel and the Social Democratic Party's (SPD) Martin Schulz, the gap would shorten to 43 percent for Merkel and 36 percent for the European Parliament president.
The survey showed that Germans supported Foreign Minister Frank-Walter Steinmeier as Germany's president, a largely ceremonial position, with 82 percent, while 12 percent did not consider him a good candidate.
Some 79 percent of respondents said they were satisfied with Steinmeier's work as the country's top diplomat.
The SDP politician has pushed for a greater role for Germany in the international community. Fifty-six percent of those polled said they supported a stronger role for Germany in international crises, while 37 percent were against it.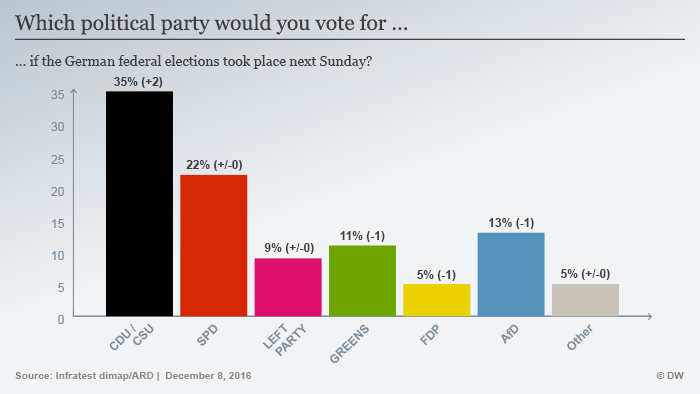 Electoral support
If the Bundestag elections were to take place on Sunday, Merkel's Christian Democratic Union (CDU) would receive 35 percent of the vote, while the SDP would garner 22 percent, according to the survey.
The Greens and business-friendly FDP both lost one percentage point since the September poll with 11 and 5 percent respectively. The Left Party remained unchanged with 9 percent.
Meanwhile, the right-wing Alternative for Germany's (AfD) support remained stable with 13 percent.
ls/bw (ARD, dpa)