Sudan has sworn in its first government since the military ousted President Omar al-Bashir from power in April, part of a power-sharing agreement between the military and pro-democracy demonstrators.
Military and pro-democracy advocates signed the agreement in August after pressure from the United States and several Arab allies, who feared an ongoing political crisis stemming from the protests may lead to civil war.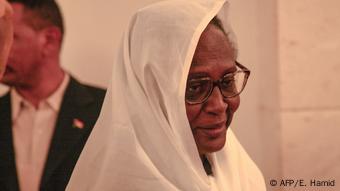 Asma Abdalla is Sudan's first female foreign minister
Heading Sudan's new 18-member Cabinet is Prime Minister is Abdallah Hamdok, chosen by the Alliance for Freedom and Change (AFC), which coordinated the pro-democracy protests.
Taking the oath of office with him on Sunday was Asmaa Abdalla, Sudan's first female foreign minister, and former World Bank economist Ibrahim Elbadawi as minister of finance.
Priorities for the fledgling government in the first 200 days are to "restructure the budget, control prices and tackle youth unemployment," according to Elbadawi.
Road to democracy
Ahead of the ceremony, the African Union (AU) on Friday said it had renewed Sudan's membership after initially suspending it when security forces violently broke up the main protest camp in Khartoum in June, killing over 100 people.
The AU said in a tweet that it is committed to "support its reconstruction and international mobilization efforts."
The Cabinet is transitional and expected to manage the daily running of the East African nation for a transition period of 39 months.
The power-sharing agreement between the military council and the AFC also includes a joint military-civilian Sovereign Council and a legislative body. The three bodies will share governance for a little more than three years until elections can be held.
This outcome came as a result of widely-expressed doubts over whether the military, which initially took control following the ousting of al-Bashir, would pave the way for eventual civilian rule, in particular following the Khartoum massacre.
Al-Bashir was ousted by the military in April after months of protests by pro-democracy protesters. He came to power in June 1989 after leading a military coup against his predecessor, Ahmad Ali al-Mirghani. He has been accused of genocide and war crimes, with recent economic policy leading to soaring food prices and fuel shortages.
Every day, DW's editors send out a selection of the day's hard news and quality feature journalism. Sign up for the newsletter here.